When you find a way to combine your two favorite hobbies into one handcrafted piece of art, that's the mark of a true craftsman. And that's exactly what Willie Sandry did. Willie's journey into leatherworking actually started with woodworking. Willie has been building wood furniture pieces for years. When his wife tasked him with building a set of eight dining room chairs complete with upholstery, he needed to tackle a new set of skills. Willie chose goat hide for his chair cushion covers, and it beautifully complemented the handcrafted white oak table that he had previously built.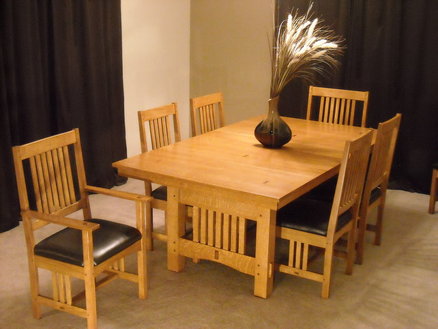 After the success of that initial upholstery project, Willie discovered a love for upholstery work — especially working with leather hides. He was soon ready to step up his upholstery skills and learn all he could about this new and exciting hobby. "I didn't want to be limited to no-sew upholstery projects, so I took a leather upholstery class and started soaking up all the knowledge I could find."
He's been fortunate enough to turn his passions into a source of income. He is a freelance writer for woodworking magazines and a blogger for leather and woodworking websites. On his YouTube channel, The Thoughtful Woodworker/Upholsterer, he shares his knowledge of woodworking and upholstery with viewers. "I love sharing projects and posts with fellow crafters. I love teaching the craft, and I'm always learning."
It's through his upholstery projects that Willie discovered Sailrite and the Leatherwork Sewing Machine. We sat down to chat with Willie and find out more about his leather crafting journey. This talented DIYer had a lot to say about how his two passions — woodworking and leatherworking — have come together to produce some truly beautiful, handcrafted masterpieces.
Q. What sort of leather projects do you typically work on?
A. My main goal was to master leather seat cushions and backrest cushions so I could upholster Stickley Morris chairs and oversized Charles Limbert rockers. Whether they were genuine antiques, or reproductions from my woodshop, I was going to have a lot of chairs to upholster. Some have piping and some use single-felled topstitched seams, but all of the chairs highlight the natural materials front and center. They're usually made with quarter-sawn white oak lumber and natural leather upholstery.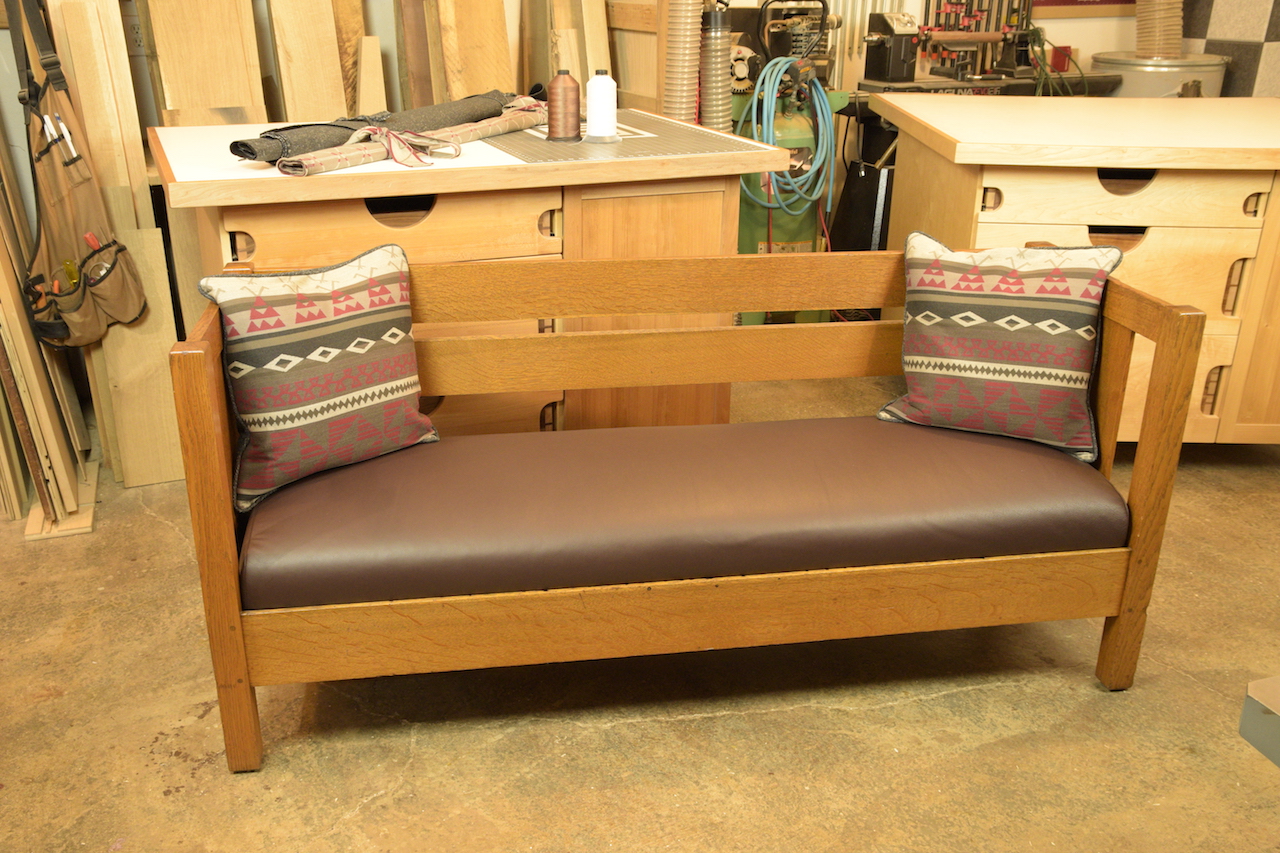 Q. What's your favorite type of leather to work with? And what's your favorite kind of project to make?
A. Upholstery grade leather is almost always chrome tanned for a nice soft, workable feel. I like leathers in earth tones with very little sheen. If it looks like it belongs in a furniture catalog from 1906, then I'll probably like it. Browns, greens and subtle red tones are my favorite. I try to source full hides that are 2-1/2 to 3 ounces thick. A 50 square foot hide will upholster a Morris chair with seat cushion, back cushion and a small ottoman.
Q. What do you love most about working with leather?
A. I pulled apart an antique chair cushion a couple years ago that had the original leather upholstery intact. That chair was over 110 years old. Sure, the leather showed its age, but it was still there. Still quietly doing its job, and somehow managing to look better with age. I love the smell of leather. I love getting "the big scissors" out and cutting leather on my large work surfaces in the shop. Rotary cutting strips, gluing layers for straps, sewing layers together stitch by stitch. Thinking and planning for each next step, carefully working with your head down until the final product is revealed. In this "throw away" world, it makes me smile inside to know that something I've had a hand in making might be around for someone to admire in 110 years or so.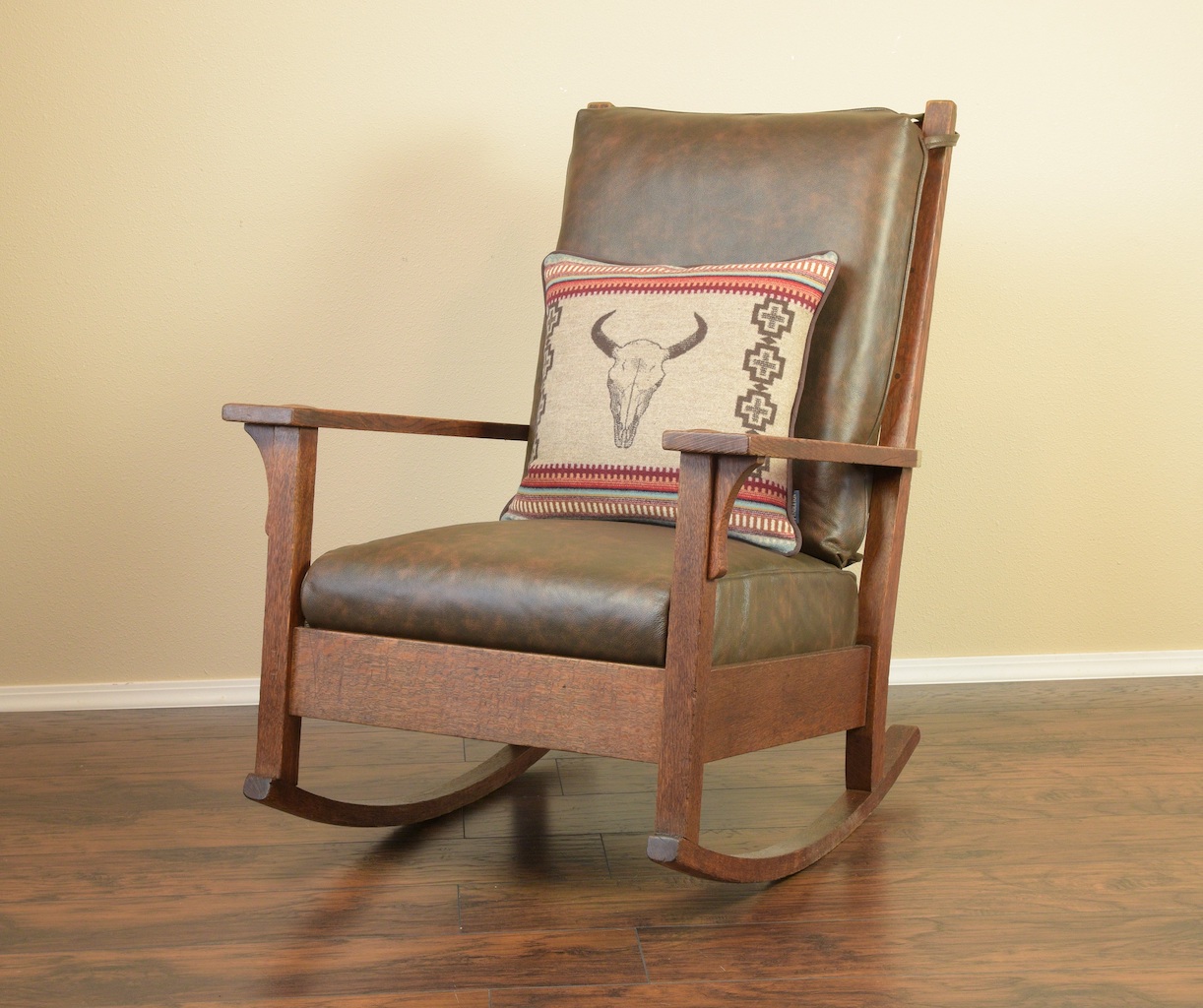 Q. What made you interested in the Leatherwork Sewing Machine?
A. I like walking foot sewing machines, plain and simple. In fact, my second sewing machine was a walking foot, and I've been using one ever since. If you think about a standard sewing machine in terms of material feeding, they're pretty basic. The feed dogs below are the only mechanism feeding the material into the machine. This unilateral feeding can lead to uneven top and bottom layers as you complete the seam. A walking foot adds two feet that move in unison to advance the material in a uniform way. When you're working with leather, a walking foot is a necessity.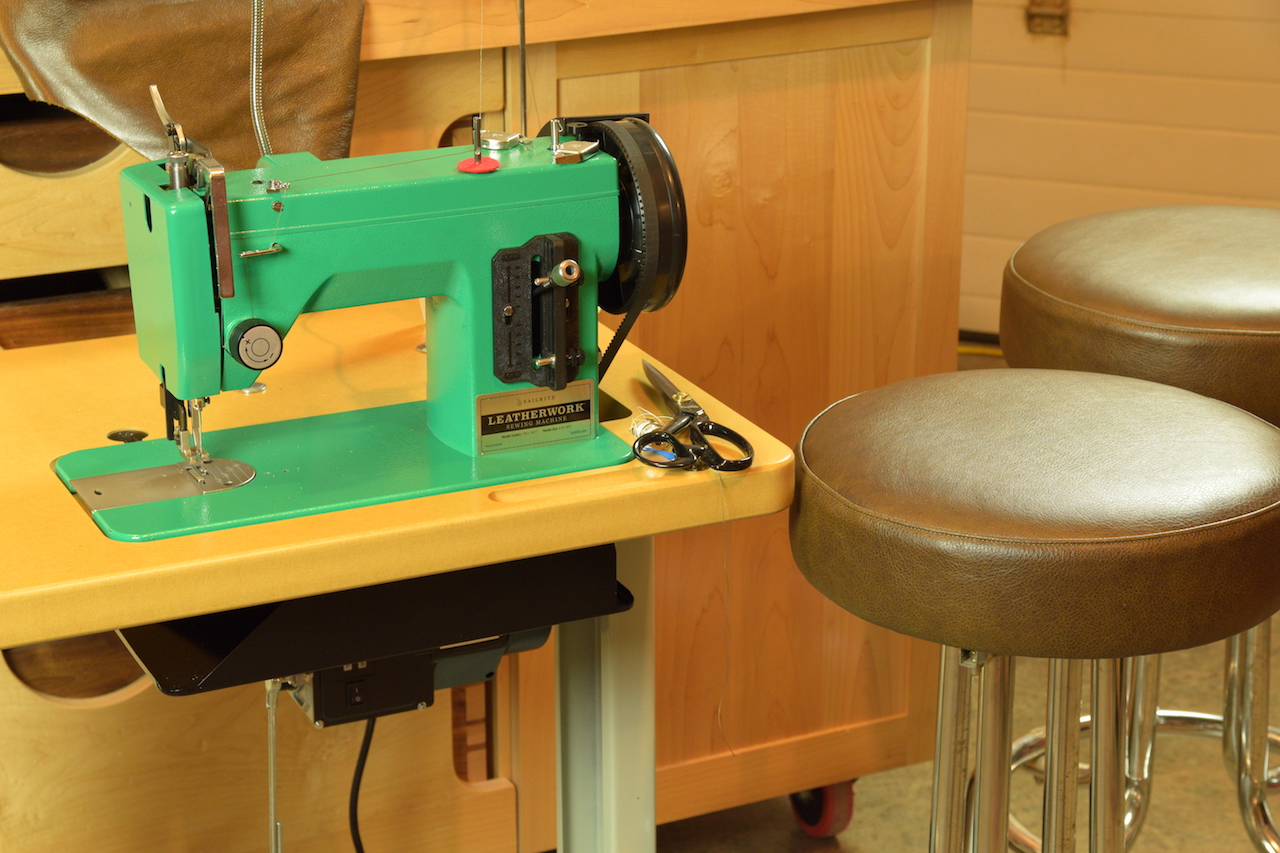 Q. Having sewn on the Leatherwork, what are your impressions of the machine? We position the Leatherwork as an entry-level leather hobbyist machine. Would you agree with that assessment?
A. The difference between a basic portable and the Leatherwork is apparent right away. The Leatherwork comes loaded with a full-size variable speed servo motor, and Sailrite even found a way to shoehorn a speed reducer onto that compact table. The table is a little small, so I added a flip-up extension table to one side. That add-on helps me enjoy both the compact size and expandable work surface.
The Leatherwork is a unique package. The machine head may be entry level, but the added features of the table package probably put it in a mid-level category. I encourage crafters to "buy once and buy right." Most people go shopping for a used sewing machine, and if it has the word "industrial" in the title, they assume it must be capable of sewing leather. Let me tell you, there are many full-sized industrial sewing machines that aren't suited for leather projects. In fact, most industrial sewing machines don't even have a walking foot. You have to research the models and determine what thickness of leather you intend to sew. Every sewing machine has limitations. Understanding and working within those limitations is the key to success.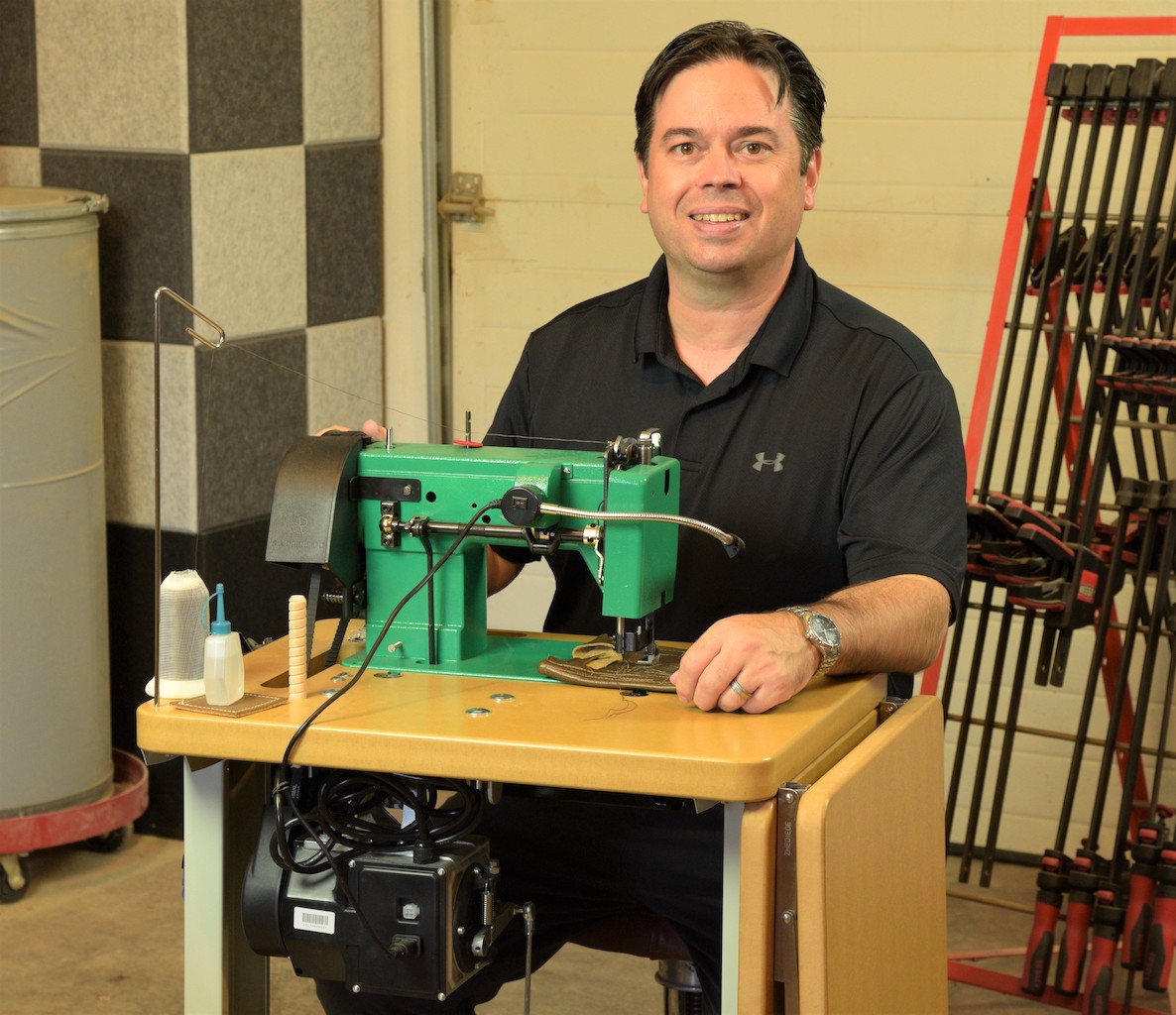 Q. Have there been leather "dos and don'ts" that you've experienced throughout your leather crafting journey? If so, could you share some of your wisdom with our readers?
A. Don't run out of bobbin thread when sewing leather. Unlike that pillow cover you finished last week, leather is unforgiving. A machine with an empty bobbin will perforate your project like a sieve – and holes in leather are permanent. Keep your eyes open, and check your seam often as you work.
Q. What do you love about sewing and the DIY lifestyle?
A. Looking around my home, I get to say "I made that" a lot. But there is a deeper sense of satisfaction when you dry your own lumber, build your own furniture, and cap it off with your own custom leather upholstery. We are such specialists these days, but if you branch out just a little bit, you'll be amazed what you can learn.
Q. Can you talk a bit about your YouTube channel — The Thoughtful Woodworker — and how that pertains to leather as well? What do you enjoy most about sharing your knowledge of woodworking and DIY with others?
A. The Thoughtful Woodworker YouTube channel is partly woodworking, but it also has a pseudonym – The Thoughtful Upholsterer. Small channels have to be careful not to spread themselves too thin, so I combined my passions into one platform. I started the upholstery content because there are so few sources to learn upholstery. Now, if you want to learn how to sew a pillow, there are plenty of videos out there. But if you want to learn leather upholstery, it's a different story. You either know everything because you've been an upholstery pro for 30 years, or you know nothing. There didn't seem to be any middle ground. That's the goal of my channel: To give relative newcomers enough confidence to tackle one specific type of project. Maybe they won't master all styles in the first year, but if they can do a really good job building or upholstering a classic rocker, then I have succeeded.
Here's Willie's barstool tutorial if you'd like to watch the Leatherwork Sewing Machine in action.
Who We Are
Sailrite is your one-stop DIY shop! We are a passionate crew of do-it-yourselfers who strive to equip you with the supplies and how-to knowledge you need to tackle your next project. Do you want to learn upholstery, leatherwork, canvaswork, hobby sewing, bag making or more? We have the fabric, tools, hardware, sewing machines and notions you need to master any DIY. And even if you've never sewn before, our tutorials and how-to videos are designed for beginners and experienced crafters alike.
Start your DIY journey today: www.sailrite.com