Sometimes the perfect project comes along that lets you put all your DIY skills to use. That's what happened to Ronnie Miller. This talented DIYer found a powerboat for sale online that needed A LOT of work — a complete overhaul. He bought the boat in February 2019, for only $1,000 and worked hard to get it water-ready by June. Keep reading to learn more about this powerboat transformation and how Sailrite® supplies and project videos helped Ronnie tackle this massive DIY endeavor.
Like a lot of DIYers, Ronnie learned the ropes as a young boy. "My grandmother taught me to hand sew when I was 5 years old. My uncle was a tailor and he gave me swatches to work with." From those humble beginnings, his talent grew and grew.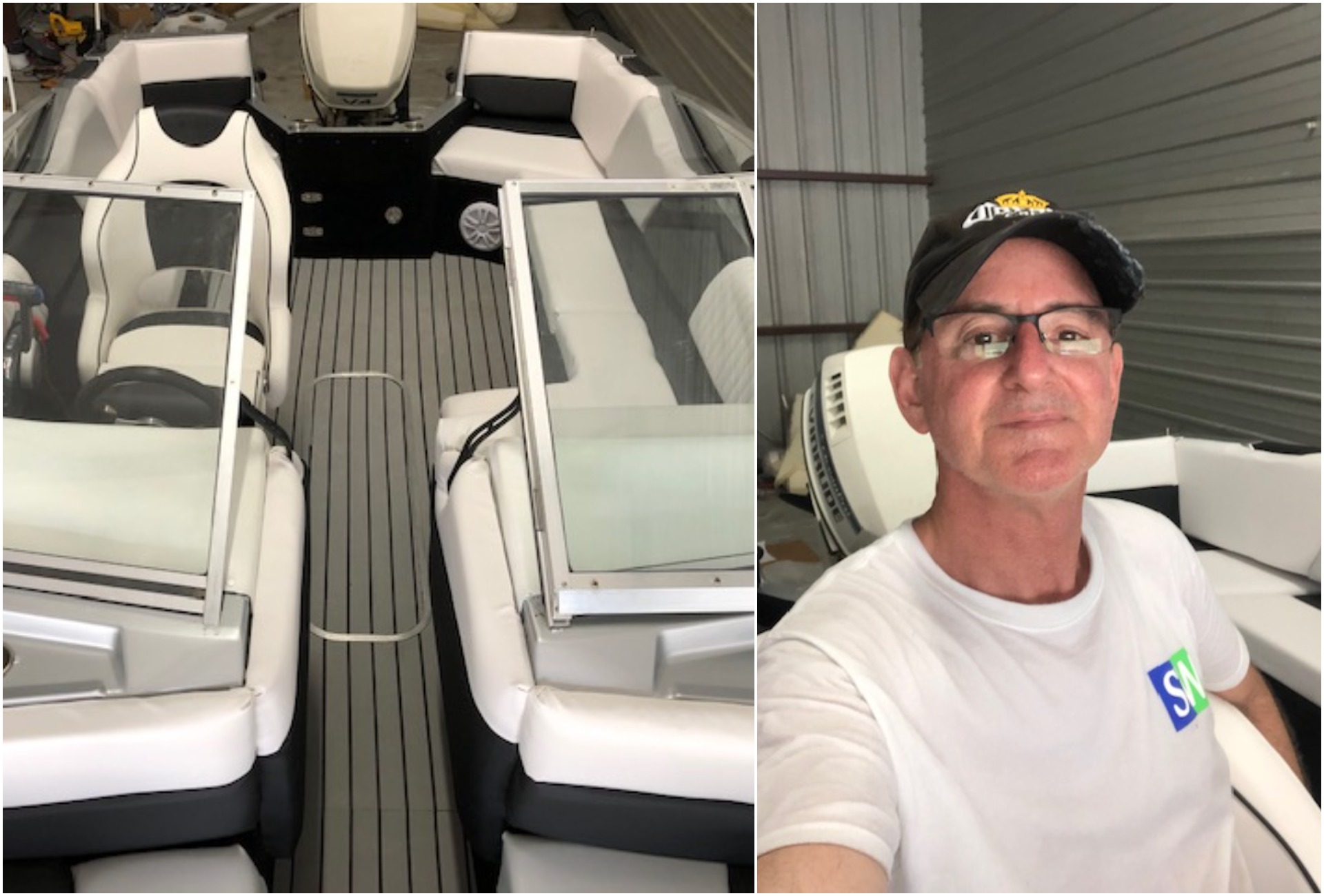 In addition to sewing, Ronnie enjoys a variety of other hands-on hobbies. "Projects are my hobby. I have always been good with my hands, fixing and rebuilding things." Ronnie recently moved into a condominium, and he has been enjoying remodeling it himself and turning it into a proper home. "I've been working on carpentry and woodworking projects. I laid the vinyl floor, painted and fixed sheetrock. I have installed a mosquito mister at the house, a new metal fence to see the lake, a new wood fence, and I installed an entire sprinkler system for the front yard and back."
Let's learn more about the big powerboat project! "I always wanted a boat. This was the first one I ever owned, towed, worked on and completed in just three months." What an accomplishment! So, exactly how much work went into the powerboat transformation? We'll let Ronnie explain in his own words.
This slideshow requires JavaScript.
"I found the boat on a for-sale website and thought if I failed, I couldn't lose too much considering I only paid $1,000 for it. I later put in an additional $6,000 including the engine, materials and tools, which I am always using now. I didn't realize I had to replace the engine, floor or dashboard with all-new electronics until I started tearing it apart."
After all the hard gutting and rebuilding work, Ronnie was ready to tackle the upholstery. That's where Sailrite came in. "I needed vinyl to cover the seats and I found Sailrite online." He chose a striking combination of white, silver and black Morbern® vinyl fabrics. He also ordered Medium Density Polyurethane Antimicrobial Foam from Sailrite — a great choice for powerboat upholstery.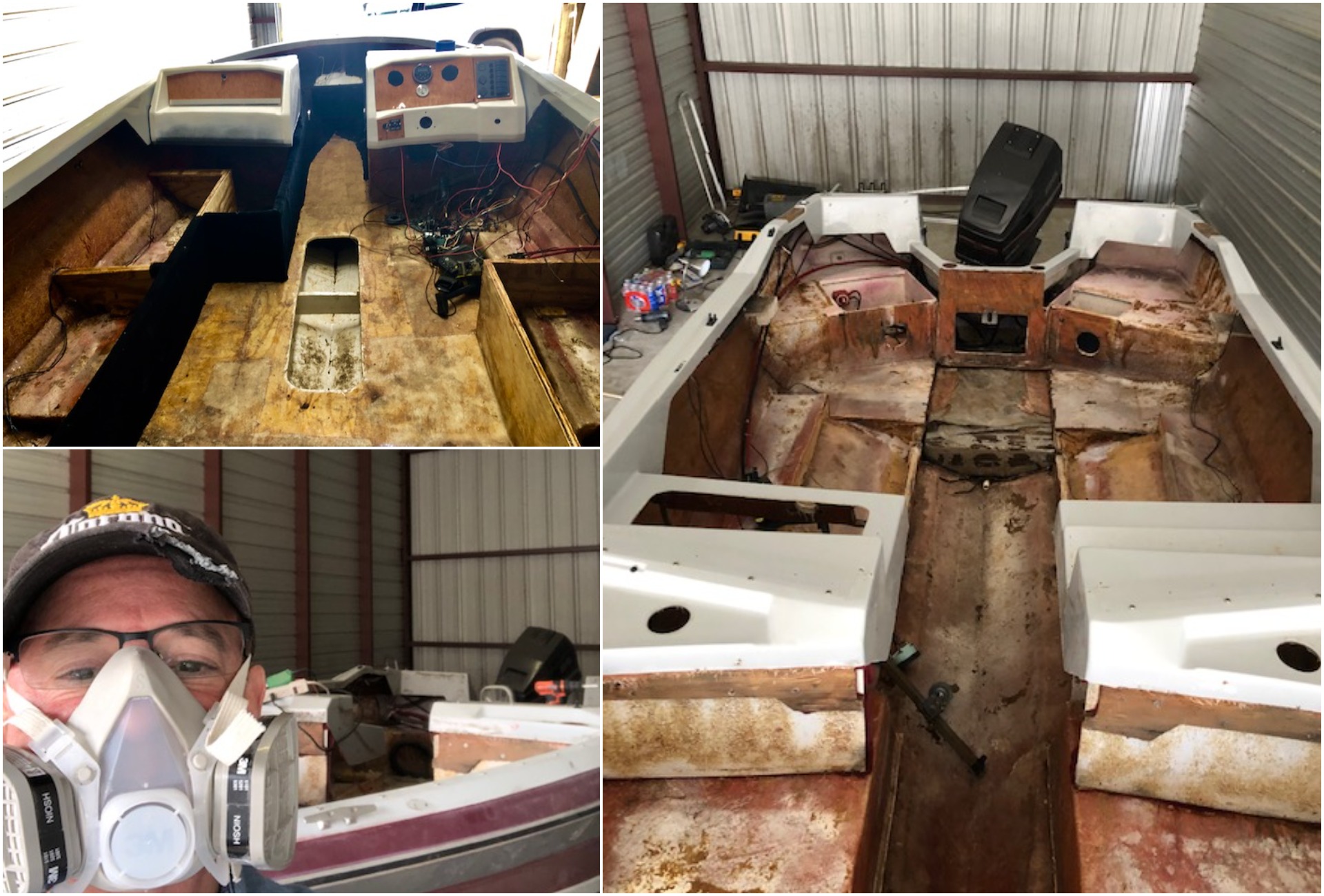 The project went fairly smoothly, and Ronnie only hit a few minor snags along the way. "Once I got started, I wanted everything to look new. I had the trailer sandblasted and had to replace parts there. I needed a new gas tank float and a new dashboard with new Bluetooth® radio. I replaced the old carpet with gray-and-black striped flooring, and I installed lights on the front for boating at night."
Before his recent move, he lived just five short minutes from Lake Houston, a reservoir on the San Jacinto River northeast of Houston, Texas. Ronnie took the boat out almost every week. After enjoying the water and the boat for a while, he decided to sell it and made a whopping $5,000 profit! He credits the eye-catching upholstery work for garnering such a big profit. True to his DIY nature and need to keep busy, Ronnie bought and restored a second boat and made $6,000 on that sale!
This slideshow requires JavaScript.
So, what's he working on now? "Since completing the boat I have now started a wall covering of large fabric-covered squares behind my bed. It's still a work in progress, but I should be finished soon." Ronnie is using the Sailrite how-to video "How to Make Upholstered Wall Panels" to help complete the project.
"I find that working on a project is great for the mind; it gives you time to think alone. I also get great satisfaction by looking at it and saying, 'Hey, I did that!'" Way to go, Ronnie! We love your positive attitude and can-do spirit. Good luck on all of your future DIYs. We're sure they're going to be huge successes.
Who We Are
Sailrite is your one-stop DIY shop! We are a passionate crew of do-it-yourselfers who strive to equip you with the supplies and how-to knowledge you need to tackle your next project. Do you want to learn upholstery, leatherwork, canvaswork, hobby sewing, bag making or more? We have the fabric, tools, hardware, sewing machines and notions you need to master any DIY. And even if you've never sewn before, our tutorials and how-to videos are designed for beginners and experienced crafters alike.
Start your DIY journey today: www.sailrite.com