David Thiesmeyer isn't new to the DIY world. He tackled his first big sewing project — a mainsail cover for his sailboat — well over 10 years ago. He considers himself a "DIY type of person" and takes pride in sewing great projects. His most unique creation was not sailing-related and happened during the first year of the pandemic. 
With Sailrite® fabric, supplies and his Ultrafeed® LSZ, David designed, sewed and installed a patio enclosure that connected to the underside of his daughter's elevated deck. With a well-made enclosure, she was able to use her patio into the fall and winter and have friends over for ventilated, socially distanced hangouts. Let's learn more about David's DIY background and how he transformed his daughter's patio into a year-round entertaining hot spot.
Sewing, Sailing & Sailrite
In 2008, David bought his first sailboat. The MacGregor Venture 21 was over 30 years old and in major need of sail repair and new sail covers. David has always been the DIY type, so he decided to tackle the sail cover repairs himself. "I bought a mainsail cover kit from Sailrite. I reviewed the very well-done video instructions and sewed it on my wife's home machine."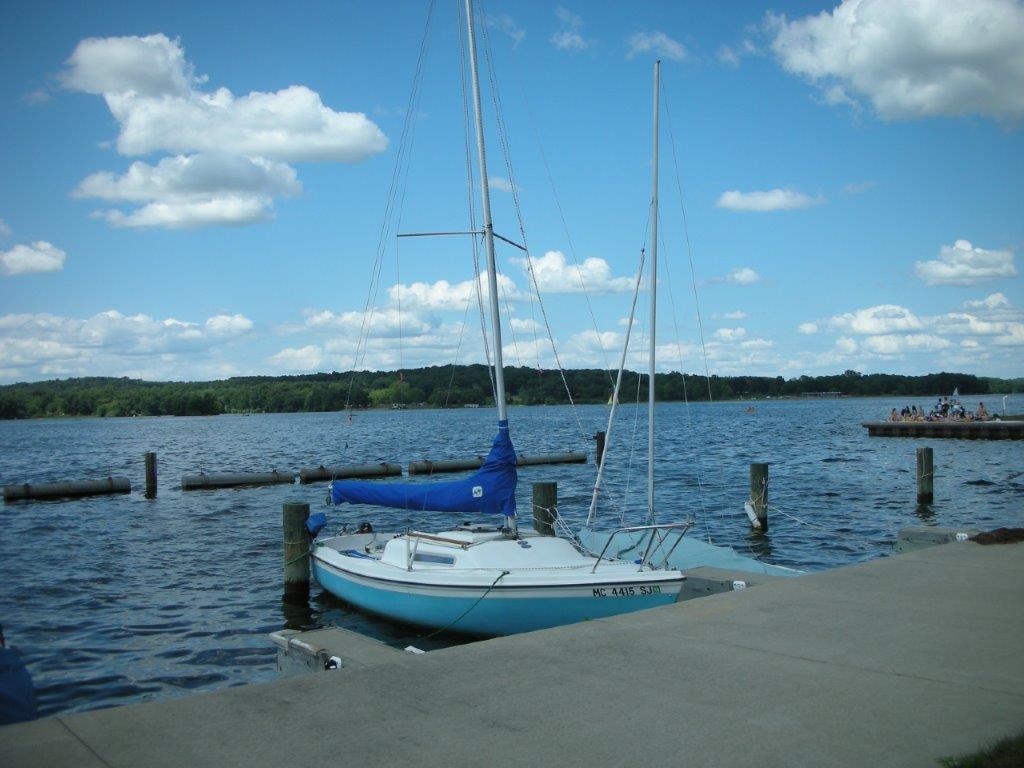 It's after that mainsail cover project that David realized he needed a heavy-duty machine. "I had overloaded my wife's sewing machine and thought I'd ruined it. Luckily, I had just knocked it out of adjustment and was able to fix it. That is when I decided to get a real sewing machine and bought the Ultrafeed LSZ."
Over the years, David has sewn many projects for his sailboat. He's made a new mainsail from a Sailrite Sail Kit, a genoa sail bag, cushion covers, lifeline covers, winch covers, sail bags and more. He credits his Ultrafeed with his productivity and quality results: "I like the Ultrafeed because I have never found a job that it could not complete. I added the Workhorse® Servo Motor and Ultrafeed Industrial Table and have never been happier. This upgrade really added to my sewing enjoyment and quality of my finished projects."
The COVID "Quaran-Tiki" Project
At the height of social distancing, when year-round outdoor entertaining spiked in 2020, David's daughter asked him to make an enclosure with ventilation that would attach to the underside of her elevated deck. She had built a tiki bar from pallet wood and wanted to extend the use of her patio during the fall and winter seasons. David eagerly accepted the project request. "I was excited to do a new sewing project as sailing season had just ended. I decided that it should be removable and made use of the Sailrite awning track around the bottom of the upper deck and along the walls of the house."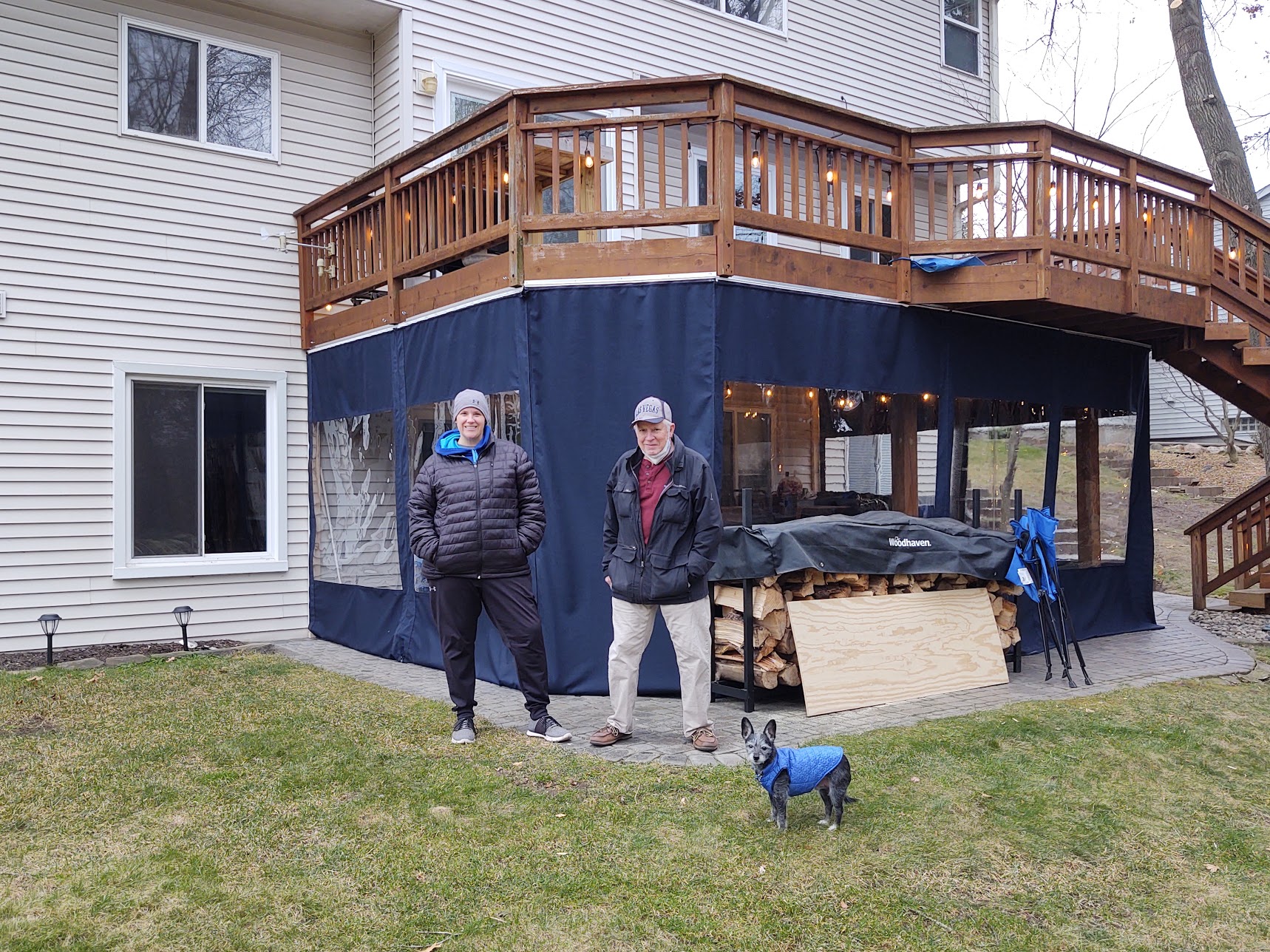 To sew the enclosure, he ordered Sunbrella® Marine Grade fabric, 30 gauge Plastipane window material, aluminum awning track and awning rope, YKK zippers and Shelter-Rite fabric — all from Sailrite. The Quaran-Tiki was David's second enclosure project. He used the skills he learned while designing and sewing his first enclosure — an attachment for a travel trailer to keep mosquitoes at bay while enjoying the attached deck — to help make the enclosure.
And what did David's daughter think of the Quaran-Tiki? "Sara was elated with how the project turned out, as were all her friends and neighbors who are always coming over to enjoy Quaran-Tiki. I am very satisfied with how it turned out." The side panels roll up to let a breeze through in the summer, and Sara equipped the patio with two propane heaters for the colder months.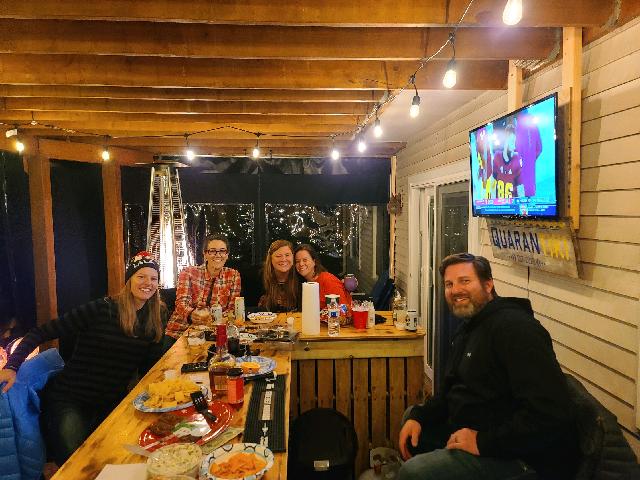 After well over a year, the enclosure is still in great shape and getting plenty of use. As for David, he's still enjoying his Ultrafeed as much as the first day he purchased it. "Most of my sewing projects have been boat-related, although I have been known to repair anything made of canvas or in need of a heavy-duty sewing machine." 
We're thrilled David has enjoyed his Ultrafeed for over 10 years now and that Sailrite could be part of his creative journey. Good luck with all of your future projects, David. Here's to more sewing, sailing and DIY adventures.
Who We Are
Sailrite is your one-stop DIY shop! We are a passionate crew of do-it-yourselfers who strive to equip you with the supplies and how-to knowledge you need to tackle your next project. Do you want to learn upholstery, leatherwork, canvaswork, hobby sewing, bag making or more? We have the fabric, tools, hardware, sewing machines and notions you need to master any DIY. And even if you've never sewn before, our tutorials and how-to videos are designed for beginners and experienced crafters alike.
Start your DIY journey today: www.sailrite.com