On Christmas Day in 2019, Chris Ferrie unwrapped a starter leather craft tool kit. He wanted to try leatherworking as a hobby, and he didn't waste any time once the tools were in his hands. He started with a simple project in January 2020. "It was a small belt loop I had put on an already-made pouch. That was the first time I had ever sewn leather," he said.
Despite the humble scale of his project, Chris couldn't wait to show it off. "I showed [it to my dad] as soon as I made it! I was so proud," he told us. His father was equally proud and saw Chris' potential right away. "I remember showing him [the belt loop] — which was truly terrible — and all he said to me was, 'You should start a business!'"
But Chris was just having fun learning. In his words, "I was addicted to my new set of leatherworking tools." He looked around his house for another need that he could address with a leather item. He soon found the perfect candidate.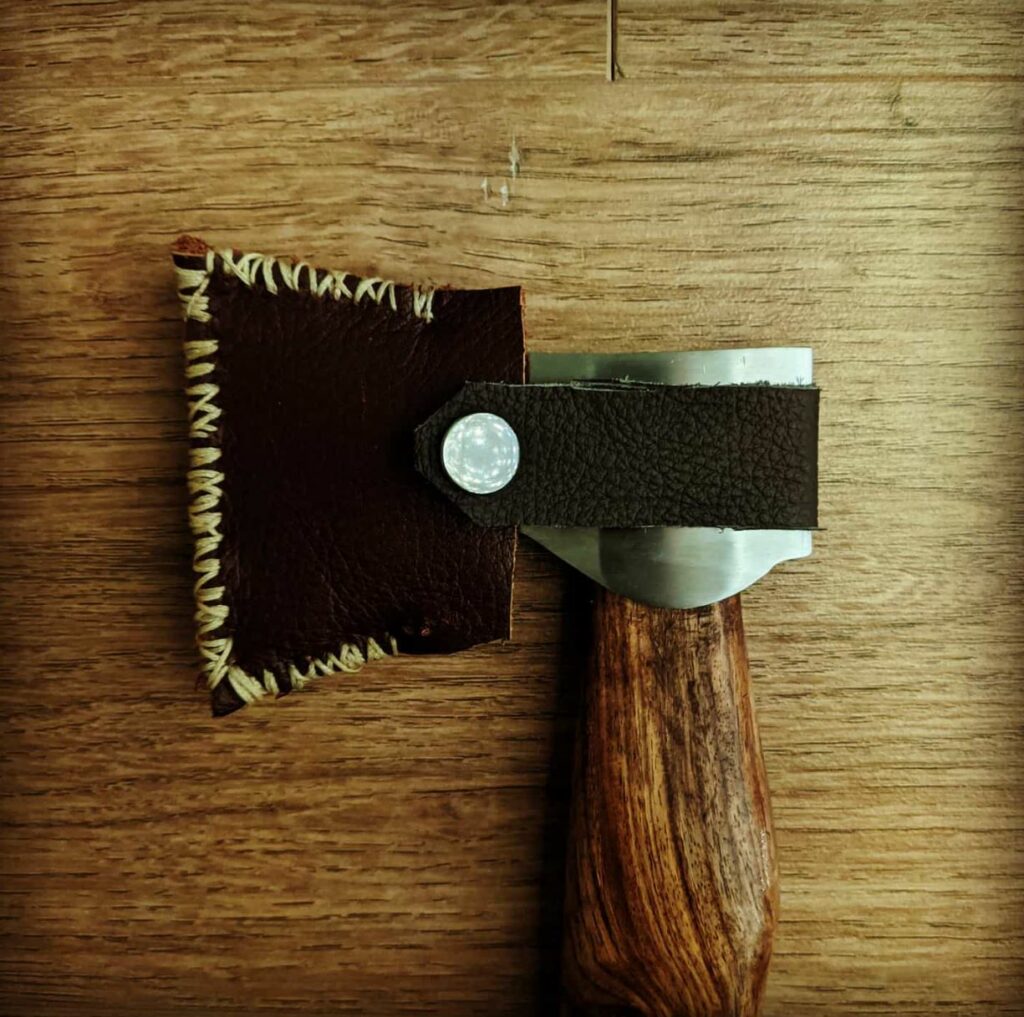 "I had an old axe that had its sheath fall apart, so I figured I'd just make another one. I got some terrible old couch leather that I cut with a penknife and punched the stitching holes with a fork and a [cheap] camping mallet. Needless to say, it definitely wasn't my finest work, but from that moment on I was hooked."
After this second project, Chris realized that his dad was right about starting a business. "I knew I had found my true calling and strived every day to be better and work as hard as I could to make my passion my career," he said. He had no way of knowing that his little leather tool kit was about to become more valuable than he could ever guess — or that a Sailrite® sewing machine would help him achieve incredible success.
Switching Gears in His Career
After the holidays were over, Chris was still fired up about leather crafting — but he had a full-time job that he was equally excited to get back to.
The Scotland native worked as a folk musician — something he had been passionate about since childhood. "I started playing Scottish folk music when I was six," he said. "Very quickly that became the foundation of my childhood. I would spend my weekends going to music schools and would spend my holidays at music tuition camps. I eventually studied Scottish folk music at university and went on to be a professional musician."
He taught at local schools and performed onstage several times a year. But when the United Kingdom started going on lockdown because of the coronavirus (COVID-19) pandemic in March 2020, Chris' career abruptly ended.
Although devastated by the unexpected loss of the career he'd cherished for nearly a decade, Chris looked at his new free time as an opportunity to improve his leather crafting skills. It was time for him to test his resolve to start a business.
First, he had to learn more about the tools and techniques of the trade. For this self-starter, experience was definitely the best teacher. "I kind of just learned by doing," he said. "You make one project, and you get the itch to go again and be better next time. I'd watch a lot of YouTube videos on how to work leather in general, sewing included."
Once he had the basics down, Chris began designing pieces of his own. He started with wallets. "It took a while," he said. "I remember my first wallets couldn't even fit a credit card. But with time, my skills grew, and I finally had a product that I was proud of and felt was worthy of selling."
With a few viable designs in hand, Chris officially launched a leatherworking business in June 2020 — just three months after saying farewell to his music career. His lineup of artisanal leather goods includes wallets, bags, belts, trays and other accessories.
Scottish Heritage in Leather Heirlooms
Chris named his business Orraman Leather. The title has a lot of significance for him: "Here in Scotland, we have three recognized national languages: English, Scots and Gaelic. 'Orraman' itself is a Scots word essentially meaning 'handyman,' 'odd job man.' [It's] someone who could do more than one thing — a jack of all trades. I felt this name perfectly tied my previous life as a musician, my love for Scottish heritage … and my new passion in leather craft."
Designing and hand-making leather goods turned out to be the perfect new direction for Chris' work life. "[It] is by far the most fulfilling creative outlet I have ever come across," he told us. "To have the raw materials of just leather and thread … that after a little time, passion and hard work become a tangible item that's not only useful, but beautiful and heirloom quality, is incredible."
This slideshow requires JavaScript.
Other leather crafters can echo that sentiment. But what sets Chris' work apart from the crowd is the deep cultural pride he infuses into every piece he makes. "Scottish heritage and culture have just been massive parts of my whole life. … I am very proud of being Scottish. As such it was important to me that, when you thought of Orraman, you thought of Scotland," he said.
The business name isn't the only way you'll see Scotland in Chris' work, however. Each leather piece represents the country in name, design and materials. "I use a lot of Scottish tartan in my work, and my products are named after places in Scotland that are special to me."
Most sewers recognize tartan when they see it. The fabric's pattern of crisscrossing bands is well-known in the textile world. But did you know that different tartans represent different clans (or families) and other notable groups? According to Chris, belonging to a clan is a major point of pride for many Scots.
This slideshow requires JavaScript.
"I get a lot of requests to put an individual's family tartan into their wallet. It is an incredible honor to get to work with tartan … a material that has such a rich history and will be truly valued by its owner."
Scotland's geography also plays a major role in Chris' designs. He told us that he "wanted the angles and curves of [his] wallets to reflect the Scottish landscape."
"That is probably best seen in my Clach wallet — a wallet I designed for my late father, who was a geologist," Chris said. "He was my biggest fan and a big reason why Orraman exists today … The angles of the wallet reflect the vast mountain ranges of the Highlands of Scotland, where [my dad] was from, and the name 'Clach' means 'rock' in Gaelic."
This slideshow requires JavaScript.
Sadly, Chris' father passed away shortly after Orraman Leather's debut. The Clach wallet lives on as a testament to his belief in his son's talent.
Designing his own leather goods was one of the major challenges that Chris faced when he became a business owner. Another big challenge was scaling the fledgling business — and he turned to Sailrite to accomplish this important task.
Growing With the Fabricator
Chris started out sewing all his leather goods by hand. But as he got the word out about his shop, orders started flooding in and he couldn't keep up with demand. He realized he needed a reliable leather sewing machine — and fast.
His search for the perfect machine led him to Sailrite in late 2022. "I started asking my friends about sewing machines they recommended, and every single one of them said I should check out [Sailrite]," he said. "I then checked out reviews of [Sailrite] products on YouTube, and every single review I came across was 11 out of 10."
Chris chose the Sailrite® Fabricator® Sewing Machine for its power and strength. "The Fabricator is an excellent machine, no question — a workhorse that just gets the job done professionally, time and again." The Fabricator easily sews up to 20-ounce leather and can run all day, making it the ideal machine for a job shop like Orraman Leather.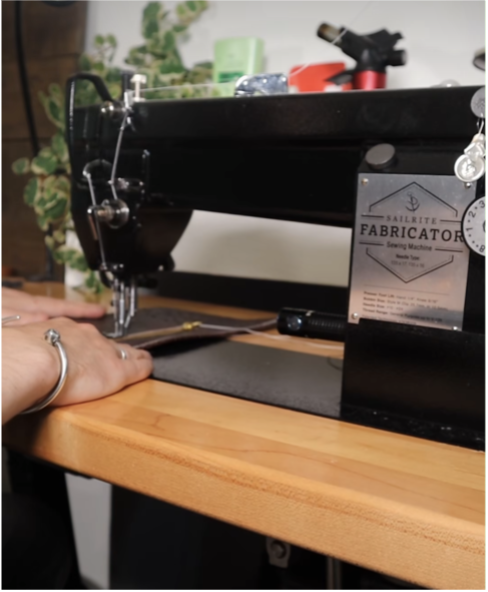 But the machine wasn't the only thing that impressed Chris. What he calls "the genius of Sailrite" is the excellent customer support that all Sailrite products come with.
"Most leatherworkers start in the same way I did. You mess around with a small project and fall in love. … You start your business, but … your business gets away from you very quickly and you need to scale properly. An industrial sewing machine is great for this, but most of us have never used a sewing machine before.
"[Sailrite understands] that rookies might be using [their] machines to learn on, so [they] make in-depth YouTube videos for EVERYTHING! It's incredible. … [Sailrite] made it as user-friendly as [they] possibly could to ensure that people can just get on with their jobs and their craft."
Chris takes full advantage of Sailrite's free video library, especially when it comes to his sewing machine. "I have watched pretty much every single video on the Fabricator and the parts of the Fabricator. It's an incredible machine that I am very confident using now, thanks to Sailrite's in-depth videos."
As far as Chris is concerned, quality is Sailrite's calling card. His excellent experience with the Fabricator encouraged him to shop Sailrite for his other supply needs. "I have bought a [ton] of hand tools as well as sewing machine parts and oil from Sailrite, and moving forward I will be buying a [ton] more tools and materials from Sailrite!" he said.
"What keeps me coming back? I work 100 hours a week, easy. Most of that time is spent crafting, and you absolutely don't want to be messing around with poor-quality tools. … They have to be next-level quality, and Sailrite hit the nail on the head there."
Advice for DIYers With a Dream
Although losing his job as a musician during the COVID-19 pandemic was a tough blow, Chris used it as an opportunity to branch out. Orraman Leather has become more rewarding than he ever imagined — especially since he added his Fabricator to his workshop.
He said, "I love working with my hands. Every day I get to do what I love, which is an incredible honor. Owning a small business is incredible too. To watch it grow after [my] hard work is incredibly fulfilling."
The Fabricator and other quality Sailrite tools not only help Chris keep up with orders, but they have also cleared the way for exciting improvements in his business — including a recent partnership with master kilt maker MacGregor and MacDuff. Chris also shared that Orraman will soon be moving from his small home-based studio to a larger workspace to accommodate even more sales and inventory growth.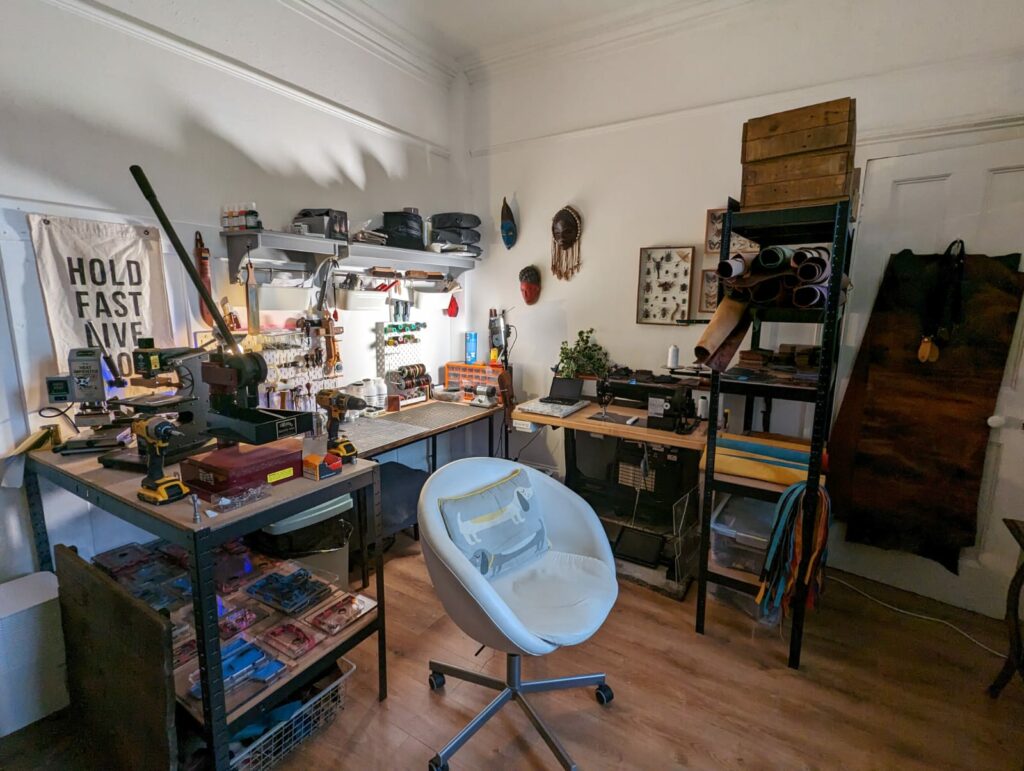 Chris has learned a lot about running a handmade leather business over the years. When we asked him about the most important lesson he's learned, he said this: "Find the leather you like and want to work a lot of. All leathers are tanned differently, and as such, cut and work differently. I can't stress enough how much better you become at your craft if you stick to one material and learn everything about it."
That's great advice for aspiring leatherworkers — and it wasn't the only advice Chris had. "Remember why you craft in the first place," he said. "You craft for the enjoyment of it. If you want to get into leather craft, go for it! Don't wait, just get into it! If it turns into a business, amazing; if not and you just get a fun hobby out of it, also amazing!"
For those who would love to start or grow their own business, Chris explained what helped him start making sales: spreading the word about his work.
"I think the biggest challenge anyone will face when starting their business is getting the word out that you actually exist. I really struggled with that in the beginning, but social media is your friend here. Get your work everywhere you can. … People won't know you exist unless you introduce yourself. The reality is you might message 50 people, and no one responds. But don't get defeated because number 51 could change your life."
He noted that the process isn't instant, but it's possible with persistence. "It's just a matter of time. Just be patient, keep your head down and don't let anyone outwork you. You got this."
Chris, thank you for sharing how you used an obstacle as an opportunity to create your dream career. Your story will inspire other DIYers who are dealing with setbacks on the path to achieving their own dreams. Sailrite is proud to provide the tools and materials you need to share your leatherwork with people across the globe. Keep up the amazing work!
If you'd like to check out more of Chris' leatherwork and see what else he's making with his Fabricator, you can follow him on Instagram at @orramanleather.
Who We Are
Sailrite is your one-stop DIY shop! We are a passionate crew of do-it-yourselfers who strive to equip you with the supplies and how-to knowledge you need to tackle your next project. Do you want to learn upholstery, leatherwork, canvaswork, hobby sewing, bag making or more? We have the fabric, tools, hardware, sewing machines and notions you need to master any DIY. And even if you've never sewn before, our tutorials and how-to videos are designed for beginners and experienced crafters alike.
Start your DIY journey today: www.sailrite.com