This is a story of changing circumstances, making the best of a bad situation, and venturing out in a new direction. It's a story of finding your own path while paying tribute to where you came from and honoring those who taught you life's greatest lessons. It's also a story that's becoming increasingly well-known and relatable to many.
Caleb Arthur was laid off from his job at a sheet metal factory in early 2020 due to circumstances surrounding the COVID-19 pandemic. With time on his hands, he decided to revisit a dormant interest in leather crafting. Months after the layoff and with no call back to work, he decided to get serious about his leather crafting hobby and see if he could turn his leatherwork into a source of income.
As a beginner, he was hand stitching his leather goods. He quickly realized he needed something more efficient and productive if he was going to pursue leatherwork as a business. He needed a leather sewing machine. That's when Caleb discovered Sailrite® and the Fabricator® Sewing Machine. With the quiet, energy-saving Workhorse® Servo Motor and the ability to sew one stitch at a time, the Fabricator delivered the precision and control Caleb was looking for. "I was attracted to the Fabricator's wider throat for fitting larger projects through. I knew it was a heavy, solid machine and I had to have it."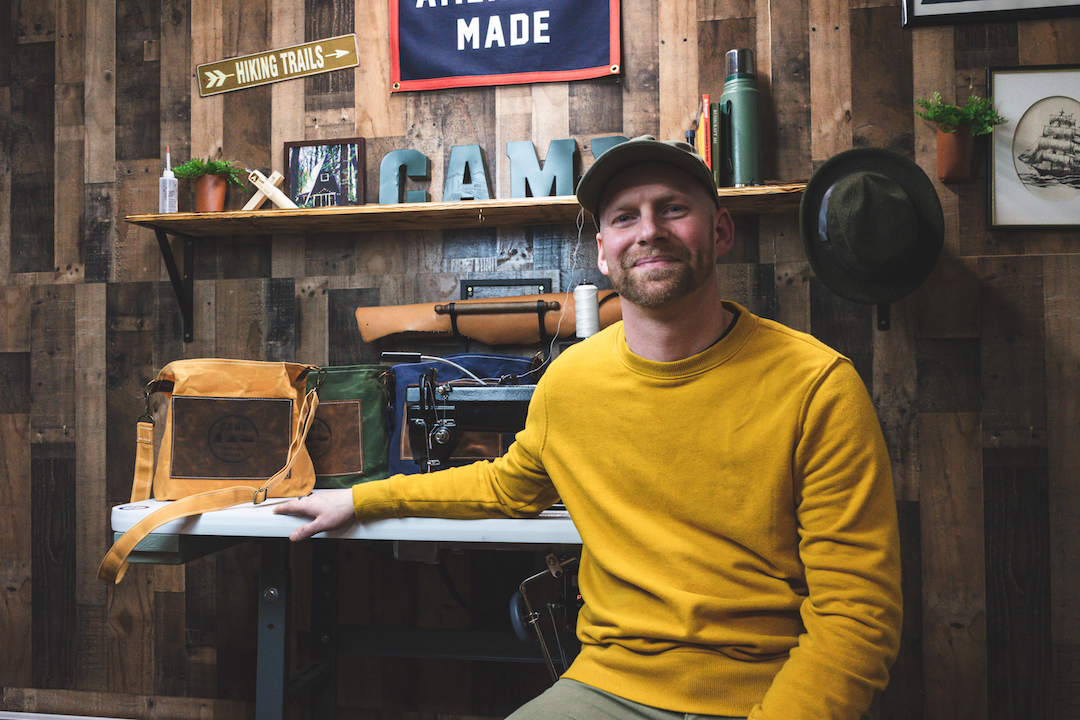 With the addition of the Fabricator to his sewing studio, Caleb has been able to tackle bigger leather projects and dramatically speed up his productivity — a huge upgrade in more ways than one for a new business getting its feet off the ground. "What is so exciting to me now is the ability to take on projects that I never would have if I were solely hand stitching." When he was hand stitching, small items like bifold wallets, skillet handle covers and passport holders could take hours to pattern and stitch. With the Fabricator, Caleb has added items like leather and waxed canvas tote bags to his product offerings. "I can now assemble the body of a tote in minutes as opposed to hours. The ability to dial in my stitch length and distance with the material guide keeps my stitches looking uniform."
We sat down with Caleb to discuss his sewing roots, what DIY means to him, his leather crafting business and much more. Join us as we get to know this creative old soul and find out how the Fabricator has allowed him to greatly increase his productivity and stitch quality. When COVID-19 closed the door on his career, he found a window. And that window is even better than he could have imagined. Here's Caleb's story, in his own words.
Q. When and how did you learn to sew? Are you self-taught?
A. Since I was a baby, I have always been surrounded by sewing and the DIY lifestyle. I was co-raised by my grandparents, and my grandma always had her own separate sewing room where I spent a lot of my time. My grandma worked for a tiny little company called Eddie Bauer back when they still made their goods here in the United States. She was a seamstress for them and also repaired sailboat sails for a short period. The majority of my clothes were handmade by her as a kid. I never took an interest in sewing myself until recently. My grandpa had a workshop in the garage where I found more interest at the time. He built and fixed most things around the house, so I adapted that from him. I have always kind of lived by the motto of, "What would Grandpa do?"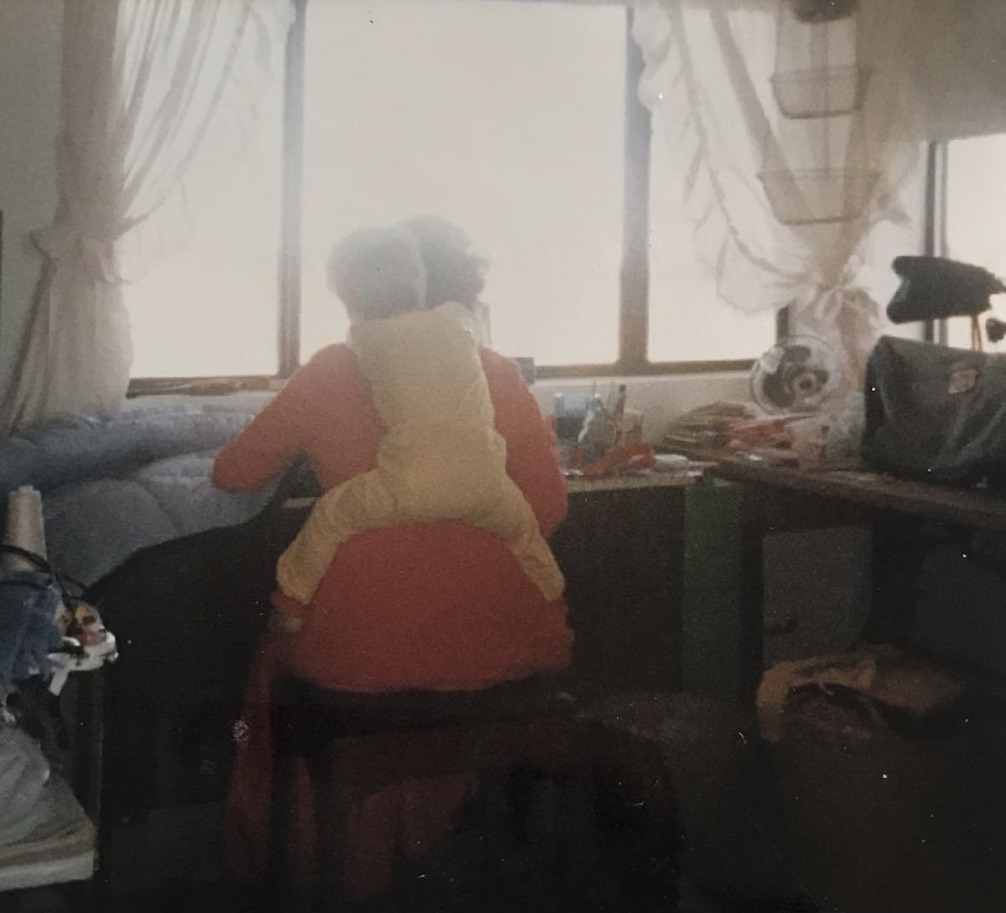 I would like to give a ton of credit and thanks to Ryan over at "Little King Goods." I came across his videos and company via YouTube, and it is safe to say that I have learned so much about sewing and leather craft through his amazing videos. I don't think I would have made the full plunge into leatherwork if it weren't for his motivational and inspirational videos. He really made me feel like it was attainable for me. Super nice guy too. Thanks, Ryan! So, I'm self-taught but with great mentors.
Q. What type of leather goods do you make? 
A. Right now, I am focusing on making the best classic, functional leather goods I possibly can. Wallets are my most popular item, and I recently dove into the world of tote bags and guitar straps. I make field note covers and clutches for the ladies and gents. I'm really open to just challenging myself and trying a bit of everything. If I think it's a good fit for my permanent catalog on my website, then I put it up. My theme or logo for my branding is that of the great outdoors, as I have a huge respect for nature. I feel so gifted and lucky to have spent most of my life in the state of Washington. While, yes, it is true about the constant rain, it just makes those clear sunny days even more special. We really know how to take advantage. Mount Rainier overlooks our amazing city of Tacoma and is a constant reminder of the power of Mother Nature. 
This slideshow requires JavaScript.
Q. How did you get started in leatherwork?
A. My first dive into leatherwork was around five or six years ago when I was working as a merchant mariner. My wife (girlfriend at the time) had bought me a really nice leatherworking kit that included everything I needed to make a few very basic leather items — wallet, keychain, coin pouch. In my downtime on the ship, I would head down to the workshop and tinker away at making those items. I found much enjoyment from dying the leather and learning the basics of stamping and tooling. It was a nice way to pass the time as we would sail back and forth from California to Alaska, but it was a hobby I would not revisit until 2020.
Q. What do you love about leather crafting?
A. For me, leatherwork has become a form of stress relief. I find so much pleasure in creating and turning nothing into something. The entire process of working with leather — from the texture, the smell (OH THAT SMELL!), to the way you can form it into anything imaginable. I'm a bit of an old soul and I love the fact that leatherwork has been around for ages and has stood the test of time. I love the way that people are drawn to a classic, well-crafted leather good. To me it carries a bit of respect and class, and I believe that we should treat it as such. I always hold onto even the tiniest of scraps as I always find another purpose for them in a future project.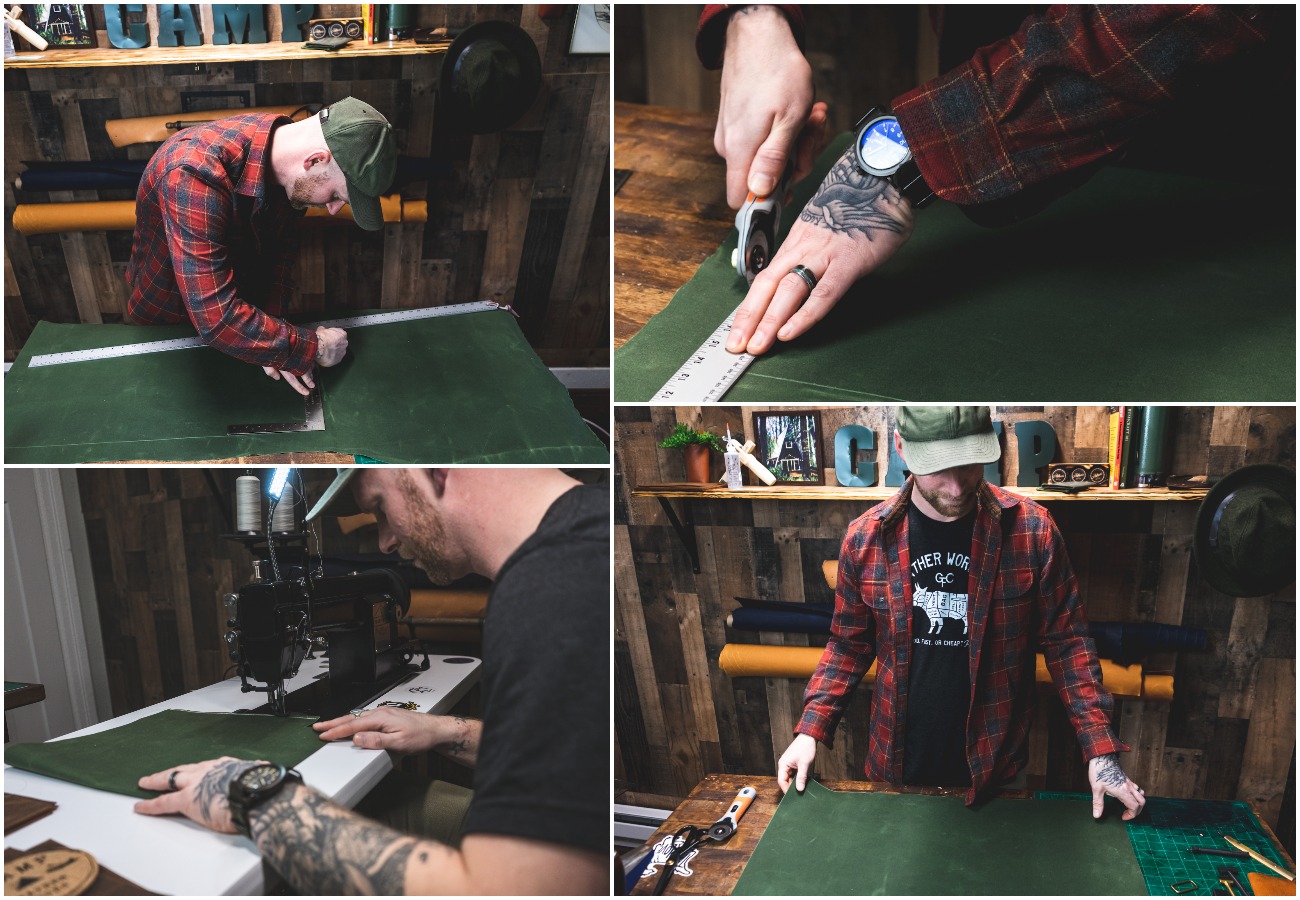 Q. Do you consider yourself a creative person? 
A. I have always felt that I had a creative side to me but more so a strong desire to create. I've always wanted to make things with my hands, to be able to show something/anything to the world that I was proud of. With leather crafting, I fill that desire to create and share with the world. Creating my Etsy page and personal website was a huge moment for me, allowing the entire world to have access to my craft. I have received great feedback and the support has been amazing thus far. I would like to thank my customers for their support as I grow and improve.
Q. What do you love or relate to about the DIY/handcrafting lifestyle?
DIY is pretty much my motto for most things. I learned from my seven years in the U.S. Navy that if you want something done right, it's best to do it yourself. At home, my wife and I rarely hire outside work if we think it's something we can take on, or at least learn ourselves. For one, it saves a ton of money; two, we get to learn and educate ourselves in the process; and, thirdly, there's nothing like the sense of pride you get from taking on a project that you did yourself.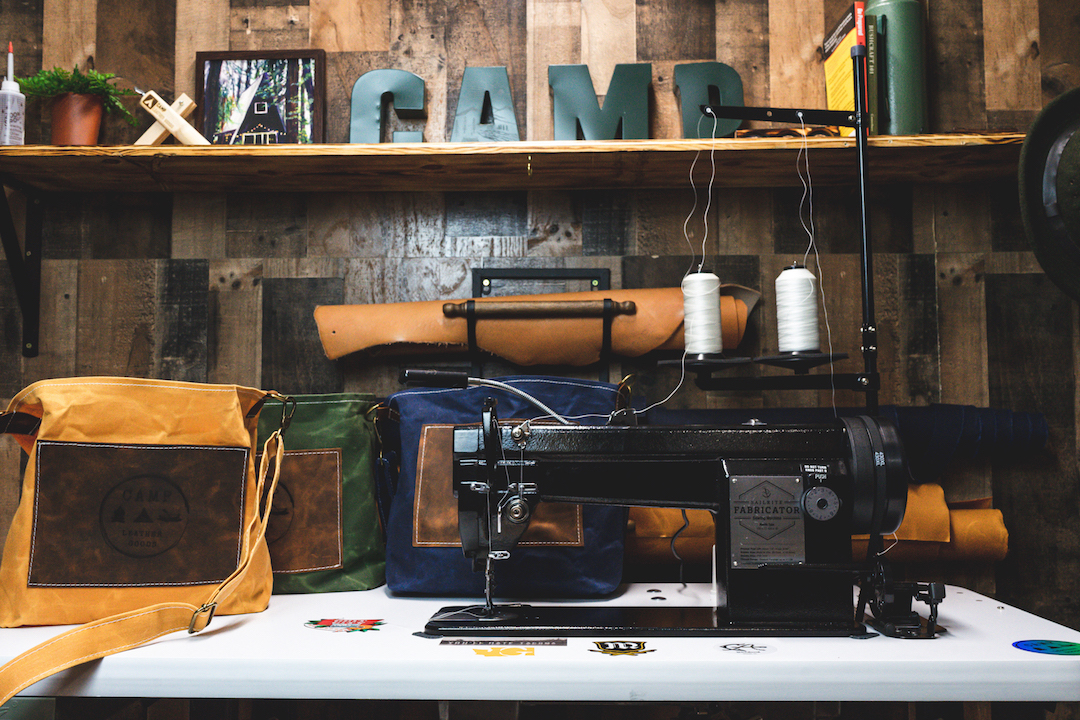 Q. What would you say is your design aesthetic with your leather goods?
A. I spent a lot of my childhood with my grandparents and I think it's safe to say that I was taking mental notes of what my Grandpa Clyde had around and what he depended on, from his beat-up old Redwing work boots to his tool-stamped leather wallet to his belts. I try to make the best durable, made-to-last goods that I can that have a classic, old-fashioned look to them. Simple design, classic colors and built to last. I'm a big fan of natural earth tones.
Q. Is there a special meaning or significance to your business name, CAMP Leather Goods?
A. Yes! So my company, CAMP, has a few things going on — one being my obvious passion for camping and nature and wanting to make goods geared toward outdoor use. But it started off with me wanting to incorporate my initials, CA (Caleb Arthur), into the name. While I was driving around town one day, I was thinking of my Grandpa Clyde who passed away a couple years ago. He was really my greatest mentor and I observed him build and create my whole life; he was truly an exceptional man. My Grandpa never once called me by my birth name but instead chose "Mutty" for my name. He gave all of us grandkids a sort of nickname, so I became "Mutt," or "Mutty" or "Old Man Mutt." As I feel that I am still striving to make him proud, I created an acronym for CAMP that has a more personal meaning for me, and that is the "Clyde And Mutty Project." It's my way of keeping his spirit alive with every product I put out.
Q. Is there anything you'd like our readers to know about you, your business or your DIY philosophy?
A. While at the end of the day I am a crafter/leatherworker, I hope to inspire anyone who may feel like they are struggling to find their drive or passion. I have spent a lot of time waiting for the answers to land in my lap, and I can tell you that has been wasted time. If you want something, or you want to be something, study the craft, make those mistakes — make big ones! That is the only way we are going to learn and improve. Ask questions; ask for help! Adapt the notion that failure or giving up simply is not an option. Don't be held back with the idea of, "What if this doesn't succeed?" Instead, take on the action of, "What do I need to do now to make this succeed?" Define what success is and what it looks like to you.
One last thing: I would like to thank my beautiful wife, Katie, and the recent mother of our newborn, Lincoln. Without her support, I would be working a job that I couldn't stand, always wanting something else. She motivates me and supports me in doing what makes me happy and I absolutely adore her for that. When the busy holiday rush of orders hit, she was right next to me cutting leather staying caught up. I really hit the jackpot with her!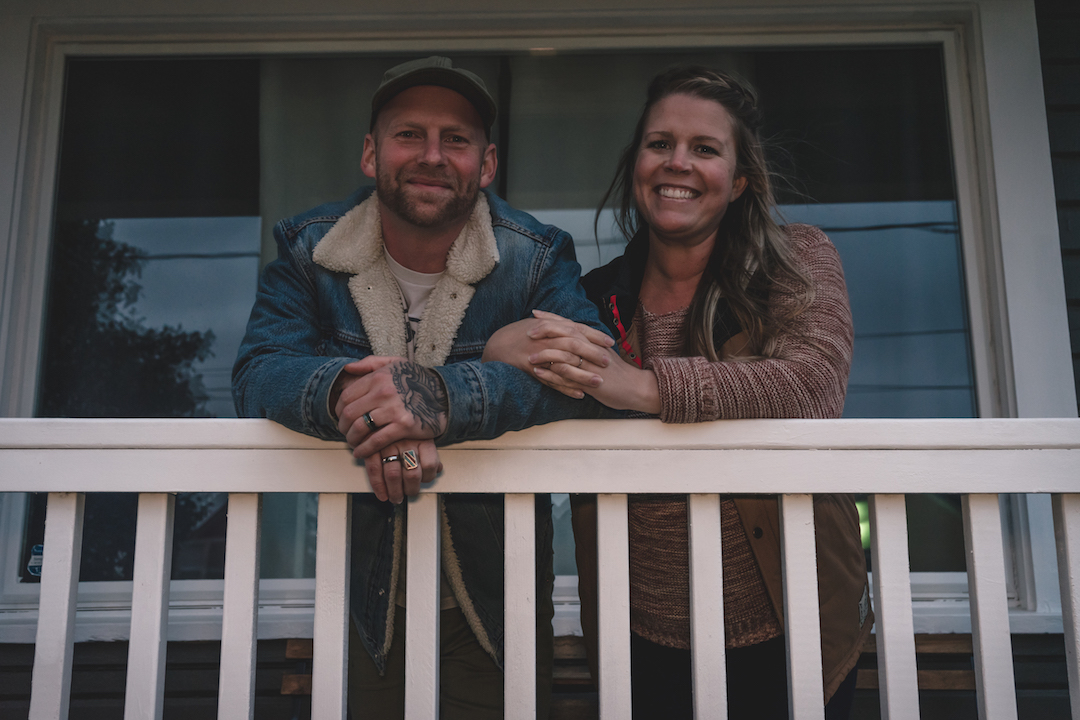 Congratulations on turning your dream into a reality, Caleb! We're so thrilled that Sailrite and the Fabricator could be part of your DIY journey. Keep on creating!
If you'd like to follow Caleb on Instagram and see what he's making with his Fabricator, you can follow him at @campleathergoods.
Who We Are
Sailrite is your one-stop DIY shop! We are a passionate crew of do-it-yourselfers who strive to equip you with the supplies and how-to knowledge you need to tackle your next project. Do you want to learn upholstery, leatherwork, canvaswork, hobby sewing, bag making or more? We have the fabric, tools, hardware, sewing machines and notions you need to master any DIY. And even if you've never sewn before, our tutorials and how-to videos are designed for beginners and experienced crafters alike.
Start your DIY journey today: www.sailrite.com