In 2019, Linda Jackson and her husband bought an 80-foot custom-built John Alden-designed sailing yacht. They live on the vessel full time, cruising the Pacific Ocean and working on the boat as they traverse the open waters. They've spent the past few years updating and refitting "SV Duende." For all things canvas and upholstery related in this massive restoration project, Linda turned to Sailrite® for her tools, supplies and educational content. Let's learn more about this liveaboard couple and how Sailrite is an integral part of their DIY and sailing journey.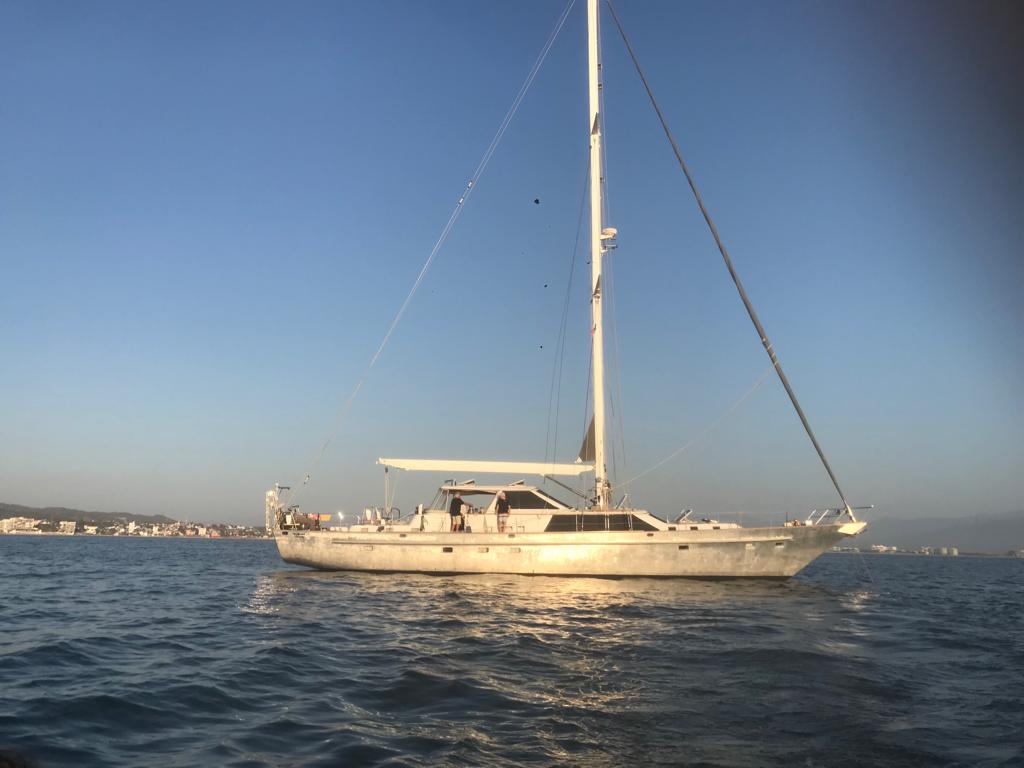 A Love of Sewing & Sailing
Linda grew up in a sewing family. "My dad was a capable mender and stitcher. My mom always had a sewing machine to make and repair clothes, and my sister is an accomplished seamstress." There was no shortage of people around to teach her how to sew. Linda also learned to sew in school through home economics classes.
Those fundamental sewing skills she learned at a young age would pay off when it came time for the supersized projects onboard. 
When the couple left their landlocked lives behind and transitioned into liveaboards, it wasn't a decision they made lightly. They took a yearlong sabbatical from work to cruise the Pacific coastline from San Francisco to Zihuatanejo on their first sailboat in 2001. After that trip they were hooked on an oceanic lifestyle, but it took another 10 years to engineer their work and life arrangements. The final step was to find a boat that they felt was the right size and configuration for them to live aboard full time, first a 50-footer, and now Duende.
"It was a big decision," Linda recalled. "But once we were committed and started to divest ourselves of all the trappings of a land-based life, we started to feel more and more free. We are all-in on this lifestyle and don't own anything that can't fit on the boat – that means no storage units and no boxes gathering dust in anyone's basement."
Ready, Set, Sail
Once the mechanical and structural part of the current refit on Duende was well underway, Linda turned to the fun part — sewing! She knew she'd need a sewing machine tough enough to handle the daunting project. Luckily, Linda was already familiar with Sailrite and the Ultrafeed LSZ. "A new Sailrite [Ultrafeed LSZ] was at the top of my list. There was a long list of to-dos that required the power and capability that Sailrite offers. I treated myself to the top of the line, and am glad that I did."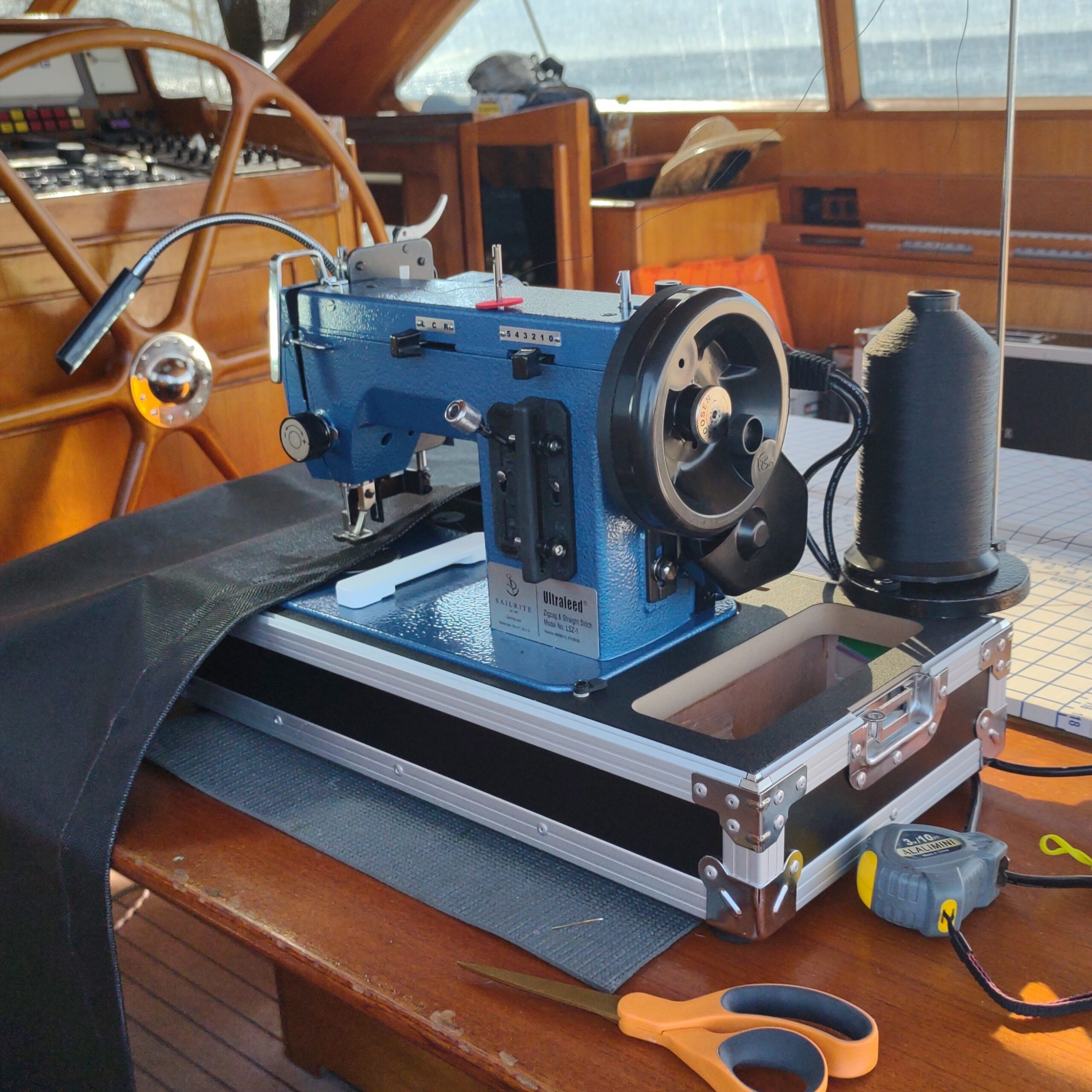 Sailrite was there to help her every step of the way: "From the first email I sent, the team at Sailrite have been true allies to me with all my projects. They are an expert source, and so willing to freely supply invaluable tips and tricks. They first helped me with material selection, and more than anything, validated my approach."
With such a daunting undertaking ahead of her, Linda broke the project down into manageable sections. She started with the exterior window coverings. "'SV Duende' is a big boat and, therefore, everything that gets built for her is big," she explained. There are 6 large window covers, and the front windshield alone is 12 feet across and 4 feet high. During the course of the window covering project, she mastered pattern-making with Dura-Skrim® Patterning Material, discovered how indispensable basting tape is, and learned how to use a binding attachment on her LSZ. "I perfected a few techniques and got better at controlling my stitches. The window coverings came out looking very professional."
This slideshow requires JavaScript.
The Pilothouse Enclosure Project
With that successful DIY under her belt, she turned to the large pilothouse enclosure project. Linda knew the enclosure project would have to be done in stages, but she was determined to take on the work herself … well, almost. "I tried to bribe [Sailrite DIY instructor and videographer] Eric Grant with a trip to Puerto Vallarta and all the lobster he could eat if he'd bring a team down and [sew the pilothouse enclosure] in exchange for promotional and video rights — but that's another story." 
This slideshow requires JavaScript.
First, Linda took apart the existing enclosure panels to figure out how it was constructed. She used the old panels as a template and was able to modify and improve the design. "The panels are 44 inches tall and cover an area of 30 feet around the aft end of the pilothouse. I purchased Strataglass 30 gauge for the new panels and followed the method shown in Sailrite's video 'How to Make an Enclosure Aft Curtain,' adding Sunbrella® facing to the edges."
Linda also referenced Sailrite's "How to Make a California Dodger" video. Between the two tutorials, advice from the Sailrite DIY experts and her own ingenuity, she conquered the pilothouse refit with amazing results.
"I started with the forward starboard panel, and the biggest stress moment was when I made the first cut on the first sheet of Strataglass™. I'd never worked with it before and I was so nervous," Linda confessed. All that prep work paid off. Her patterning was accurate and the panel came out looking great. 
She quickly moved on to the other panels, improving the process and her sewing along the way. "The starboard and port corners were the hardest thing I've ever made. But when I was finished, [the panels] all zipped together so beautifully, and the end result was a huge upgrade. By the time I was done, I'd really figured out how to make it work." From start to finish, the enclosure project took just two months. 
Lessons Learned & Advice for Others
After completing these two massive projects, Linda had a wealth of experience and tips to share with our readers. Here are her "lessons learned," as she put it:
Use the Sailrite Learn center on the website. Watch lots of different videos. Some of the pros have different ways of doing things, and it's good to see all the methods so you can pick what works best for your project.

Don't skimp on quality — having the right tools and materials for the job makes all the difference. Linda's essentials: Sailrite Edge Hotknife, Canvas Patterning Ruler, soapstone and grease pencils, the clear acrylic ruler, patterning material and basting tape.

Check your bobbin thread frequently! There's nothing worse than getting halfway down a long seam and running out of bobbin thread.

Go slow — the LSZ is a powerful machine and you must focus on controlling the stitches, especially around curves and tight corners.

Don't be afraid. Your confidence will build with every successful seam.

Ask Sailrite — they are always ready to help!
Thinking about a liveaboard lifestyle? Here's what Linda has to say about living full time on the water: 
"Living on a boat is not for everyone – you have to be physically fit and strong, and confident in your ability to handle whatever comes your way. And of course, it helps a lot if you can make and fix things. A yacht is like a little city – we create our own energy, make our own water, manage our own waste systems, and maintain everything. Being self-sufficient is not an option, there's no one to call for help when you are thousands of miles offshore. It's a lot of work, but so rewarding. We love the ability to change our location frequently and have new adventures in places that few people have the opportunity to visit.
Thank you so much for sharing your story and DIY experience with us, Linda. We wish you all the best on your future sewing projects.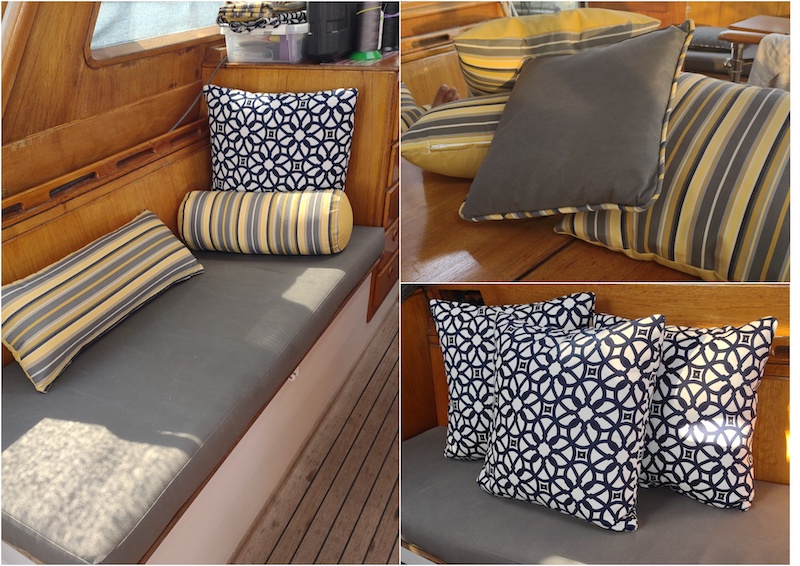 Who We Are
Sailrite is your one-stop DIY shop! We are a passionate crew of do-it-yourselfers who strive to equip you with the supplies and how-to knowledge you need to tackle your next project. Do you want to learn upholstery, leatherwork, canvaswork, hobby sewing, bag making or more? We have the fabric, tools, hardware, sewing machines and notions you need to master any DIY. And even if you've never sewn before, our tutorials and how-to videos are designed for beginners and experienced crafters alike.
Start your DIY journey today: www.sailrite.com