Have you ever watched a YouTube tutorial and been inspired to sew along with the instructor?  DIYer Angelina was inspired by the clothing upcycling videos she watched online. But when the instructors didn't show how they got from thrift store "before" to runway "after," she decided to start her own YouTube channel. Eight years later, BlueprintDIY has grown into a much-loved sewing and fashion resource for creative DIYers. Recently, she decided to take her sewing skills to the next level with her first industrial sewing machine: the Sailrite® Fabricator®. With over 200,000 YouTube subscribers, we knew Angelina was a trendsetter and expert in her field, and we wanted to find out how she's using her new Fabricator to turn overlooked hand-me-downs into fashionable, chic looks.
Her love of denim sent her searching for an industrial machine that could handle thick assemblies. She found the Fabricator and, after some research, knew it was the machine for her. Upcycling clothing is not just a trend. It's a smart, thrifty and eco-friendly way to restyle your wardrobe. In her videos, Angelina shows viewers how easy it is to take thrift store finds, or clothes from your own closet, and give them a stylish second life. We sat down with Angelina to find out how she's liking her new Fabricator and to chat about all things DIY, fashion and upcycling.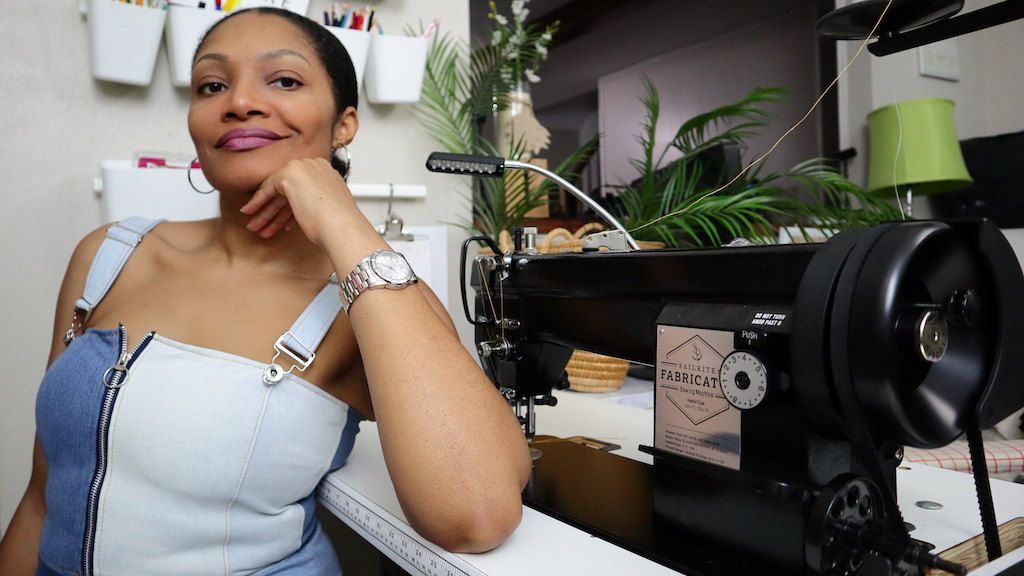 Q: How did you get the idea to start a YouTube channel and share your upcycled clothing tutorials with the world?
A: I decided to stay home to raise my kids, which meant that I couldn't shop as much as I used to. This is when I discovered thrifting while watching YouTube. I watched girls go buy thrift store clothes and do small alterations to make it suit them. That was my answer! I started thrifting and altering, and a whole new world opened up to me. Now I could stay on budget, shop and make my clothes fit. So I started sewing again and realized that the girls I was watching on YouTube never showed how they were recreating their clothes. They only showed the before and after. I felt like other women really needed to know how to do this.
Q: What do you love about upcycling clothing and the DIY/sewing creative process?
A: I love the push and pull of taking a limited amount of fabric and creating something that looks like it has no limits. I don't gain much inspiration from raw material, but I feel like old clothes speak to me. They want to be new again.
Q: What clothing materials do you work with most often? 
A: I work with a ton of denim, men's dress shirts and T-shirts, which I'm just realizing are all cotton-based materials.
Q: What is your favorite item of clothing to upcycle? And do they come from your own closet or do you thrift clothing pieces to remake for your videos?
A: My favorite clothing to upcycle is definitely jeans. Denim lasts so long and is so strong. I mostly get jeans to upcycle from my local thrift outlet. Each day every item in the store is a single price ranging from $2 all the way down to $.25 on Wednesdays. They always have a lot of jeans, so it's a great item for me to upcycle.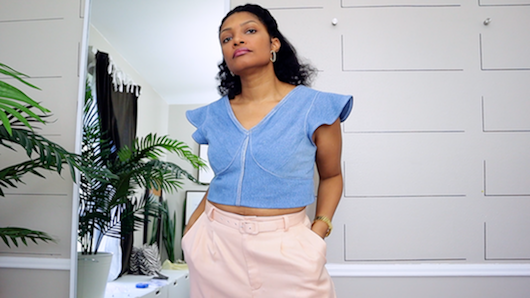 Q: Where do you get the ideas or inspiration for your upcycle designs?
A: I have a constant list of projects that I want to make videos for. My project ideas come from social media, current events, viewer suggestions, runway shows and my own strokes of genius.
Q: When you were looking to upgrade to an industrial sewing machine, what made you look at the Fabricator? What was it about the machine that appealed to you?
A: Before this year, I had never heard of Sailrite. But I had dreamed about upgrading to an industrial sewing machine for years. I was scrolling through Instagram one day and saw an ad for the Fabricator. It stopped me in my tracks. I'm a licensed architect by trade and gorgeous machinery is a passion. I decided to do some research to see if the specs matched its beauty. I was blown away when I saw the level of control it has as it's sewing through many layers of thick materials.
Q: What have you sewn on the Fabricator and how has the machine performed for you?
A: I've upcycled a bunch of jeans and made a pair of two-tone jeans, a detachable sleeve denim jacket, two denim tops and a wrap skirt. It's working amazing for me! I love that my top stitches look just like I purchased the garment from a store.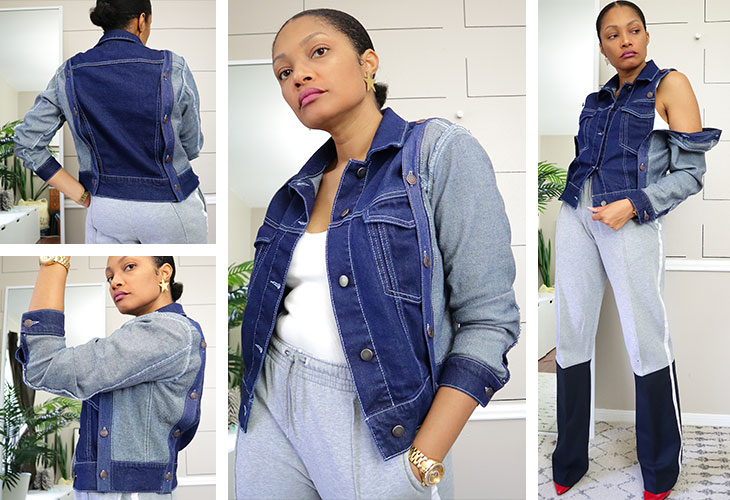 Q: What is the thickest or toughest fabric you've sewn with your Fabricator? How did the machine handle the material?
A: I tested it and it actually sews through 16 layers of denim with ease.
Q: How do you see the Fabricator fitting into your upcycle clothing videos? Will you use it for specific materials and designs, or as an all-around project machine?
A: I have only used it for denim so far, but I have more needles and feet coming that will make it possible to use it with finer materials. And I'm so excited to do my next leather project!
Q: Have you had any clothing project that's been more difficult or tricky to upcycle? Your design didn't go as expected? What did you learn from the experience?
A: The very first project that I used the Fabricator for was my two-tone jeans project. I was still a little apprehensive about using the Fabricator because it was new to me. I cut the jeans more than I should have next to the zipper fly. The only way to salvage the project was to sew the zipper fly of one pair to the zipper fly of the other pair. There's absolutely no way that my heavy-duty domestic machines could do it so I turned to the Fabricator. It performed amazingly and took away all my fears. The control on it makes it so easy to use.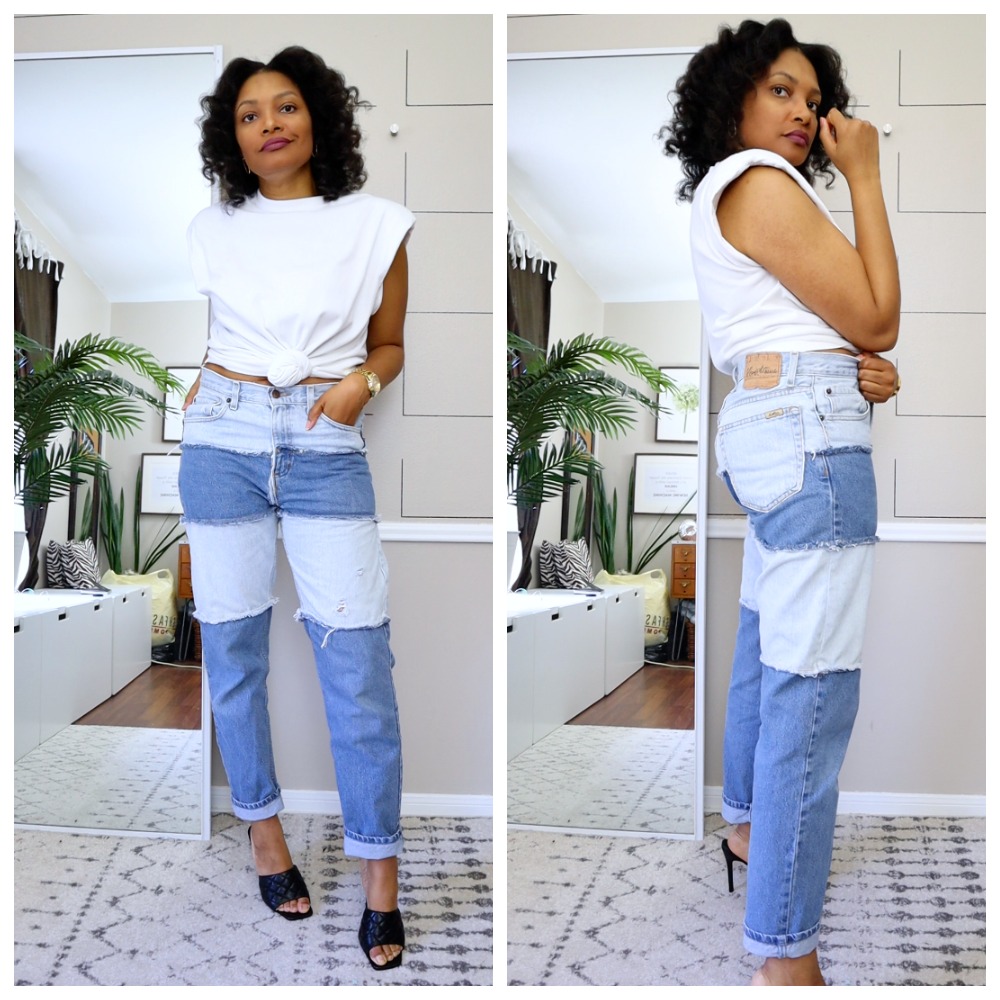 Q: Are you hoping to teach your kids to sew and pass along the skill? 
A: I just started teaching my kids to sew this year, mostly on my domestic machines. They are 12, 10 and 6, and I'm happy to say that they really enjoy it. After a few lessons, my 6-year-old son wanted to try using the Fabricator. He was able to make a few stitches and control the foot with ease.
Q: What is the most rewarding part of sharing your tutorial videos and being a DIY influencer?
A: Early in my channel, one of my subscribers commented that my videos inspired her to remake her clothes, which was helping her stay positive through her third bout with cancer. I didn't realize how healing sewing could be. It has been a great source of my own healing after losing my husband to a rare form of meningitis in 2017. During the coronavirus pandemic, I made it my goal to upload as much positive content as possible to be a steady and uplifting part of my viewers' day. That's the most rewarding thing to me.
Q: Is there anything else you'd like to share about yourself, your family or your DIY lifestyle?
A: I think that I make sewing fun and not so intimidating. My sewing style is wild, crazy and experimental. People are more willing to be bad at it and learn from mistakes so that they can get better. I think it really takes some of the pressure off. I'm also building a community outside of YouTube. My Facebook group is taking on a life of its own. People are swapping materials locally, helping each other fix their sewing machines, and applauding one another's projects. I'm striving for a community or family atmosphere, and I'm very proud that it's growing into that.
Have you ever thought about upcycling clothing and breathing new life into clothes you don't wear anymore or thrift store finds? If you need a place to start, Angelina has hundreds of upcycling tutorials on her YouTube channel. You can find her at BlueprintDIY. Thanks for chatting with us, Angelina, and good luck with your future upcycled fashions!
You can follow Angelina on Instagram at @blueprintdiy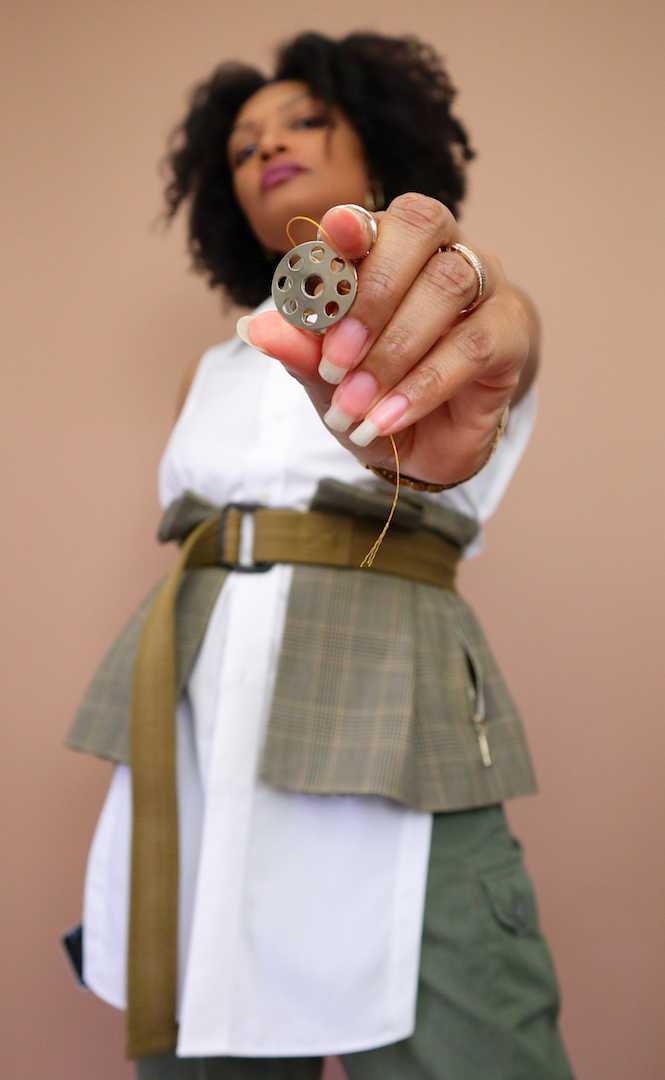 Who We Are
Sailrite is your one-stop DIY shop! We are a passionate crew of do-it-yourselfers who strive to equip you with the supplies and how-to knowledge you need to tackle your next project. Do you want to learn upholstery, leatherwork, canvaswork, hobby sewing, bag making or more? We have the fabric, tools, hardware, sewing machines and notions you need to master any DIY. And even if you've never sewn before, our tutorials and how-to videos are designed for beginners and experienced crafters alike.
Start your DIY journey today: www.sailrite.com