What do you see when you look at a quilt? An old-fashioned bedspread? Something your mother or grandmother used to sew? Most of us only see what's in front of us: cotton, batting and thread. We don't look past what it is to envision what it could become. That's what sets Kathleen McVeigh apart. She doesn't see just a quilt. She sees a coat, a dress, a top, a bag — she sees endless possibility and potential. With care, thoughtfulness and great consideration, Kathleen transforms handmade vintage quilts into one-of-a-kind garments and accessories. With the help of her Ultrafeed® LS Sewing Machine, she is bridging the past to the present and creating something truly unique.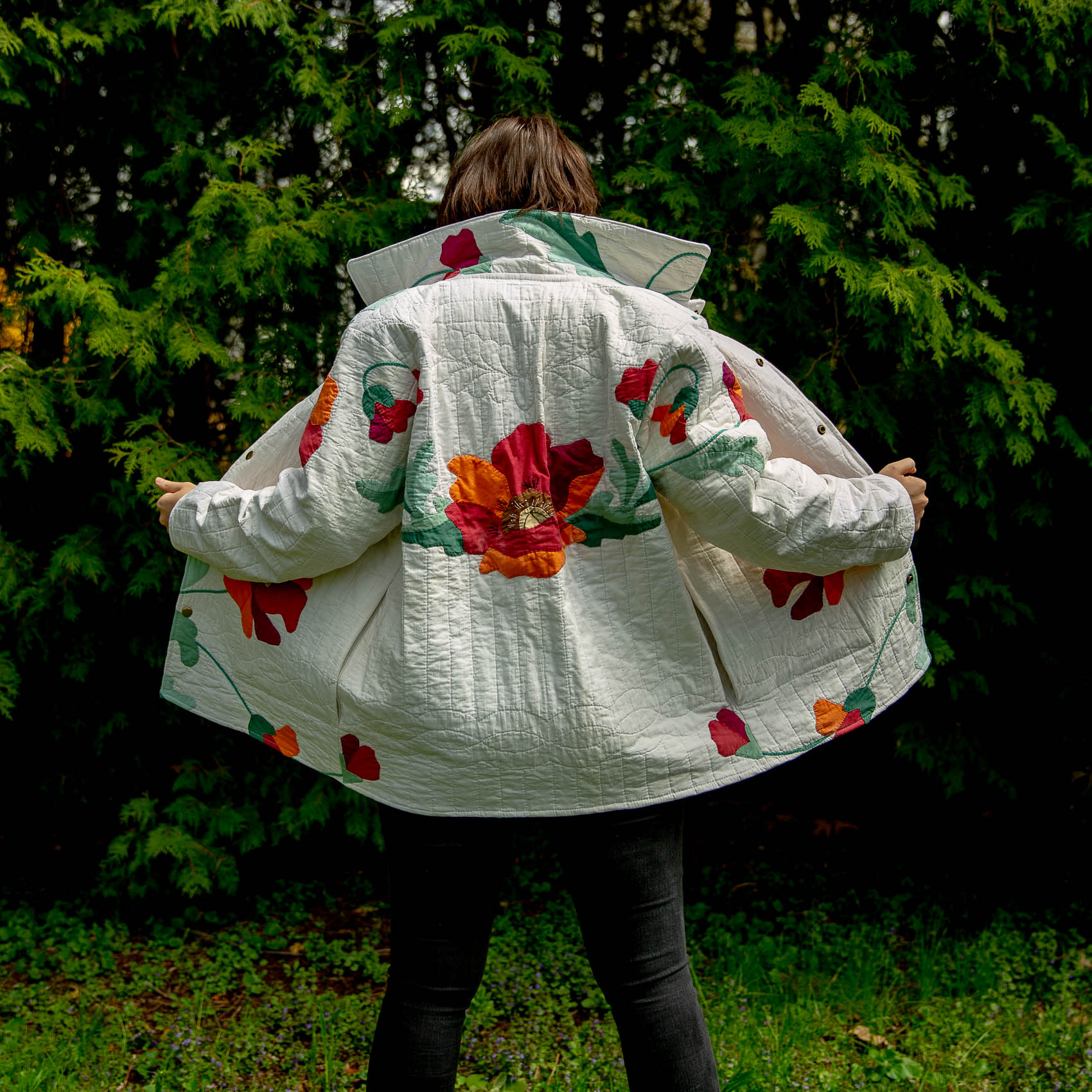 Transformation. It's the core of all DIY. To take something and turn it into something else. Breathing new life into heirloom quilts is Kathleen's calling. With a background in fine art, she has used her creative talents and eye for design to transform these forgotten treasures into beautiful coats, dresses and bags for a new generation to fall in love with and cherish all over again.
Kathleen's love of quilting runs deep. She grew up watching her grandmother quilt and, later, taught herself to quilt as an adult. "My grandmother taught me to sew when I was 4 or 5. I would go over to her house for visits or sleepovers and she would give me some of the triangle pieces she was quilting to sew together while we watched movies. I have really good memories of sewing with my grandmother and learning about the different fabrics we were using, mostly from old family clothes, linens, sheets or curtains."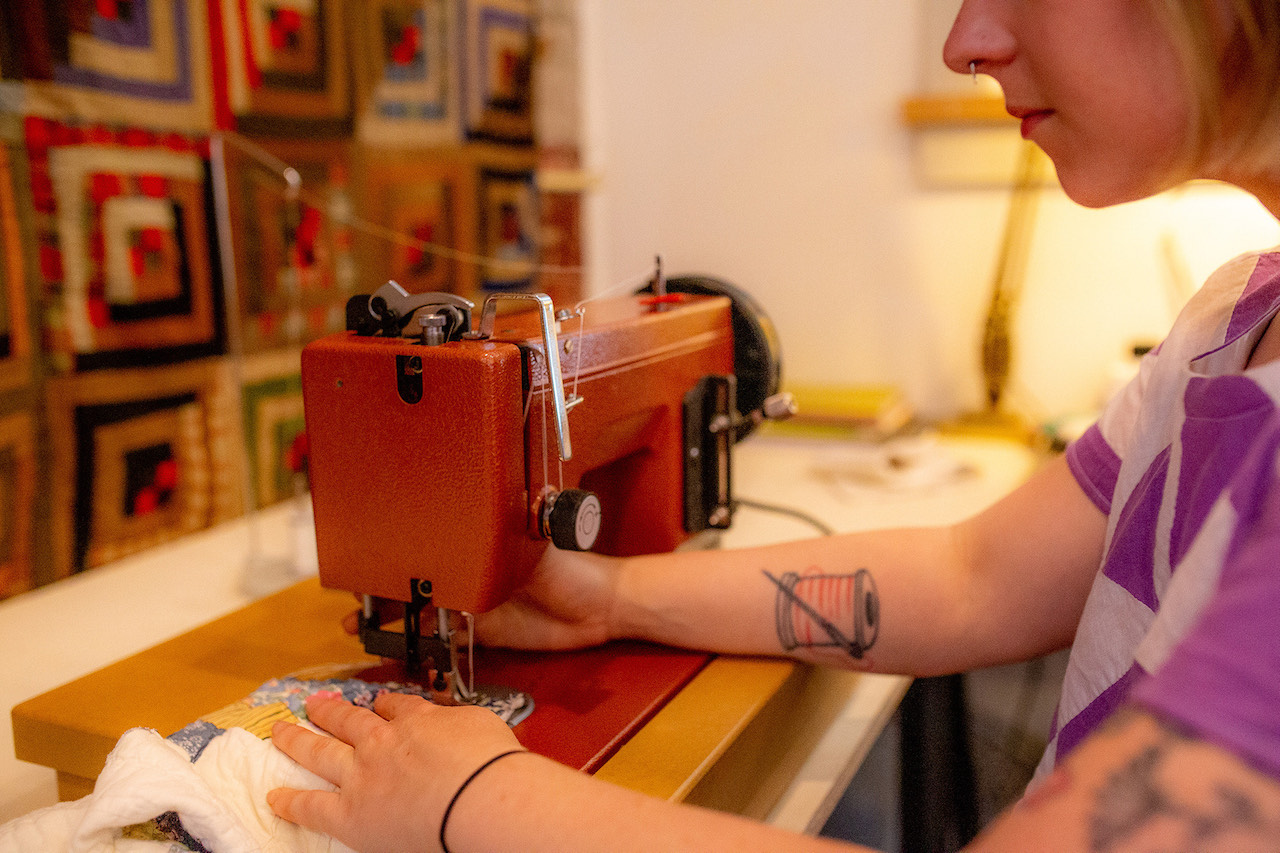 You can imagine that a great deal of consideration goes into cutting apart quilts and piecing them together, creating something completely new yet that retains the beauty and personality of the original quilt. Considering how much time goes into making a quilt — vintage quilts took anywhere from several months or even years to complete — you can tell that Kathleen has the utmost respect and appreciation for the original quilter, and she reflects that in the care and attention she puts into creating her coats and other quilted goods.
Kathleen started her business, Kitty Badhands, in 2016. At the time, she focused solely on handcrafting minimalist modern quilts and custom, made-to-order quilts. Due to time limitations, it was a part-time hobby. In 2020, she relocated her sewing studio to her apartment and space became a major issue. So, she decided to make a quilted coat because it was a project that she could work on in her dining room. What she intended as a personal side project turned into the future of her business and brand. "The response from friends also wanting a coat was overwhelming, and it grew from there into a full-time job fairly quickly."
We sat down with Kathleen to learn more about her DIY inspiration, her history with sewing and quilting, and why she chose the Sailrite Ultrafeed to help her turn quilts into unique and wearable works of art.
This slideshow requires JavaScript.
Q. Do you consider yourself a creative person?
A. I do. I think almost everyone is creative in their own way, and my creativity manifests itself visually. I love dreaming up forms in my head and being able to create those forms with my hands. Whether that's making a coat, a sketch, the way I decorate a room, or cook a meal, I think creativity is a huge part of what makes everyday life interesting and exciting.
Q. What do you love about the DIY and creative lifestyle?
A. The DIY/creative lifestyle, in my case, has been about creating and building the Kitty Badhands brand. There is so much to love about running my own business. I get to do what I love every day, on my terms, and I get to be my own boss. I worked in the service and restaurant industry for 12 years. Every day, when I would go to work, I would think: "This isn't what I'm supposed to be doing. This isn't a good use of my energy and it doesn't make me happy." Having a creative and DIY lifestyle for me means living on my own terms and being responsible for my own happiness and survival. It's a dream.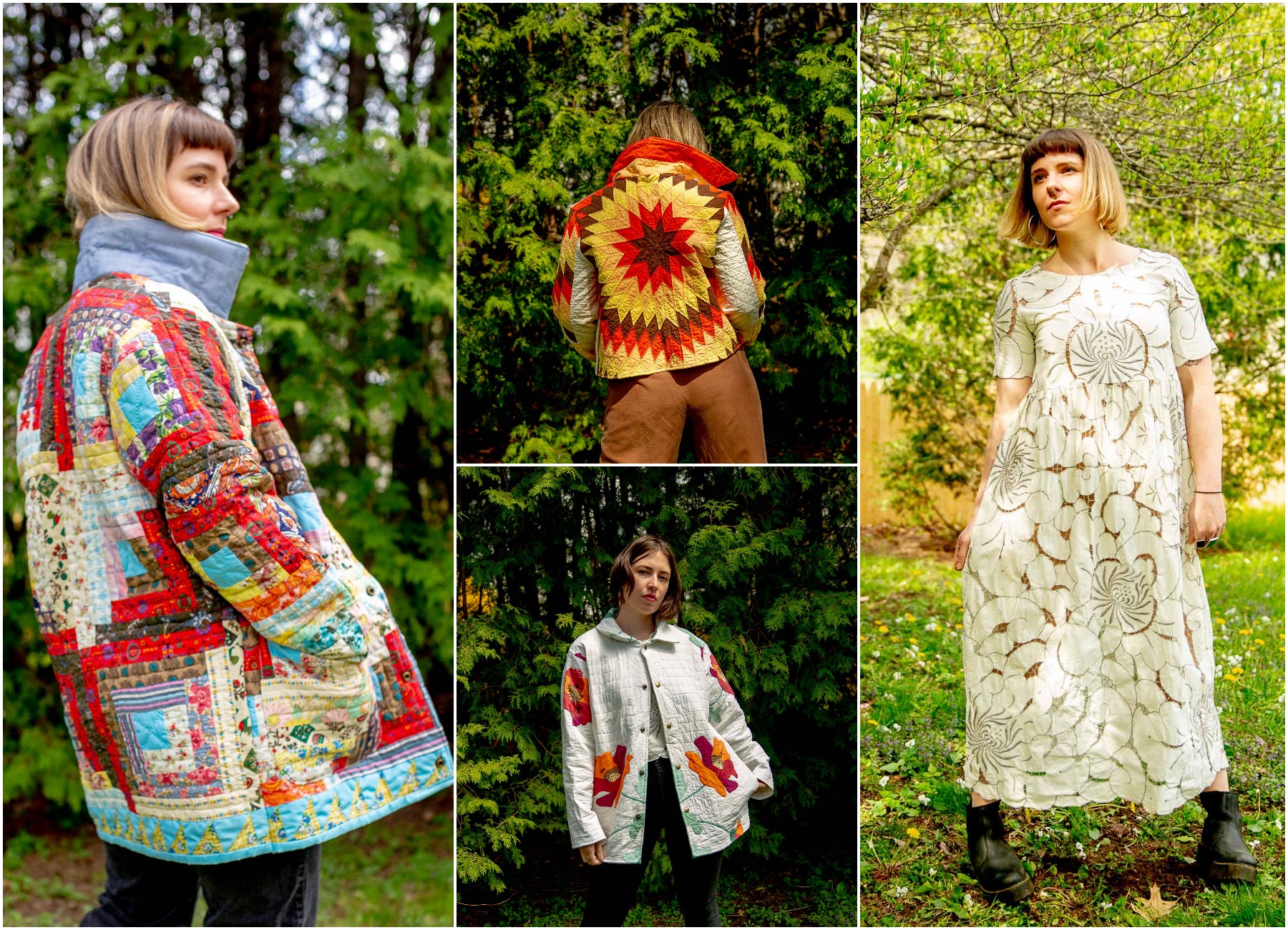 Q. How did you get the idea to turn vintage quilts into one-of-a-kind coats?
A. I had a beloved wool coat that was passed down to me by a friend. The cut of it was very unique and it was beginning to fall apart. I tried to mend it, and when that didn't work, I decided to cut the coat apart and try to use the pieces as a pattern to recreate the same coat from a new material. I think I naturally gravitated toward remaking the coat out of a quilt because I felt very comfortable working with quilts (I had already been quilting for several years), and the quilt I had in mind to use was a similar weight and thickness to the wool from the coat. This was just a personal side project for me, but friends were really interested in the coat I made and wanted one of their own. So I started making them for friends and, eventually, folks I had never met started asking for their own quilt coats.
Q. Can you describe the process of turning a quilt into a coat?
A. I first spend a lot of time looking at the quilt and thinking about how I will cut it up. I only ever cut into vintage quilts that are damaged in some way and in need of new life (stains, rips, holes, etc.). If I find an heirloom quilt in pristine condition, I leave it alone, as it would be wrong to cut into something like that. Once I have an idea of how I want the coat to look, I lay my coat pattern pieces over the quilt, making sure I have enough quilt to work with (sometimes I find out that I don't and then I have to rethink the placement and design), and then trace them with a chalk marker. I cut all of the pieces and now I'm ready to sew.
First, I work on lining up and attaching pockets first. Next I sew up the sleeves. Lastly, I attach the front panels to the back panels. Then I serge all of the seams together before attaching the sleeves to the body of the coat. I use a mannequin to pin and adjust as I work. After serging the armholes, I work on either a collar or a hood and attach it to the neckline of the coat. The last part of the sewing process is all of the topstitching to keep seams folded and to give it a more professional finish. I use antique brass snaps for my coats, and I measure and mark where the snaps will go so that the coat will come together evenly when snapped. I either use a snap fastener or a hammer, depending on how thick the quilt I'm working with is. My final step is sewing in my tags; it feels like I'm "signing" the work and deciding that it's finished.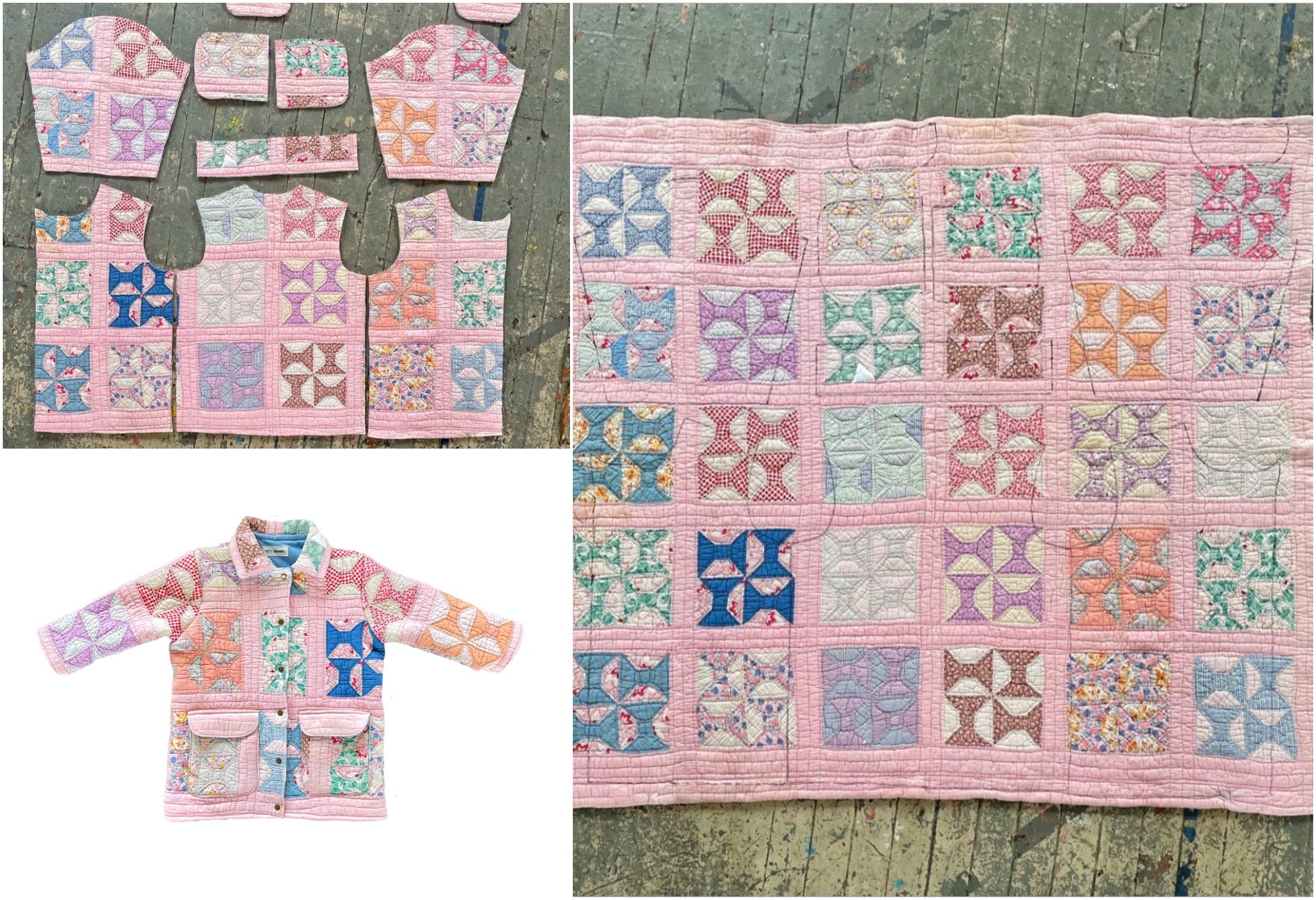 Q. How do you acquire the quilts and where do they come from?
A. They come from all over. When I started, I had a small collection of handmade quilts that I had collected from thrift stores and estate sales throughout the years, but those ran out very quickly. Right now, because of COVID, I am mostly finding my quilts on websites that do online auction and estate sales. I am excited that in-person estate sales and antique shops are beginning to open back up in my area. A nice surprise has been that as my business has grown, folks have begun to reach out to me with quilts that they want to sell, or local people will tip me off to a quilt that is for sale in one of the thrift/antique stores in town. Searching for and finding old quilts that speak to me is one of my favorite parts of the job.
Q. What made you decide on an Ultrafeed Sewing Machine?
A. What first caught my eye was the design and look of the machine itself: I think it's quite beautiful and stylish. What made me decide to pull the trigger on purchasing one was that Sailrite seems to be a very involved company that cares about its customers. There were lots of glowing reviews, lots of troubleshooting videos on YouTube, and I heard that the manual was very easy to follow (super important for me). I'm a visual person, so I used the Sailrite videos almost exclusively instead of the guidebook to set up my machine, learn how to thread the machine, and how to wind the bobbin. They were super clear and helpful.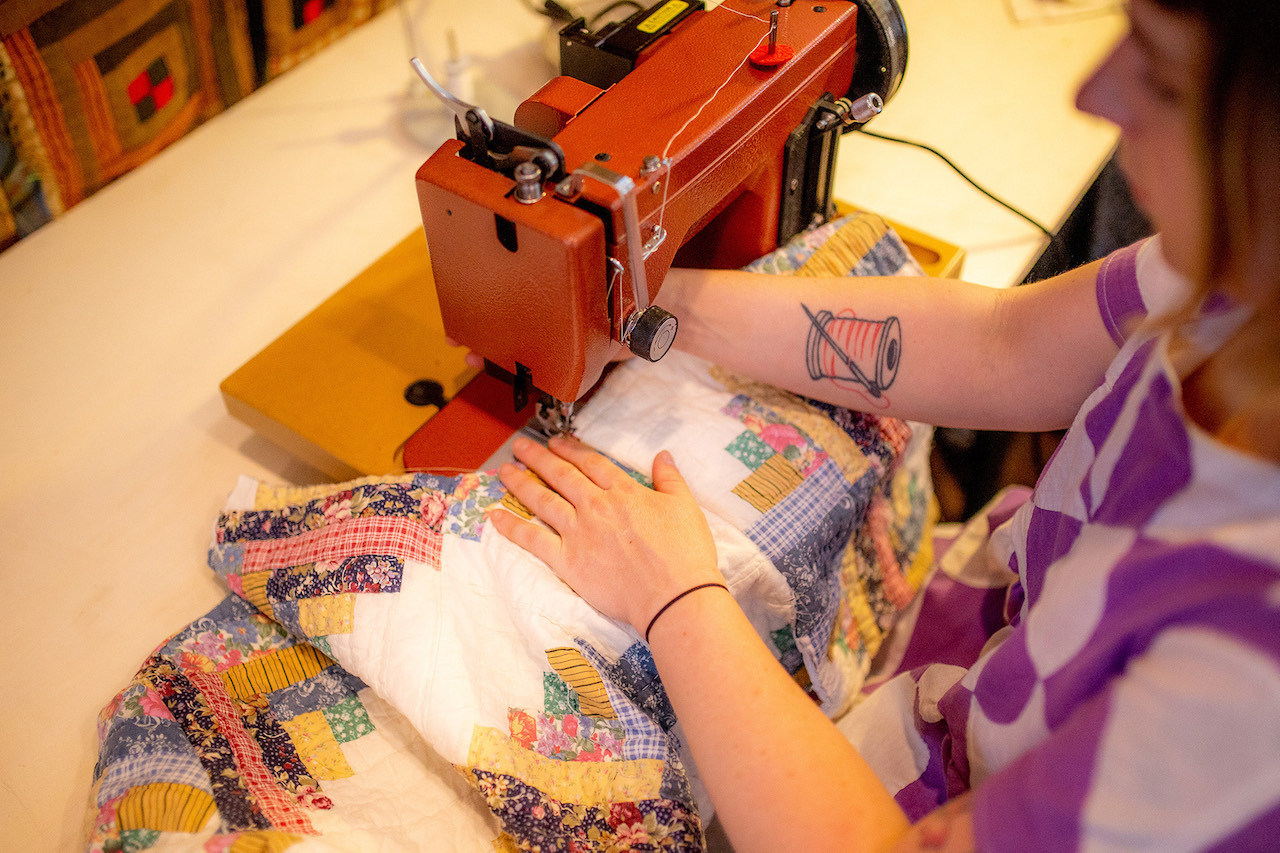 Q. How has the machine performed for you?
A. It's been a business-saver. It has been able to sew through many thick layers of heavy quilts. I have a stack of thick quilts that have just been sitting on my shelves because my other sewing machine could not handle them. So far, the Ultrafeed hasn't encountered a single quilt that it can't sew through.
Q. Where does your design inspiration come from?
A. When I first started out, I didn't really "design" the coat at all. I would just start cutting and the finished pattern was a surprise (sometimes good and sometimes not so good). It was by doing this and seeing the different results that I started to understand how the different pieces of the quilted coat would come together. Now, I can look at a quilt and the coat jumps out at me. I can visualize how different parts of the quilt would lend themselves to a sleeve or a pocket, or where the patterns will come together at the seams of the back and front. It's very important to me that the pattern flows seamlessly throughout the coat to create one cohesive piece and that there is a balance of different colors and shapes throughout. The most exciting, and also excruciating, part of the design process is that I can often see many different ways a quilt could be cut to make a coat. Each option would create something that looks entirely different, but there is only one quilt and one opportunity to make the coat. Deciding which direction to go can be difficult.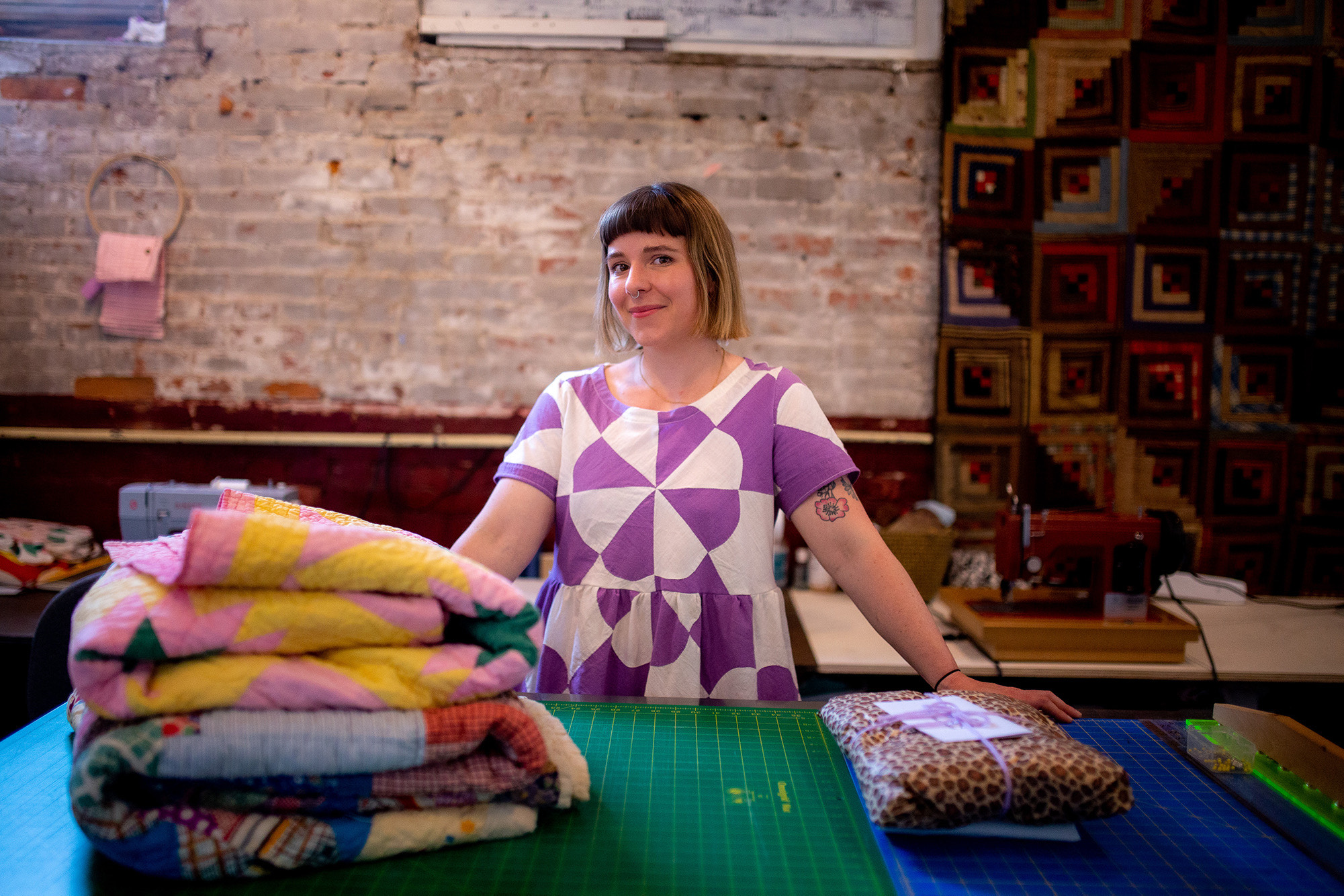 Recently, Kathleen has expanded her quilted offerings to include dresses, tops, totes and clutches. With the weather getting warmer, she wasn't sure customers would be interested in purchasing coats during the summer months. Adding warm-weather wearables was a natural next step in her new and growing online business. Her quilted totes incorporate a waxed canvas base and strap, adding a modern look and finish to her classic quilted style. Kathleen relies on her Ultrafeed to handle the thickness of the combined waxed canvas and quilt layers.
It takes a special person to appreciate the artistry and dedication that goes into cutting, piecing, sewing and binding a quilt. Kathleen gives these once-loved quilts the care and attention they deserve. They are in good hands with Kathleen. Someone's beloved heirloom is no longer lost to history. She gives these family treasures a new life as they find their way into the hands of someone who will cherish them as much as their original creators.
If you'd like to see more of Kathleen's quilted creations, you can follow her on Instagram at @kittybadhands.
Who We Are
Sailrite is your one-stop DIY shop! We are a passionate crew of do-it-yourselfers who strive to equip you with the supplies and how-to knowledge you need to tackle your next project. Do you want to learn upholstery, leatherwork, canvaswork, hobby sewing, bag making or more? We have the fabric, tools, hardware, sewing machines and notions you need to master any DIY. And even if you've never sewn before, our tutorials and how-to videos are designed for beginners and experienced crafters alike.
Start your DIY journey today: www.sailrite.com