Though not raised in a boating family, Laura Weller-Brophy has a very unique and interesting job in the marine industry. She co-owns a boat club that maintains a fleet of boats that the members have unlimited use of during boating season. "This is the perfect way to get on the water," Laura explained. "Our members enjoy the best part of boating without the hassle of maintaining the boat." Laura contributes her sewing skills, among other expertise, to the business. She sews upholstery and canvaswork projects for the boats, and she needed a sewing machine that was up to the challenge. She discovered the Sailrite® Ultrafeed® Sewing Machine and has been putting it to great use.
While boating is a hobby for many people, to Laura it's an enjoyable business opportunity. "I like the ability to be outdoors in an environment that I love, meeting the boat club members and enjoying the pleasure that they take in boating." The business was founded by Laura's business partner and has been in operation in the Rochester, New York, region for six years. Though she had no boating experience, her business expertise made for an excellent and profitable partnership. "We have tripled the size of our business since working together," she shared.
In addition to her business acumen, Laura was able to contribute another one of her skills to the business: sewing. She learned to sew as a young girl on her grandmother's treadle Singer sewing machine. "My grandmother and her two sisters were accomplished sewers and made clothing for themselves and their family members. My aunt is a very skilled seamstress — she designed and made my wedding gown. I learned a lot from her and my mother."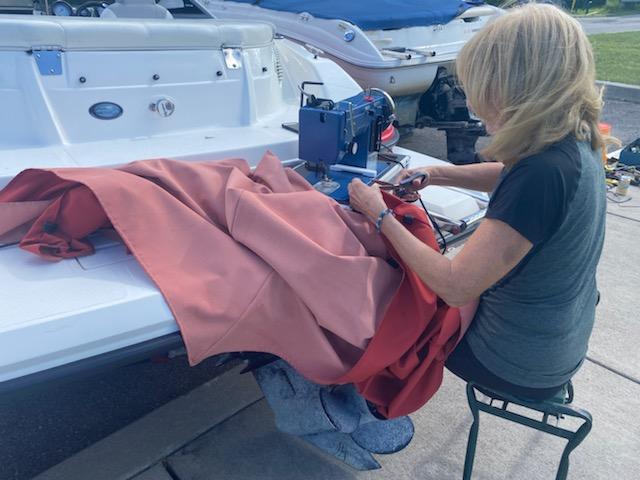 Laura's love of DIY stretches beyond just sewing. "I enjoy soap making, canning, painting the house … I did my first stained-glass project last summer." Regardless of the craft, the joy that comes from making something with your own hands is a universal part of DIY. "DIY means having the freedom and ability to independently make things just like you want them to be — no need to search the web for poorly made items stitched from poor quality fabrics. I love sewing because it enables me to make beautiful things, sew my own curtains and clothing, and make special things for others."
Laura found the Sailrite website when she was searching for canvas fabric to complete a boat project. It wasn't too long till she discovered the Ultrafeed LSZ. Instantly, she knew it was the machine she needed. "I love the Ultrafeed! It is exceptionally well made, robust, and it has the features that I need. I especially value Sailrite because of the videos that you have. I watch them when I need to learn new skills and how to do specific projects." The Ultrafeed's portability allows Laura to work on projects outside at the marina.
She purchased her Ultrafeed in 2019 and has already tackled a number of marine projects. Her first project was making new boat cushions for a vintage Rubbermaid Hellion boat. She turned to Sailrite's inventory of how-to videos to help her complete the refit. "After the boat cushions I made a number of canvas repairs for customers of Boat Club USA. These are smaller jobs that larger canvas shops may not want to do." Laura recently made a bimini for a customer's boat. She watched hours of Sailrite's bimini top videos for guidance.
This slideshow requires JavaScript.
A project that Laura was quite proud of and enjoyed was patching a torn cover for a customer's personal watercraft. She was able to get creative with the repair job — not just patching but making artistic patches that enhanced the visual appeal of the cover. "I made 'dog bone' patches over the handlebars and a rectangle with zigzag stitching over the 'nose' of the PWC. The customers liked the repair because it was effective and because the design element added to the end product. I liked it because it was fun. I have customers who just want a square patch; I try to use dog bones and other shapes that add design interest and get the job done. I find that people may not take the time to incorporate compelling design into the repair of a canvas cover."
Laura is a big fan of Sailrite's project videos. She has turned to them again and again to help her through specific projects or to learn new sewing tricks. "Sewing for boats is not the same as making clothing, which is what I was most familiar with. I find that the boat projects incorporate engineering skills beyond what a person learns when they sew clothing. I would not have been successful with the boat canvas and cushions without the videos."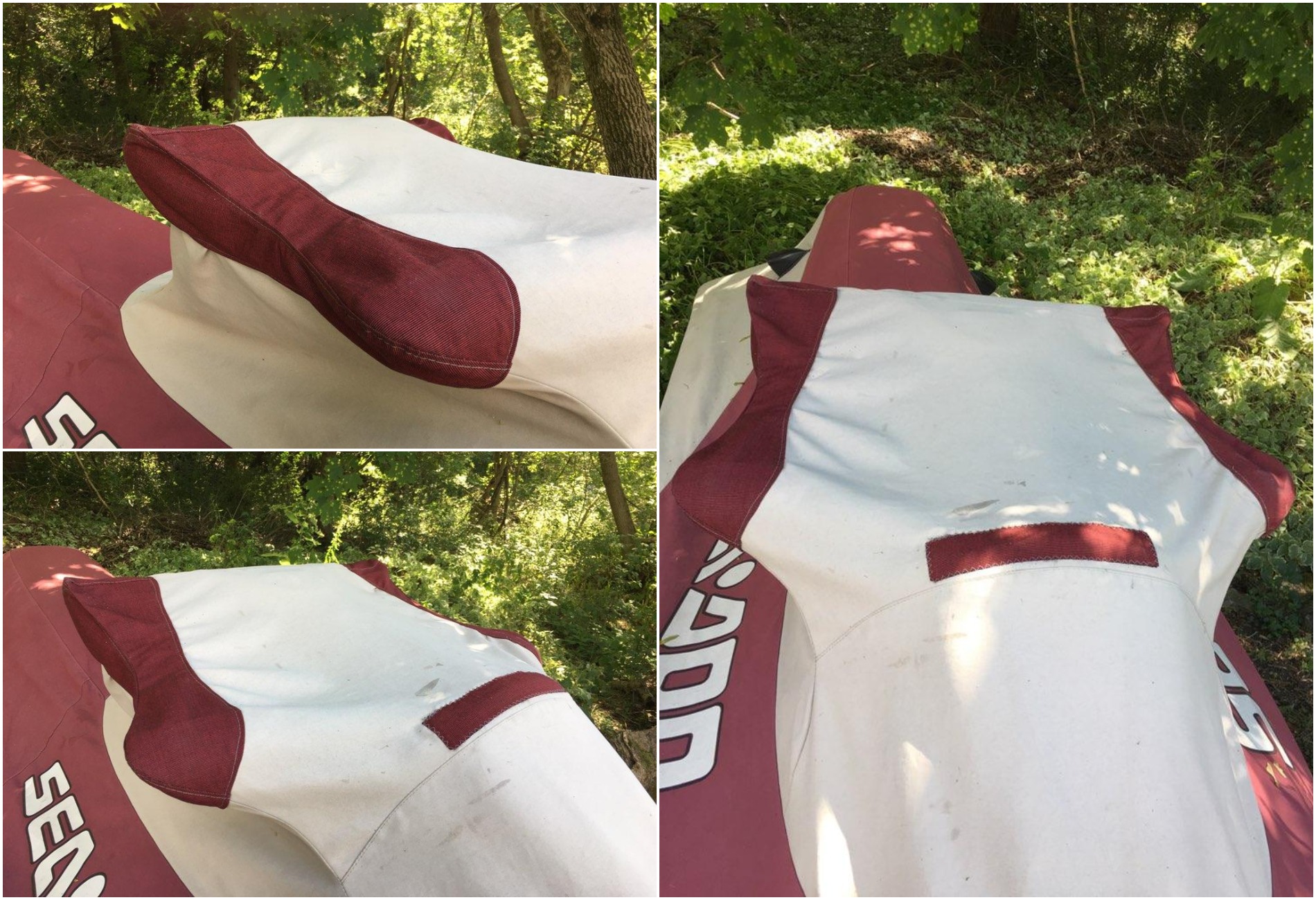 What projects is Laura looking forward to diving into next? "I have some beautiful canvas that I need to make into outdoor curtains before the summer is over. I also want to learn how to restore outdoor umbrellas — keeping the frames and learning how to make the fabric covers. I also want to learn to make my first full boat covers!" Looks like Laura is in luck — Sailrite has how-to videos for all of those projects!
What words of DIY wisdom does Laura have to share? "I'd like to encourage your readers to tackle new DIY projects using the Sailrite products and videos. Your company is great at helping us succeed at new projects that may look rather daunting at first."
DIY is all about trying something you've never done before, practicing your newly learned skills, and having fun while doing it! We're thrilled our products and video tutorials were able to help this enthusiastic sewer flex her sewing skills and learn some new techniques. With DIY, you're only limited by your imagination! Thanks for sharing your story with us, Laura, and good luck on all your future projects.
Who We Are
Sailrite is your one-stop DIY shop! We are a passionate crew of do-it-yourselfers who strive to equip you with the supplies and how-to knowledge you need to tackle your next project. Do you want to learn upholstery, leatherwork, canvaswork, hobby sewing, bag making or more? We have the fabric, tools, hardware, sewing machines and notions you need to master any DIY. And even if you've never sewn before, our tutorials and how-to videos are designed for beginners and experienced crafters alike.
Start your DIY journey today: www.sailrite.com