Patrick Fiega is no stranger to the water. He spent his summers as a child at his grandparents' cabin on an idyllic lake in Northern Wisconsin. It's there where his grandmother taught him how to sail and sew — two life skills that have served him well. He has assembled three Sailrite® Sail Kits for his sailboat with help from the Ultrafeed® LSZ Sewing Machine. We chatted with Patrick to learn more about his sailing adventures, his love of DIY, and how Sailrite® has helped him along his sewing journey.
Patrick has owned many sailboats over the years but only recently started sewing his own sails. He purchased his current boat, a 1968 Cal 40 named "Wheee Dogggie," in 2007. Relying on local sail lofts left much to be desired. "The local sail shops came up shy, didn't respond or were outrageously priced. With the right sails, she can be very quick. I thought DIY could be a great option."
As a jest, Patrick named his at-home sail shop Pants-Free Sails. He is his only client. "I get great service and support," he joked with us.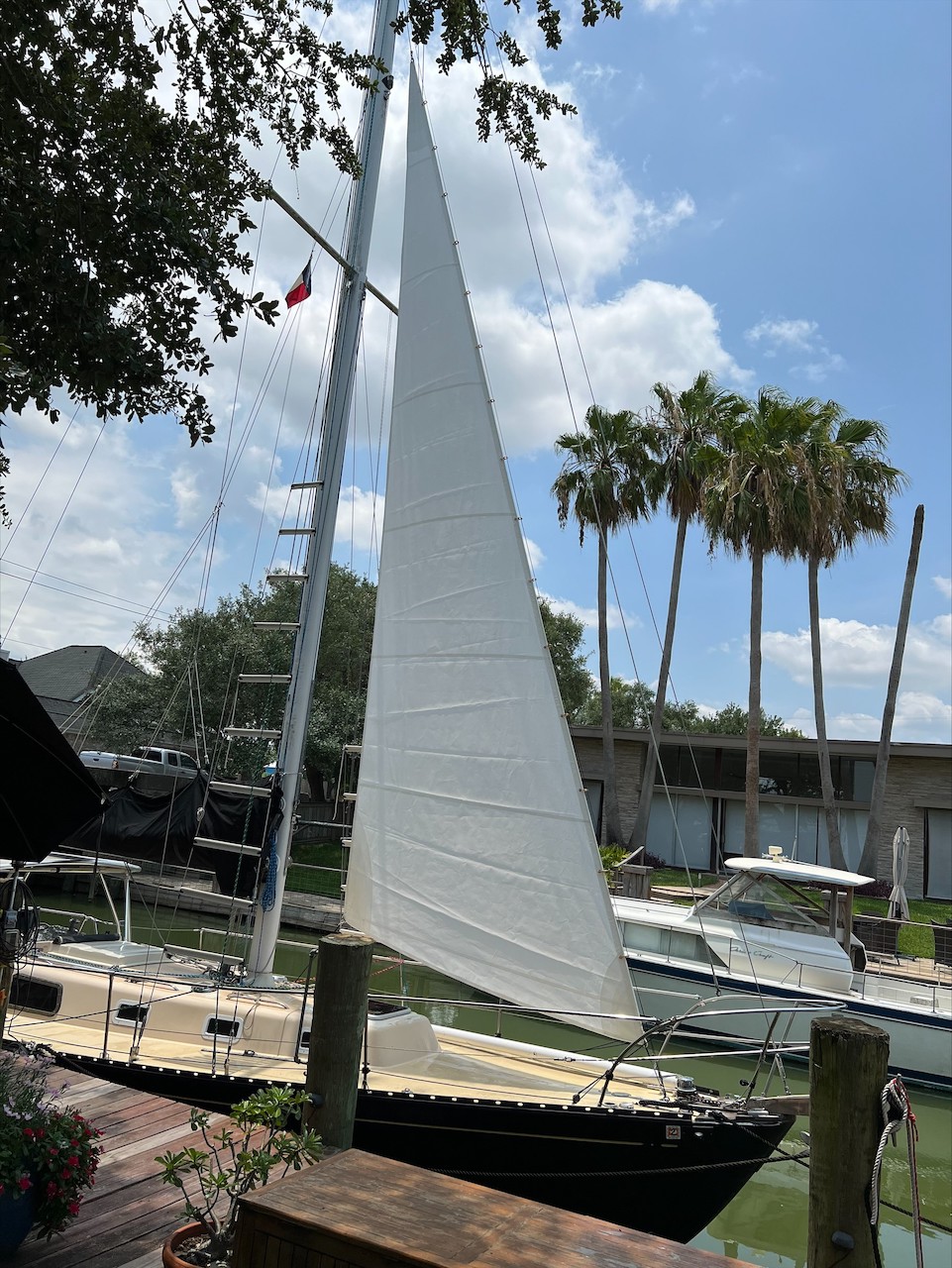 He has made several sails for his Cal 40. His first project, however, was not a sail. "I started my Sailrite adventure with a mainsail stack pack. I made my own design in AutoCAD, then ordered the Ultrafeed LSZ and all materials from Sailrite." After that successful DIY, Patrick knew he was ready for more.
Next up was a 170-square-foot staysail — his first attempt at sailmaking. "I wanted to stay small and hope for the best. I was quite surprised at the ease of assembly. I planned for this sail to be used as a staysail or hanked onto the forestay as a storm sail."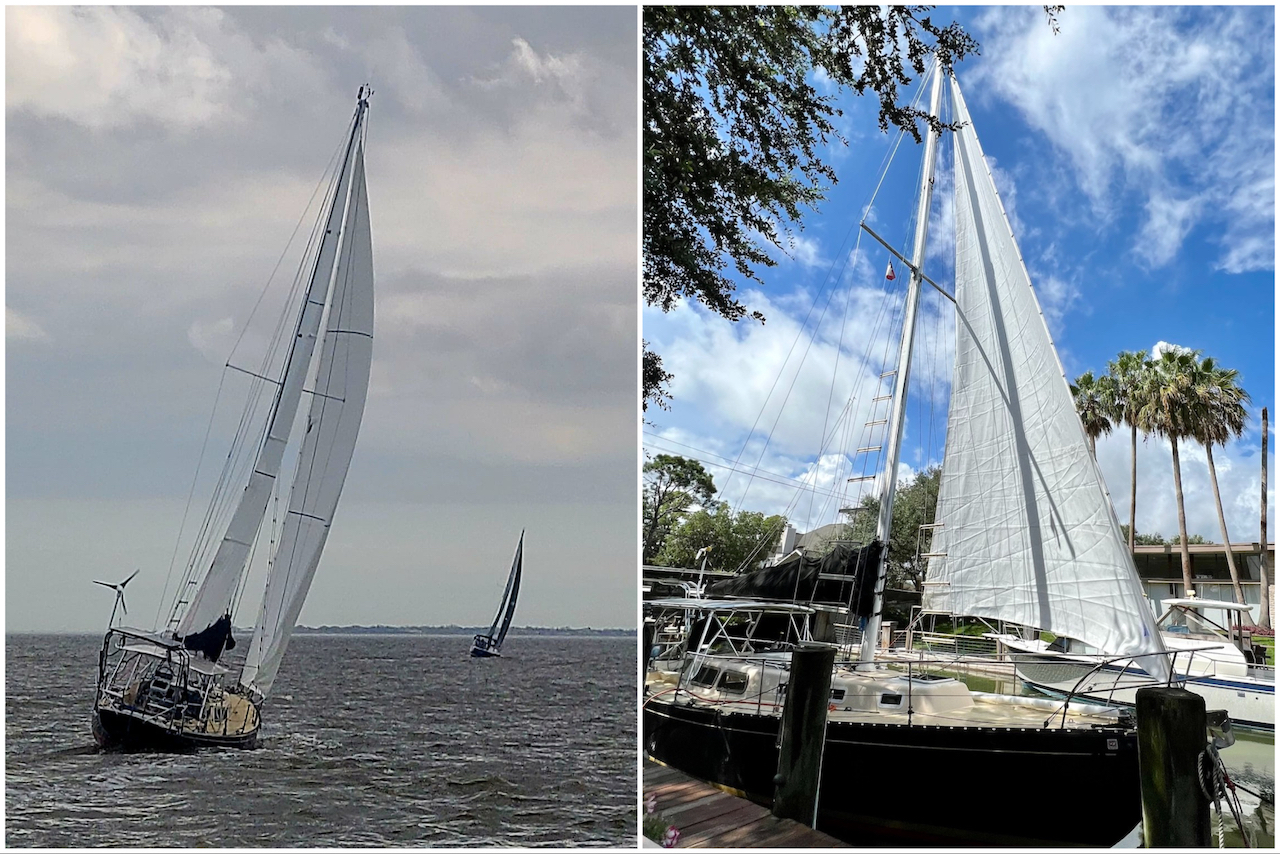 His next sail presented a new challenge that Patrick was eager to conquer: size. Patrick had to relocate his 800-square-foot asymmetrical spinnaker several times throughout the assembly and sewing process. He started building it on his boat, then quickly realized he needed more room. So he brought it home where the sail engulfed his living room, dining room, entryway and breakfast bar. Finally, he cleared out his garage and finished it there.
"This sail took me about three weeks to build, working when time allowed. When I started this build, I had one thought in mind — using it during the Harvest Moon Regatta from Galveston to Port Aransas, Texas. At about 5 a.m., 15 hours into the race, the winds switched direction and died. The Code 0 went up and gave us the ability to move forward in the fleet. I think it was due to this sail that we placed so well in our division — first across the finish line and second on corrected time."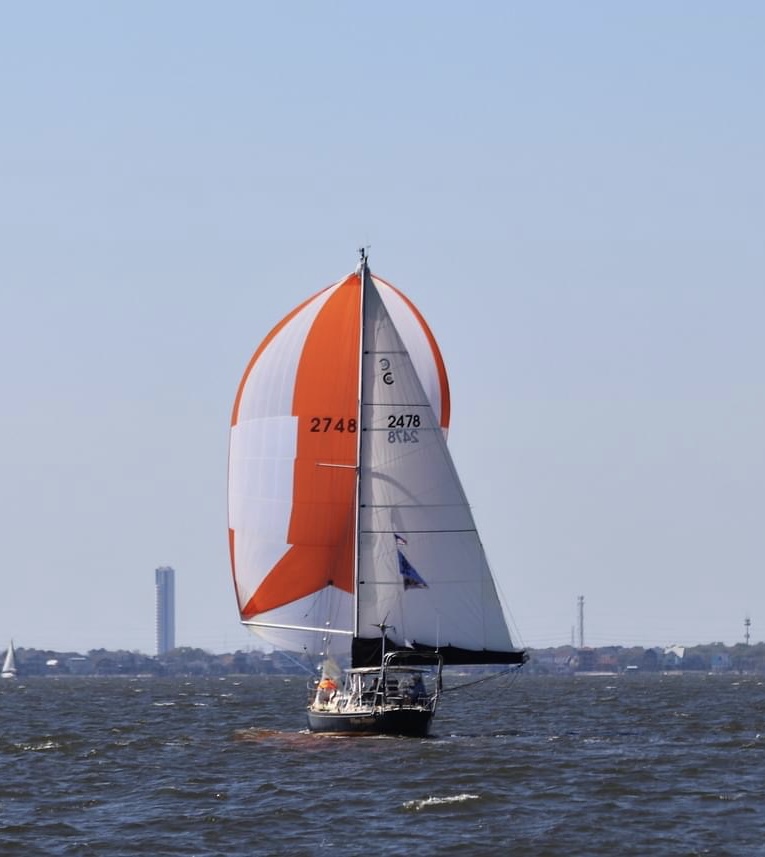 Keep reading to learn more about Patrick, his experiences with sailing and sewing, and his advice for DIYers interested in sewing their own sails.
Q. What do you love most about the sailing lifestyle?
A. I have always loved the water and long for blue water sailing. It is an amazing feeling to be able to use the wind and water for traveling to exotic destinations. The feeling of freedom when you untie the lines and start toward your next port of call.
Q. Do you live on the coast? How often do you get out on the water?
A. I live on the Texas coast. Kemah is a unique community, located on the west shore of Galveston Bay. I am on the water anytime I can manage it. In most cases, it is weekend sails or club racing on Galveston Bay. I have plans to take some longer, coastal sails soon, which is why I needed newer sails.
This slideshow requires JavaScript.
Q. How did you first learn about Sailrite? 
A. Back in the early 2000s, I saw another sailor working on their canvas. They were using a Sailrite machine. I was impressed by its ability and the ease of stitching through many layers of heavy material.
Q. What made you choose the Ultrafeed LSZ? How has the machine performed for you and what is your impression of the WorkerB® Power Pack Motor System? 
A. I purchased it due to the strength of the machine and the ability to handle heavy sailcloth. The machine has been wonderful and very dependable. I have had "moments of learning," those times when I did something wrong and caused additional problems. I did find tips on the website that helped me work through the problems and taught me what to do better the next time. The WorkerB made stitching thicker material much easier. Having the ability to press the pedal and know that the speed will stay at the speed needed for the thickness of the material is wonderful.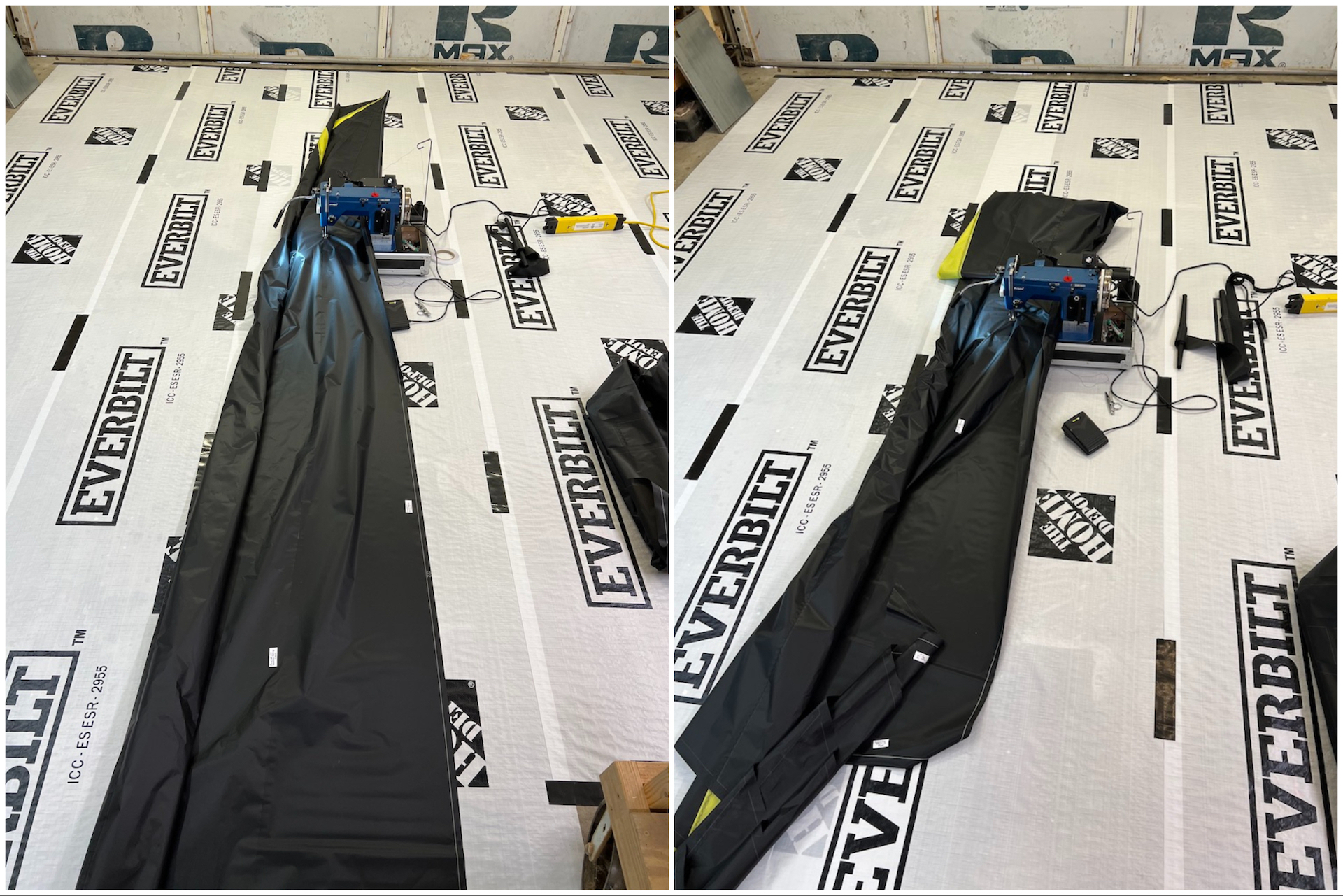 Q. What advice would you give someone thinking about sewing their own sails?
A. You need space! The basting tape [included in the Sail Kits] was a game changer for me, helping hold the panels together while I stitched them. It really isn't hard; use the instructions and the lines plotted on the fabric. [Sailrite Sail Designer] Jeff Frank puts everything you need into the kit! Take one panel at a time and break the sail down into quadrants; this will make the project less daunting. Think about the stitching ahead and put together panels that can be easily rolled up and fit under the machine arm.
Q. Is there anything else you'd like to share with our readers?
A. I was raised with the mindset of, "If you don't know how to do something, learn and figure it out." This is where Sailrite came into my sailing life. I enjoy having the ability to do it myself. I also struggle with local sail lofts that do not respond, fail to make proper measurements and yet charge exorbitant amounts for sails. Doing it yourself puts all of this in your own hands. It gave me a feeling of pride that my DIY sails landed us top of the pack in our latest regattas.
Thank you so much for sharing your story with us, Patrick! The pride and sense of accomplishment that comes from mastering a new skill or technique is a universal feeling every DIYer can relate to. What's next on Patrick's DIY list? In addition to another sail project — a 100% jib — he'll be working on a custom dodger attachment to his hardtop bimini, new cushion covers for his boat cabin and patio cushions for his home.
When you have the talent, creativity and determination to do it yourself, there's no limit to what you can make!
Who We Are
Sailrite is your one-stop DIY shop! We are a passionate crew of do-it-yourselfers who strive to equip you with the supplies and how-to knowledge you need to tackle your next project. Do you want to learn sailmaking, upholstery, leatherwork, canvaswork, hobby sewing, bag making or more? We have the fabric, tools, hardware, sewing machines and notions you need to master any DIY. And even if you've never sewn before, our tutorials and how-to videos are designed for beginners and experienced crafters alike.
Start your DIY journey today: www.sailrite.com