To DIY or not to DIY — is that even a question!? Not for enthusiastic sewer Regina Fuller. Though she's new to sewing, she's full of that can-do spirit that lives and thrives in all sewers and makers. Regina and her husband, Jacob, purchased a fixer-upper NorSea 27 sailboat. The boat needed major restoration, from helm to hull and everything in between. Regina knew it was going to be a big project, and while her husband did the brunt of the work, she wanted to contribute to the boat's revamp in a tangible way. She decided to sew new cushions for the interior cabin and exterior cockpit, even though she'd never done upholstery work before. With the help of Sailrite's supplies and how-to videos, she was able to successfully complete her cushion projects with great results.
Regina learned to sew at a young age, but she never really caught the sewing bug. "My mom taught me the basics of sewing when I was a kid, but I never really took to it. As an adult, I could mend clothes and made a bed skirt once, but that was about the extent of my sewing experience." Even with such minimal practice, and not having touched a sewing machine in years, Regina was ready to take on her first upholstery project. First up were the cushions for the boat's cabin. She used a home sewing machine for the project and followed Sailrite's "How to Make V-Berth Cushions" how-to video. Though she had a couple of small struggles, she completed the cushions and was thrilled with the end product.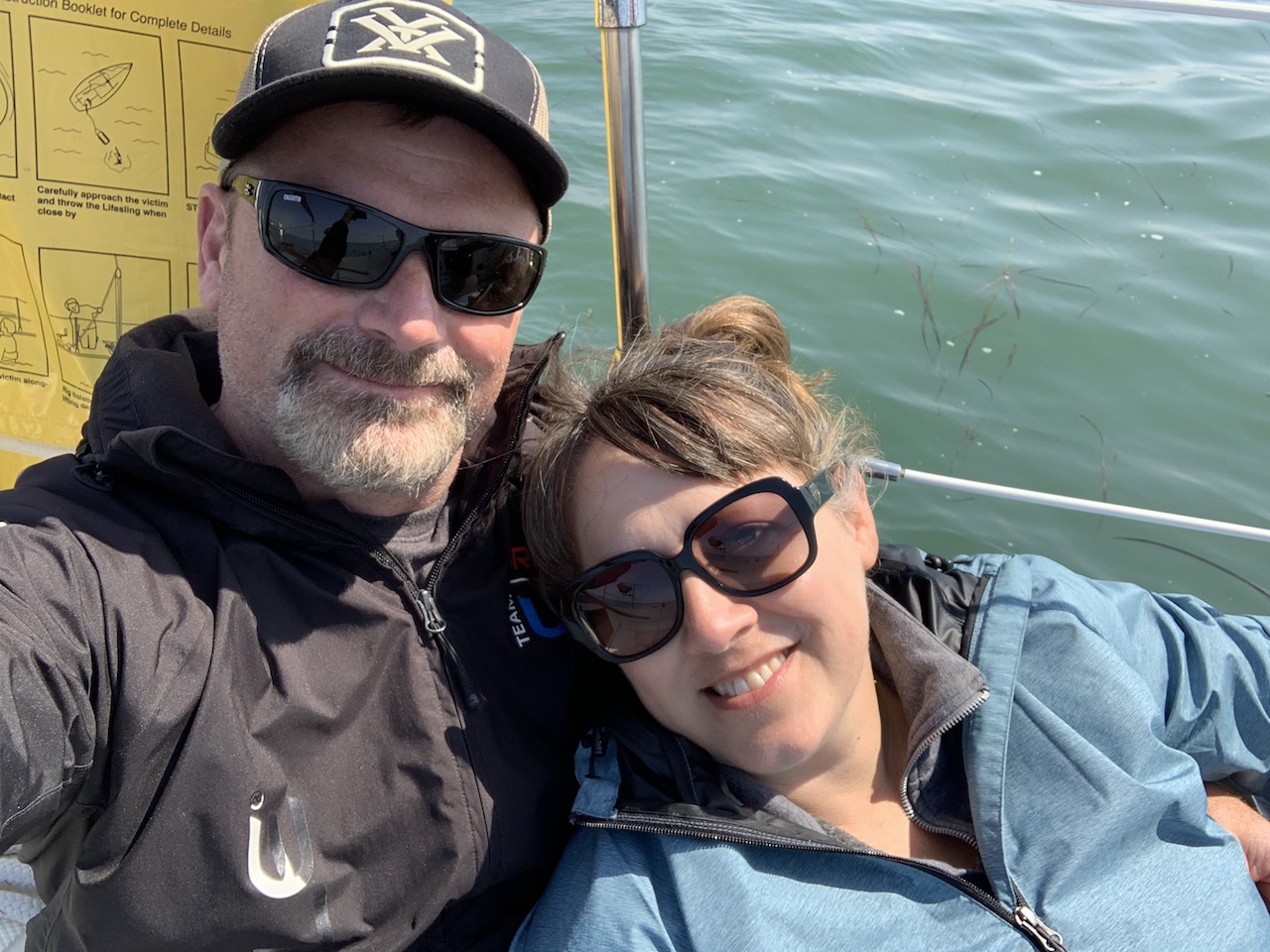 For the cockpit cushions, she knew her home sewing machine wouldn't be able to handle the thickness of the vinyl and piping. So Regina turned to Sailrite again. After thorough research and consideration, she invested in the Ultrafeed® LSZ. Her delight and excitement at how the cockpit cushions turned out speak volumes. The right tools and supplies make all the difference. What's Regina's favorite part about sewing and DIY? "The end product! There is a lot of satisfaction in knowing that you made something that you and your family get to enjoy for years." 
Join us as we learn more about this determined DIYer, her family's sailing lifestyle, and what she's learned from her sewing experiences so far.
Q. When and how did you learn to sail?
A. My husband is a skilled sailor and has been sailing since he was a kid. He took me sailing on our second date and I fell in love with him and sailing! We live in Humboldt County, California, so we sail primarily in Humboldt Bay. When we have vacation time, we like to trailer our sailboat to the San Juan Islands in Washington or Clearlake, California.  
Q. What do you love about sailing? 
A. Everything! The wind, the fresh air and the wildlife you see in the bay. Our boat is a mini floating home and we often stay the weekend on it. I love being confined to the boat where you aren't distracted by house chores and other worries of the world. The soft lull of the sea is so relaxing. We have two teenage boys ages 13 and 16. At this age, they just want to be with their friends or on electronics. We love stealing them away from all of that and getting them on the boat. There is nothing better than being hunkered down inside playing Yahtzee and drinking hot chocolate or sailing in 15+ knot winds using all their skills to have a successful sail. I have so many amazing moments and memories over the past 20 years on one of our sailboats. 
Q. Can you tell us what all was involved in your big Nor'Sea restoration project?  
A. My husband has always wanted a Nor'Sea 27. We've had two other monohulls over the years, and some Hobie Cats and daysailers, but never a Nor'Sea. It's a seaworthy classic sailboat that can be put on a trailer and taken to any sailing grounds you want. Over the years he has seen them for sale, but not at a price point we could afford and usually located states away. Five years ago, one came up for sale only 45 minutes away from our home. He took me to see it and I thought he was crazy. Yes, it was only $5,000, but the amount of work it needed was more than I had a vision for. We have renovated two homes and built a third, so I knew he had the skills and determination to see it through. But this time I didn't see how it would be possible that I'd ever want to stay a night on this boat. Five years later he proved me wrong and all I want to do every weekend is go to the boat. We named the boat "Zephyr" and launched her for the first time in June 2020. 
This slideshow requires JavaScript.
Almost everything had to be done. He had a new gas tank made and he installed it. He put in a newer diesel engine and redid the plumbing and electrical. He renovated the hanging locker on the port side in order to install a propane heater. He gutted the galley and installed all new appliances and customized the galley to maximize the space and fit my dishes. He gutted the starboard side navigation station and turned it into shelving and settee — painted, sanded and restored woodwork. On the outside, he sanded and painted, built the bowsprit, and installed some new rigging and lifelines.  
Right now he is restoring the trailer and I'm planning to make a bimini. We plan to pull the boat back out in the winter for a few more improvements. Given all the blood, sweat and tears that he put into this renovation, I was determined to make a contribution by making the cushions. We thought about paying someone to do it, but I really wanted to be able to say that I put some time, energy and skill into our dream boat as well. The cushions were the sprinkles on the cake to make his beautiful restoration look complete.  
This slideshow requires JavaScript.
Q. What made you decide on an Ultrafeed Sewing Machine? What specific qualities were you looking for in a sewing machine?
A. I used a "heavy duty" inexpensive Singer sewing machine for the inside cabin cushions. I was afraid to invest in a quality upholstery machine when I didn't know if I would even be able to successfully make the cushions. I broke several needles pushing through that project. After successfully making those cushions and realizing that I had enough skill to really do this, I knew I had to invest in a quality machine if I planned to make the cockpit cushions with piping and vinyl. There was no way my other machine would do it. I needed it to be able to easily go through several layers of heavy-duty canvas or vinyl. 
I looked at several heavy duty upholstery machines. Sailrite had a quality product for a very reasonable price. I ultimately decided to purchase the Ultrafeed because my experience to date with Sailrite has been exceptional. I love all the how-to videos and online tools to help me decide on the best materials for my projects. The Ultrafeed sewed the vinyl and piping like it was cutting through butter. I couldn't be happier with it. I have really appreciated the short tutorials to help me understand how to thread the machine, wind the bobbin, and provide general care for the machine. All the Ultrafeed videos have been really thorough and helpful.
Q. Now that you've been practicing and have sewn a few projects, have you learned any sewing tips along the way that you'd like to share?
A. I do have an important tip to share from my experience. When using the seam ripper on the zipper plate, use the plastic tip side down to rip after you get it started. I accidentally ripped my fabric when I continued to use the sharp side down — it's a real bummer to rip it for so many reasons.
Here are all my take-aways from my vinyl cockpit cushion project: 
1) Definitely use the basting tape to help keep the vinyl from puckering when attaching it to the piping. It will make it SO much easier to line everything up nicely when sewing the plaque on. Your how-to video recommends it, but I tried the first panel without it and wished I had listened to your recommendations. I used the basting tape on everything after that. 
2) If using the YKK® AquaGuard® Water Repellent Zipper, don't forget to sew it into the zipper plaque the opposite way you would for a regular zipper. I totally forgot about this and sewed it in wrong and threaded the pull on like you would a normal zipper. Of course it wouldn't zip closed and didn't work. I thought the zipper was a joke. I went back to the Sailrite website and found a video tutorial about this zipper, and that's when I realized I did it all wrong. Once I got it sewed correctly it worked like a dream! 
3) I used closed cell foam for the cockpit cushions for its flotation. Closed cell foam is very different to work with than the interior foam I used for the cabin cushions. When cutting out the fabric and foam, I used the same allowance for my seams and compressing the foam that I did for the interior cushions. When I finished the first one and put the foam inside, I was so disappointed. It was extremely loose. The correct fix would have been to cut the foam out larger; however, I had already cut the foam for two of the cushions and there was really no way to easily add another 1/2 inch of foam to all sides. So I ended up tearing apart the cushion cover, cutting it down, and re-sewing.  Although it ended up being 1 inch shorter than my original pattern, you wouldn't be able to tell. It still looks nice in the cockpit. I had a few other cushions to make that I hadn't cut the foam for yet, so those turned out nice and exactly to pattern.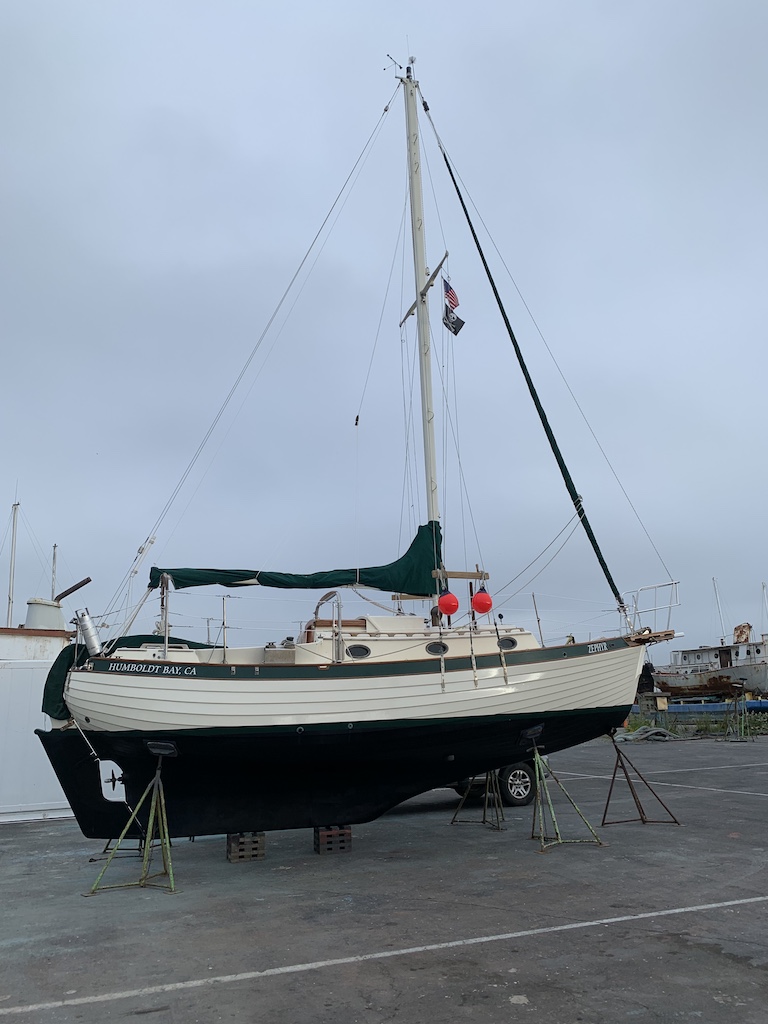 Q. What advice would you give to a brand-new sewer or someone thinking about getting into sewing? 
A. You can do it. The Sailrite videos teach you everything you need to be successful. If you know you want to complete upholstery projects, then invest in a quality machine from the start. By having a quality machine, your very first project will be easier, which will help build your confidence.  
Q. Is there anything else you'd like our readers to know about your sewing, sailing lifestyle or yourself in general?
A. My motivation in entering to be a featured customer was to hopefully inspire others. I had only basic/limited sewing skills and I'm so proud of what I have accomplished with my first few projects. I hope others see this story and take the plunge in trying something new. My success was truly due to the excellent tutorials, materials and equipment offered by Sailrite. 
Now that Regina has conquered the boat cushions, she's ready to put her new skills and her new machine to work again. Next up, she plans on sewing a bimini for their newly restored boat. She also wants to learn how to do sail repair (perfect for the Ultrafeed LSZ) and wants to sew duffle bags from used sailcloth — a great way to reuse and upcycle used sails! With an ever-growing project list, we're thrilled that we could be a part of Regina's sewing and DIY journey. Good luck with all your future sewing projects, Regina! We know you'll do great!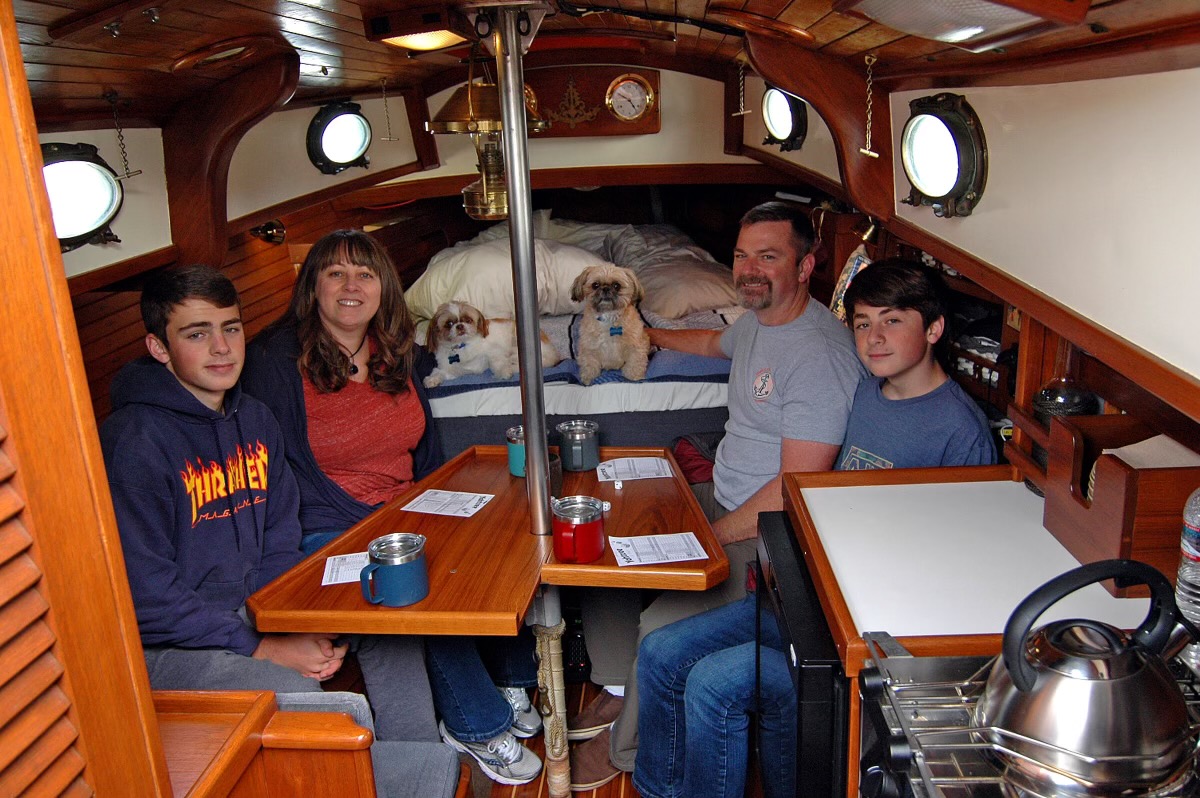 Who We Are
Sailrite is your one-stop DIY shop! We are a passionate crew of do-it-yourselfers who strive to equip you with the supplies and how-to knowledge you need to tackle your next project. Do you want to learn upholstery, leatherwork, canvaswork, hobby sewing, bag making or more? We have the fabric, tools, hardware, sewing machines and notions you need to master any DIY. And even if you've never sewn before, our tutorials and how-to videos are designed for beginners and experienced crafters alike.
Start your DIY journey today: www.sailrite.com