The couple who DIYs together, well … does everything together! Kim and Steve Holmes have been happily married for 29 years. They own a 57-foot houseboat that is their home away from home as often as possible. In addition to the houseboat, they also have a 21-foot runabout powerboat and a Sea-Doo. The couple loves the boating lifestyle, but the Utah sun is punishing and relentless, and they were replacing their canvaswork regularly. In the beginning, they were paying a canvas shop to sew pieces for their houseboat. But Steve knew that if they invested in the Ultrafeed®, they would save considerable money by sewing their own covers, umbrellas, bimini and more. Once he convinced Kim that the machine would quickly pay for itself in canvas repair and new projects, they began tackling sewing projects for their boats. Keep reading to learn more about this industrious DIY couple.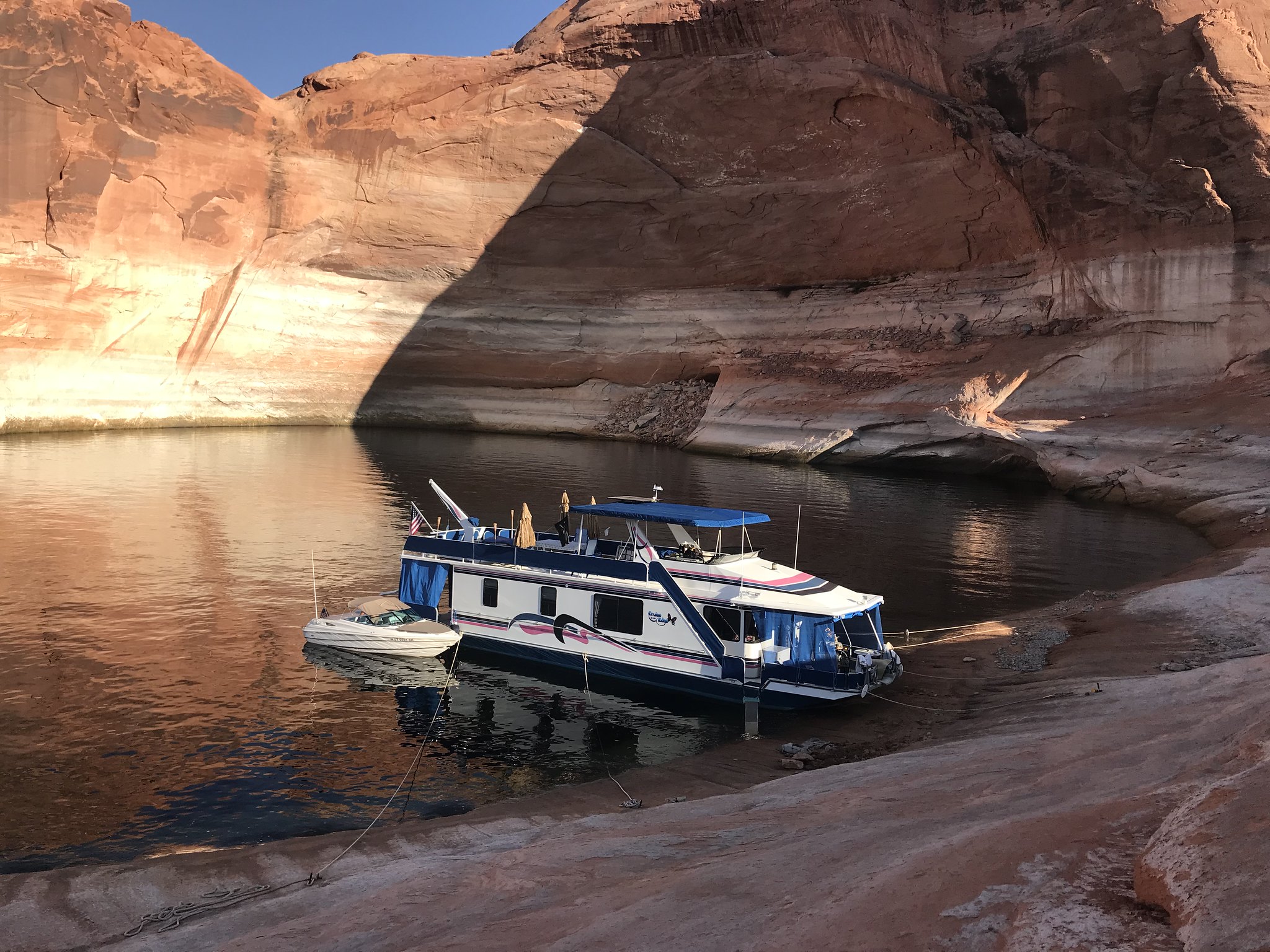 Kim learned to sew as a young teen participating in her local 4-H organization. She hadn't sat down at a sewing machine since that time, so the Ultrafeed was her reentry into the world of sewing. Luckily, Sailrite was there to help. "Sailrite's excellent videos are a huge help in planning and executing projects. We've also referred to Sailrite's troubleshooting videos when working through adjustments to the machine. I've used the online chat for advice from Sailrite staff when I have a question."
Their first project with the Ultrafeed was sewing new canvas wraps for the houseboat's many deck railings. Kim and Steve reworked the existing design to make the wraps removable. "We changed the canvas from lacing onto the railings to snaps for attachment to the railings. This gave a custom look and enabled efficient removal of the canvas during the off-season, substantially extending the life of the Sunbrella® fabric. We learned as we sewed and were able to get professional-looking results."
Here are some of the projects Kim has sewn for the couple's boats since purchasing their Ultrafeed:
canvas railing wraps
curtains with padded valances
placemats and pillow covers (using leftover curtain fabric)
fender covers
propane tank cover
window shade screens
sling chair fabric replacements
flybridge cover
cockpit cover, aft sunshade and trailer tire covers (for the runabout)
This slideshow requires JavaScript.
Their most ambitious and largest project to date was a new bimini top. In 2020, with plenty of time on her hands, Kim set out to tackle this sewing project. The bimini top — 15 feet by 18 feet — was for their houseboat's upper deck. Kim finished the bimini in the fall of 2020 and was thrilled with how it turned out. "Now it has a beautiful snap-on installation and fits better than any previous shade tops that we paid for in the past. It's quick to put up and take down for the off-season." 
Though she hit a couple of snags along the way, she didn't let that deter her from finishing: "While sewing our bimini, we got low on pacific blue thread, so we did some inside seams with green thread. We changed back to blue for the topstitching that would be visible. We came up short on the Royal Blue Tweed SeaMark® fabric, so had to patch in some leftover material from other projects. We were motivated to finish the project!"
Here's a bit more about the couple and their love of sewing and DIY, in their own words:
Q. What do you love about sewing and DIY?
A. We are dedicated DIYers because of the cost savings and the care and customization we can put into projects. Our current bimini shade top on the upper deck of the houseboat, which we worked on in 2020, fits better than any previous commercial version (for which we paid lots of money). With our DIY sewing skills, we create functional and good-looking fabric projects. We find that a vessel's fabrics greatly contribute to its comfort and character. We love the quality materials available from Sailrite. We've worked with many fabrics — Sunbrella Marine Grade (including SeaMark with waterproof backing), Sunbrella® upholstery fabric, Phifertex®, Top Gun® and boat blanket material. 
Q. How do you tackle projects as a couple? Do you do the sewing and does Steve help in other ways?
A. My husband and I work as a team on big projects. He helps plan the project and assists in feeding fabric through the Ultrafeed, an important contribution for long fabric runs. Our bimini shade top project was our largest to date. Steve handles all the snap installation with the Pres-N-Snap tool and snap fasteners. Over the years we have created many useful and attractive projects. The Ultrafeed has paid for itself over and over. We are developing skills that we hope to transfer to a sailing life in the future.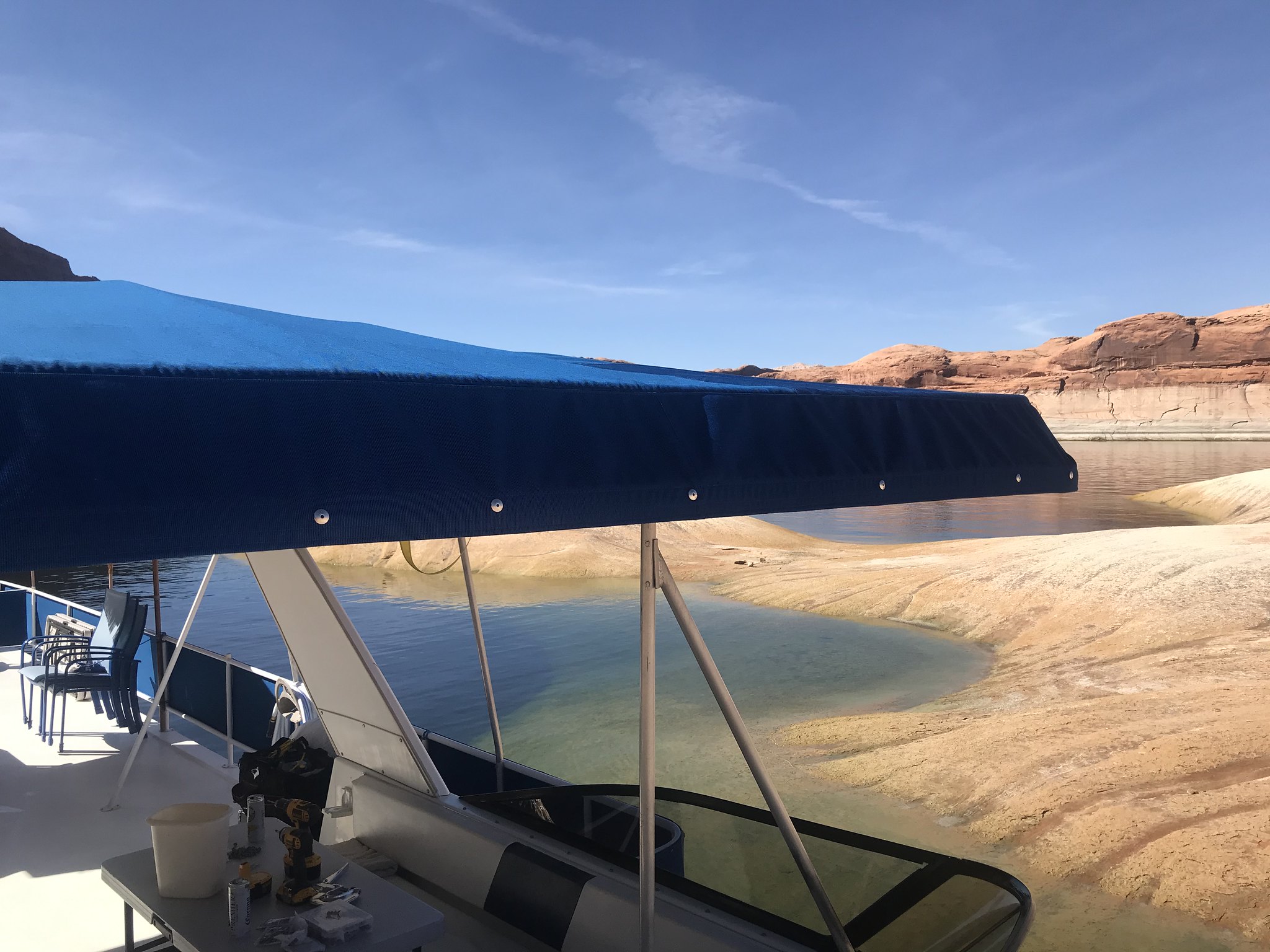 We feel best around the water and enjoy waterskiing, swimming and using the water slide on the aft of our houseboat. The boating lifestyle offers the opportunity for self-reliance and the application of do-it-yourself skills. In addition to sewing projects, Steve takes on the maintenance of all our marine engines and systems. We are a nautical couple who are happiest barefoot.
Q. What advice would you offer someone who wants to try sewing and DIY for the first time?
A. For someone trying a first-time marine sewing project, if you have a "pattern" — meaning an old version of the fabric — go ahead and give it a try. We were impressed with our results. Be patient with yourself and take breaks. We often joke that there is swearing involved; it's just part of the process. We've pulled out plenty of stitching along the way.
Q. Are there any valuable lessons you've learned making projects for your boat over the years?
A. A lesson we've learned is to make sure you have enough basting tape for your project. Add some to your cart as you order materials for your project. We like both the thin 1/4-inch and wider 3/8-inch tapes. Check your supplies to confirm you have enough thread, needles and fabric so you don't come up short. Each time we put together an order, we add a couple of replacement parts for the Ultrafeed, just in case a piece rolls into the water by mistake. We travel about five hours to our houseboat, so it's essential to have spares.
What's next for Kim and Steve? Now that they have a new and improved bimini for their houseboat, the bulk of their boat projects are complete. They're focusing on sprucing things up closer to home. "We're looking at Chilewich flooring material. We're planning on binding it and replacing some area rugs in our house. I've already watched the Sailrite tips video on how to bind curves on flooring material." No matter what comes next for this intrepid couple, Sailrite will always be part of their DIY journey.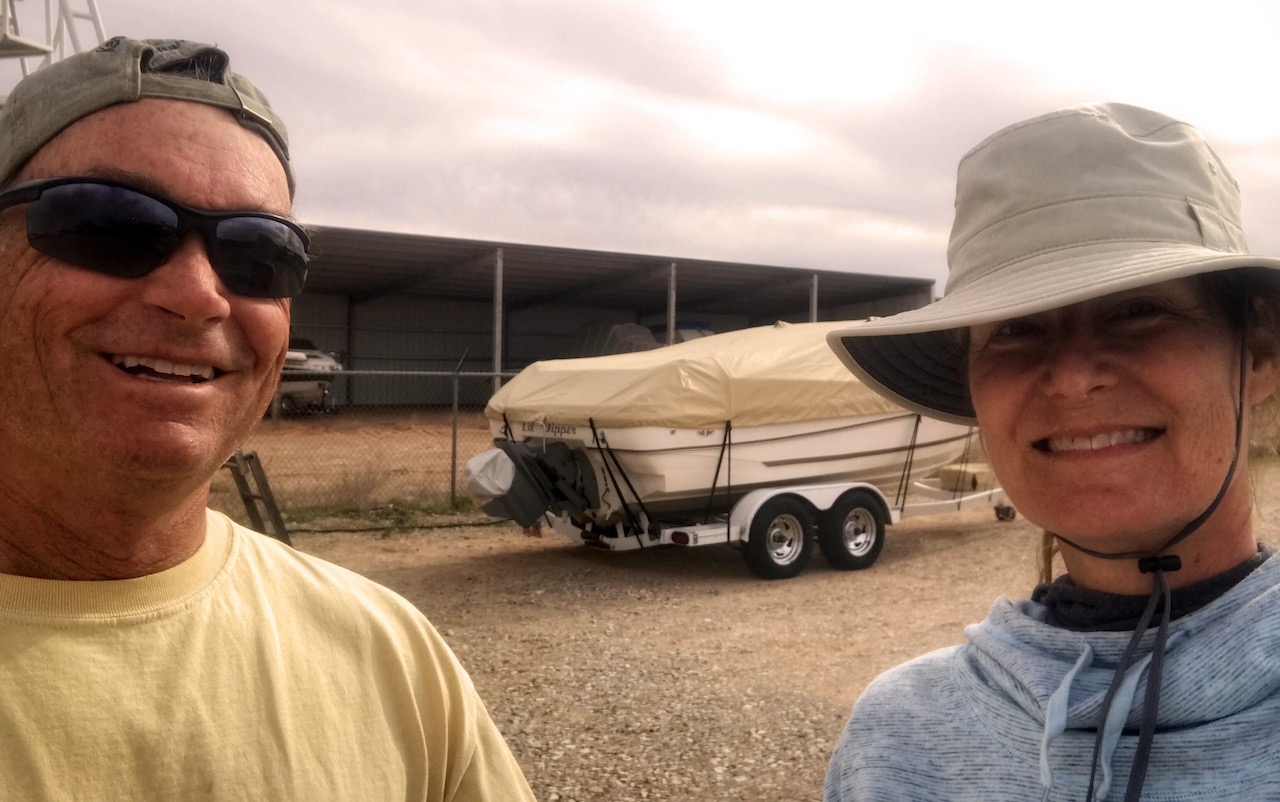 Who We Are
Sailrite is your one-stop DIY shop! We are a passionate crew of do-it-yourselfers who strive to equip you with the supplies and how-to knowledge you need to tackle your next project. Do you want to learn upholstery, leatherwork, canvaswork, hobby sewing, bag making or more? We have the fabric, tools, hardware, sewing machines and notions you need to master any DIY. And even if you've never sewn before, our tutorials and how-to videos are designed for beginners and experienced crafters alike.
Start your DIY journey today: www.sailrite.com