At the age of 10, Bailey Heyman received her first sewing machine as a gift from her grandparents. What she didn't know was that this small gift would spark a lifelong passion that would change her life. Bailey is truly a Jill-of-all-trades, sewing everything she can get her hands on, such as apparel, marine projects, pet projects — you name it. Along the way she discovered sailing and then the Sailrite® website, which only bolstered her love of all things DIY. Not to mention it brought her face to face with a world-class sewing machine, the Sailrite® Ultrafeed® LSZ.
"I remained interested in the idea of sewing through middle school, high school and college. It wasn't until after college that I had a well-paying job and could finally spend the money to pick up sewing again. I first bought a computerized machine even though it had been 14 years since the last time I'd had a sewing machine. My return to sewing started with making dog bandanas that I would give out to a local dog rescue I volunteer for. Sewing dog bandanas then turned into sewing dog vests and then it all escalated quickly!"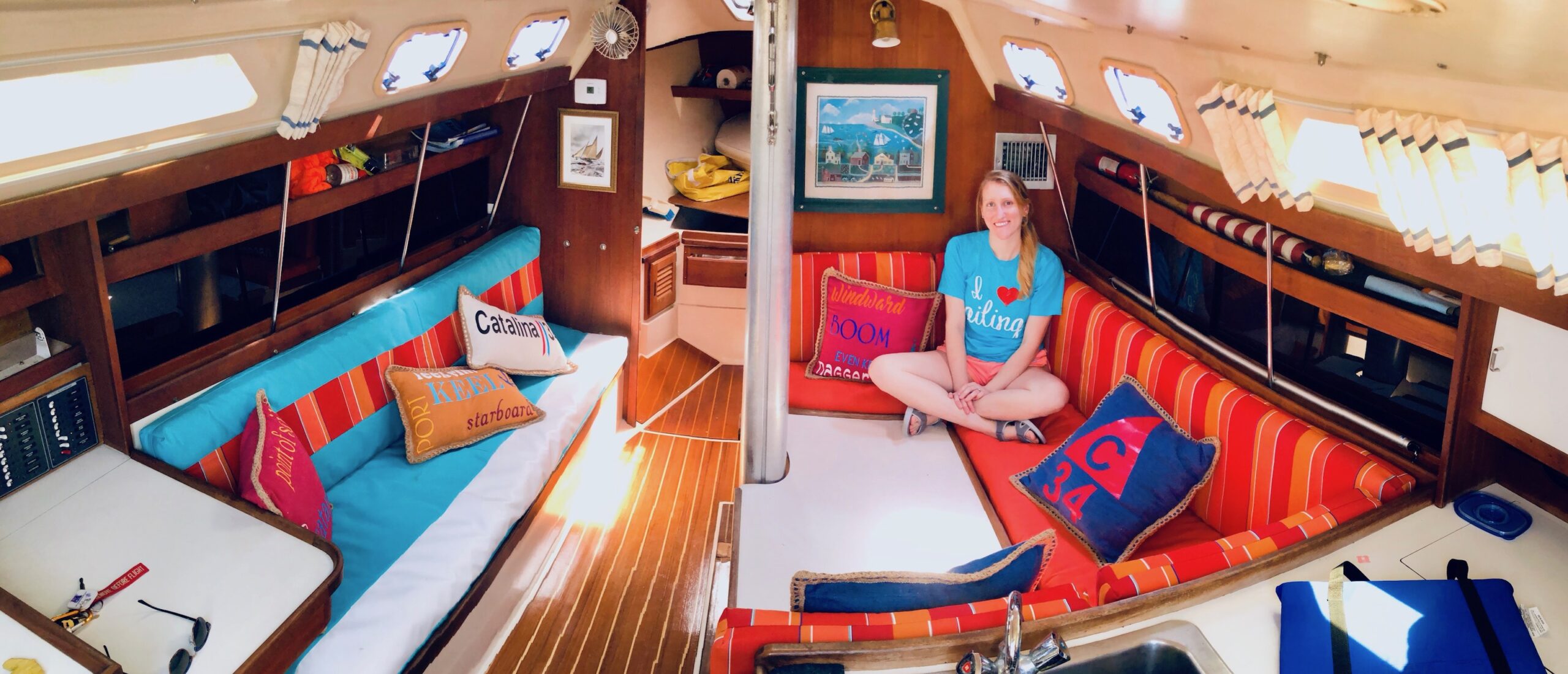 While always the avid sewist, Bailey wasn't always entwined with the sailing lifestyle or Sailrite. That she learned from her husband, who is from a long line of sailors and began to teach her the way of the water. This fact, combined with her infatuation with aerodynamics, led her to explore the world of sailmaking. It was here that things really began to gain momentum! Eventually, Bailey discovered the Ultrafeed LSZ Sewing Machine and her ability to DIY grew tenfold.
"When looking into industrial sewing machines for sewing sails, Sailrite is the first thing that comes up. It did not take me long to look at the company and know that it was a brand with a community that I wanted to be part of. I received my Sailrite Ultrafeed LSZ and immediately began to dress it up with stickers. Out of all the things I've done with my Sailrite, turning it into an angler fish has gotten the most likes on social media. That's fine with me because it makes me smile every time I finish a project, turn off the lights, and see it glowing."
This slideshow requires JavaScript.
You might've seen Bailey's customized Ultrafeed LSZ on our Sailrite Instagram page, complete with a smiling sticker that glows in the dark. This gives the machine the appearance of an angler fish, even with the lights off. And if you thought that was ingenious, you should see the great number of other projects Bailey has finished recently using her portable powerhouse of a machine.
The project that Bailey is most proud of? Her lightning bug sunflower dress of course. She was kind enough to share the entire process with us.
"I wanted to make a dress to wear to an engineering banquet that I had coming up. I knew I wanted a dress with sunflowers because those are my favorite flowers. I loved the blue and yellow color combination. After I made the dress, I started to think about what I wanted to add to it next. I love building circuits and wanted to work them into my sewing projects. One day I had the idea to add lightning bugs to the sunflower dress. But I had to figure out how to sew the conductive wire to get them to light up inside the dress. Most DIYers will sew wire into dresses like that by hand, but because of the shape of the dress, I knew that would take a long time. I tried to use my computerized sewing machine first but the thread was too thick for it. I thought perhaps my Sailrite Ultrafeed would not work with it because the dress material was chiffon, but I decided to try anyway. It took a few minutes to get the settings right for the material but once I did, I was able to sew the conductive wire perfectly into the dress!"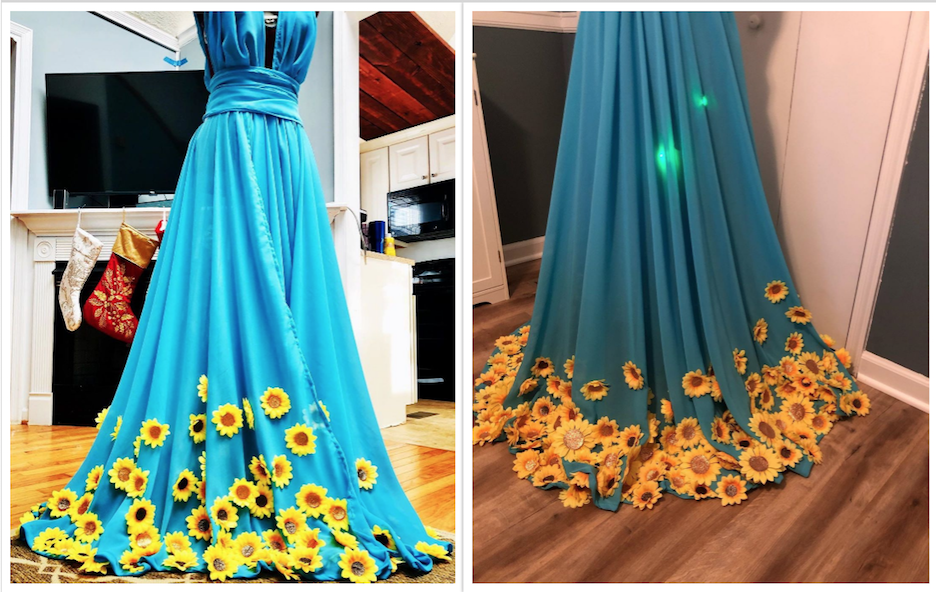 Following the creation of her prized sunflower dress, Bailey has been busy making even more wearable works of art. Her many successes include flowy skirts and gowns with a variety of leaves and creatures on them, each one perfectly showcasing her boundless creativity. She explained, "My inspiration for making them all comes from self-inspiration. It only takes about an hour to an hour and a half to make the base of a dress or skirt and then it usually takes a few hours to days to add appliques such as flowers or iron-on designs."
This slideshow requires JavaScript.
Within her eclectic portfolio of DIY projects, you'll also find a slew of marine cushions she's created to revamp her and her husband's boat. She's also crafted numerous additions to her Jeep as well as pet projects for her beloved dogs. And not only do these creative endeavors showcase the versatility of the Ultrafeed Sewing Machine, but more importantly, they showcase Bailey's versatility and expertise as an enterprising young sewist.
We asked Bailey if she had any advice for DIYers who have dreams of following in her footsteps, and she was kind enough to share her thoughts with us. "My biggest pointer is to be self aware. If you do not know yourself and how your mind operates then you risk becoming your own worst enemy when creating things. A personal example of this is that I know I often get carried away with cutting fabric. When this happens I end up over-cutting or finding out the pattern I was cutting was a little off and so now I have a pile of cut fabric that will not work. This means that I have to either throw away the cut fabric, spend time to fix the cuts (if they are fixable), or set them aside (which ends up haunting me until I eventually throw them away). Because I am self aware of this, I always make sure to remind myself to not get carried away when I cut. If I was not self aware of how I operate, then I would continually get carried away with cutting and then kick myself for all the money I throw away."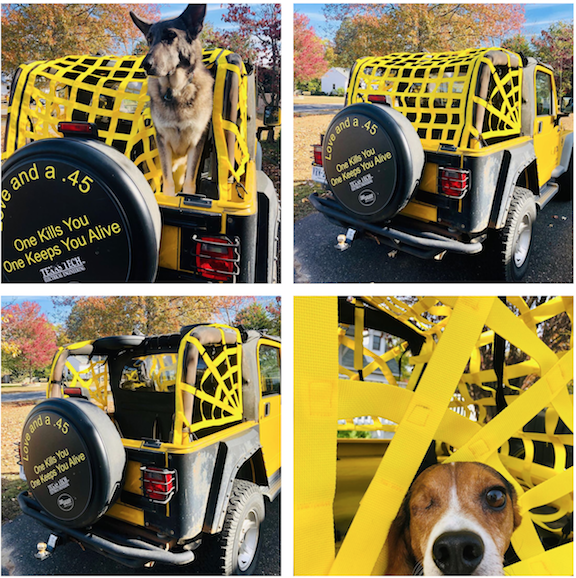 Bailey also has the support team of her family to thank for her ability to create. She remembers her grandpa having a big smile one his face while watching her sew and when she showed him the Sailrite he was certainly impressed. She likes to remember him fondly as a champion of her creativity.
With a can-do attitude, a great sewing machine and some DIY guidance, you too can create incredible DIY projects. We're eagerly waiting to see what you sew next, Bailey!
Who We Are
Sailrite is your one-stop DIY shop! We are a passionate crew of do-it-yourselfers who strive to equip you with the supplies and how-to knowledge you need to tackle your next project. Do you want to learn upholstery, leatherwork, canvaswork, hobby sewing, bag making or more? We have the fabric, tools, hardware, sewing machines and notions you need to master any DIY. And even if you've never sewn before, our tutorials and how-to videos are designed for beginners and experienced crafters alike.
Start your DIY journey today: www.sailrite.com