When you think about art, does fabric come to mind? For Jackson Martin, it absolutely does. Jackson is an associate professor of sculpture at the University of North Carolina in Asheville. Since art school, he has used fabric in his sculpture and installation pieces with great effect. His most recent sculpture, Room in the Sky, incorporated sailcloth from Sailrite and the use of his Ultrafeed® LSZ Sewing Machine. Let's find out more about Jackson, his passion for art, and how Sailrite could be a small part of his creative expression.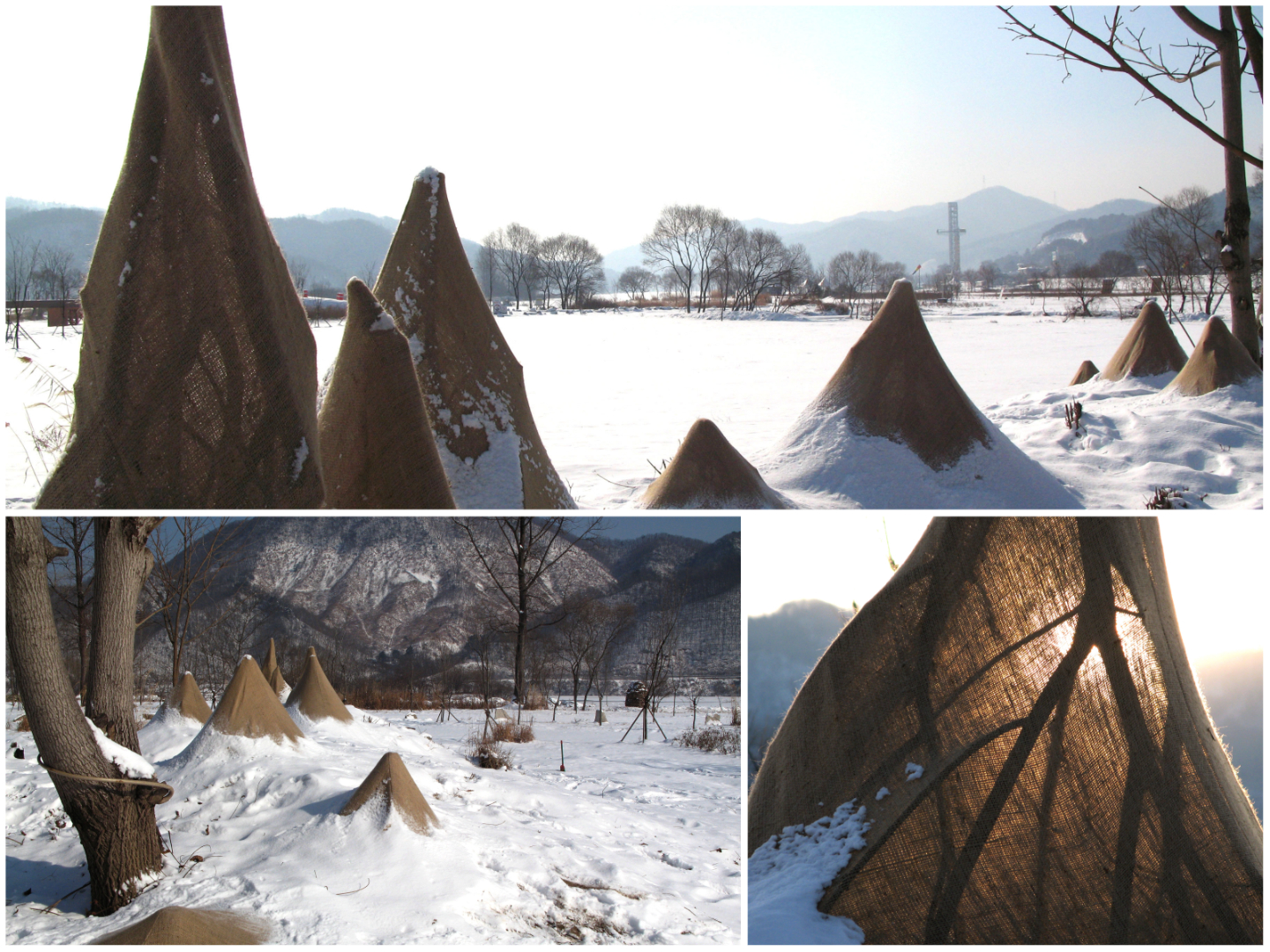 Art + Sewing
Art and sewing have been integral parts of Jackson's life for decades. His mother taught him to sew when he was young. In his teens, he would buy clothes from thrift stores and, often, jeans and pants were too long. "My mom taught me how to sew hems on a vintage Singer 347 from the 1960s that her mom had given her." Jackson still has that classic Singer, and he's even modified it with a custom aluminum pulley to keep it running smoothly.
Jackson's two interests collided during his undergraduate studies where he found a unique way to incorporate sewing into his sculpture work. "I was very interested in juxtaposing plants and soil with industrial materials like steel and wood. I made a conical-shaped hanging structure for a cypress tree and used burlap for the first time in my work. The piece was titled Separation. Since that project, I have used countless fabrics in my work, including several different types of burlap, tarp, canvas, denim, nylon, vinyl, cotton duck, moving blankets, quilted insulation fabric and an old trampoline!"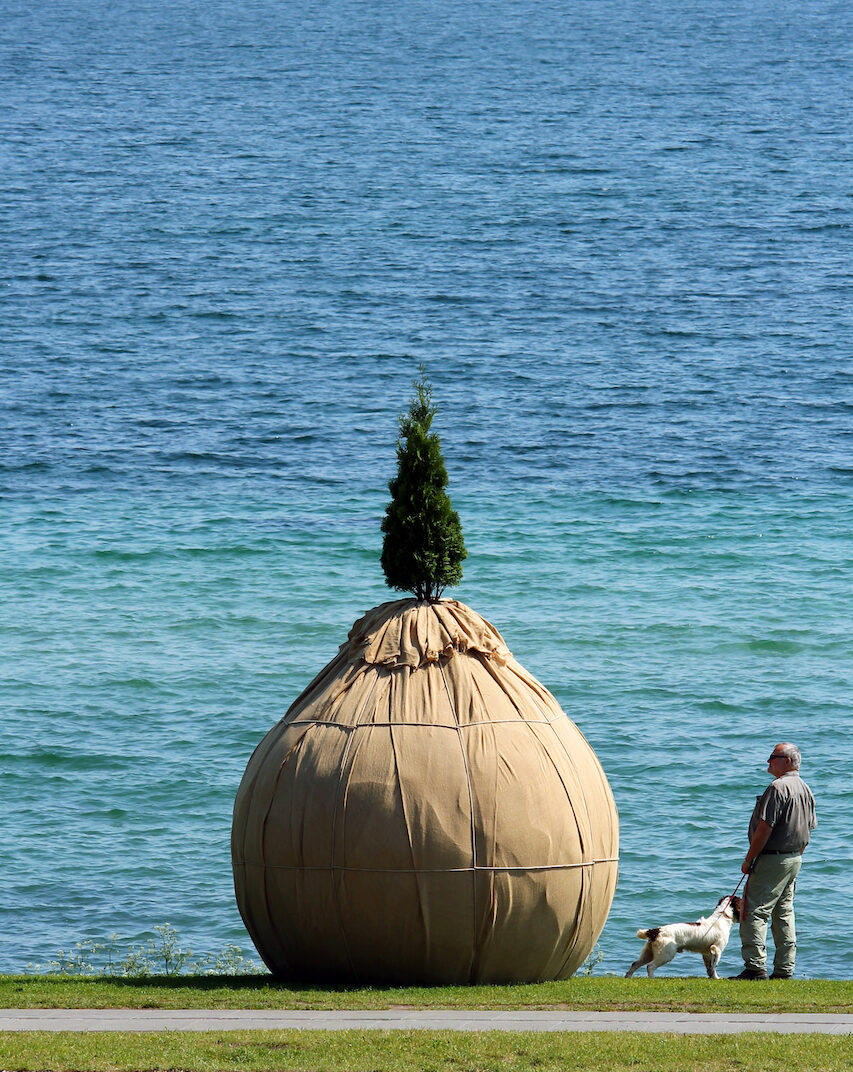 Jackson is passionate about not only making art but teaching art to students. He has taught at several institutions since obtaining his Master of Fine Arts degree in 2007. He also participates in international artist residencies and has created sculptures in South Korea and Denmark, both of which incorporated fabric and sewing into the projects.
Upgrading to an Ultrafeed
Jackson was using his mother's Singer for his fabric sculptures and installations, but he soon realized he needed a more powerful machine. He first tried an old industrial walking foot Singer, but there was no way to slow it down for detail work. An internet search for industrial walking foot sewing machines led him to Sailrite and the Ultrafeed LSZ. "I still occasionally use my vintage Singers, but 99% of the time I go for my Ultrafeed for my projects."
This slideshow requires JavaScript.
In fact, Jackson has ordered two Ultrafeed LSZ machines — one for personal use and one for the sculpture department at UNC Asheville. The LSZ was one of the first purchases he made when he became an associate professor nine years ago. "We've had that machine now for over eight years and it's still going strong." It's been put to great use by art students throughout the years.
Transforming Fabric Into Art
For Jackson's most recent installation, Room in the Sky, he turned to Sailrite for the materials he'd need. Jackson's piece was chosen, among other artists, as a temporary installation following the removal of the Vance Monument in downtown Asheville. The theme of the installation series was "social equity and inclusion" to replace the statue of former North Carolina governor, confederate and enslaver Zebulon Vance. The intention of the installation series was to spark conversation about inclusivity in public spaces.
"I chose an overall form that directly relates to the old monument base, but also one that represents both healing and inclusivity." The structure's framework is shaped like a plus sign or medical cross with Dacron® sailcloth flags representing groups that experience discrimination. "Many of my students, closest friends and family members have been affected by discrimination and prejudice in this country, and I am honored to stand as an ally in the fight for equality. The title is intended as a double meaning: There is room in the sky for all flags to fly, but the structure is also an actual room for visitors to walk into and enjoy physically."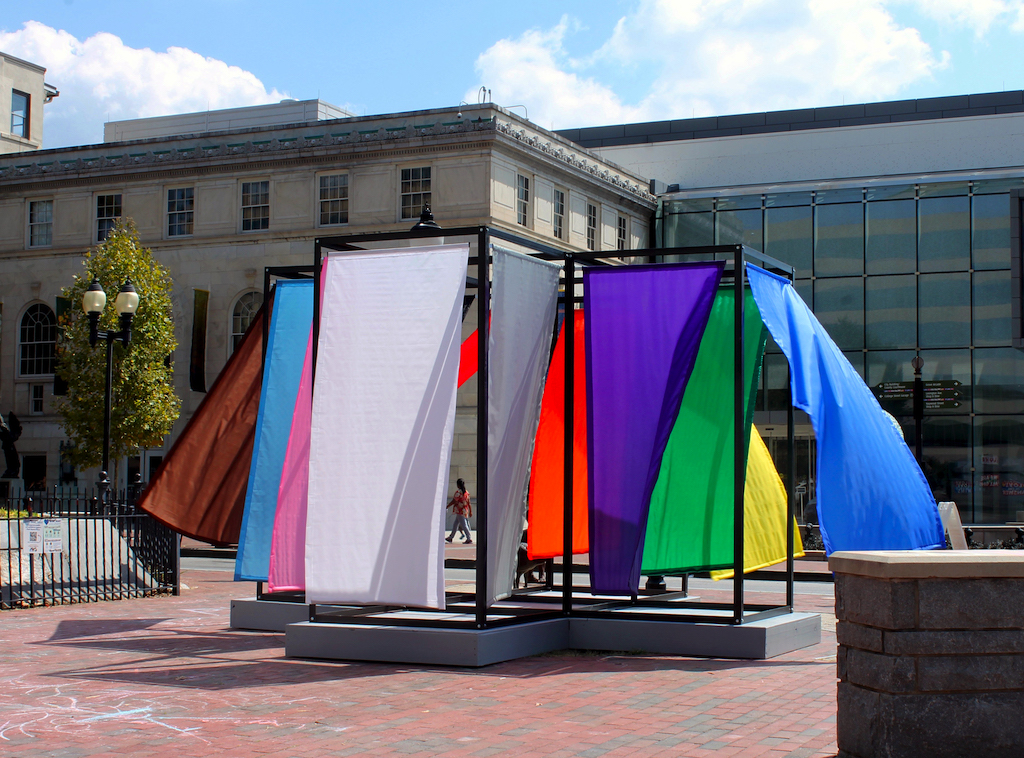 Let's hear more about Jackson's artistic journey and creative process in his own words.
Q. Have you always been artistic? When did you know you wanted to pursue a career in the arts?
A. For as long as I can remember, I have always had an inclination towards art. My dad is an artist, so that sort of mentality was always in our household. I remember being assigned projects in grade school, and then going above and beyond the guidelines and spending way too much time on them. These projects were always two-dimensional art projects, though — drawings, paintings, even collages — I never really got into three-dimensional art until much later. When I first started college, I knew I wanted to pursue a career in the arts, but at the time I had no idea what I wanted to do. I ended up floundering around quite a bit, not only trying my hand at different art mediums, but other areas altogether, like printmaking, graphic design, and even philosophy and religion. 
Q. Would you say fabric/sewing is your main medium, or do you prefer to work with another medium?
A. Early on in my undergraduate studies, I realized I loved mixed-media art. And even though I've gone through phases of using particular materials and processes, one of the characteristics I pride myself on accomplishing is the ability to do just about everything. Sewing and fabric work in general, however, is one of my go-to mediums/processes. Another go-to is steel, and I love the mixture of fabric and steel, sewing and welding. Although they are obviously different and in some ways polar opposites, there are similarities that I love. If I have stitched together fabric pieces with my sewing machine and stitched together metal pieces with my welder, then I consider that a great day in the studio!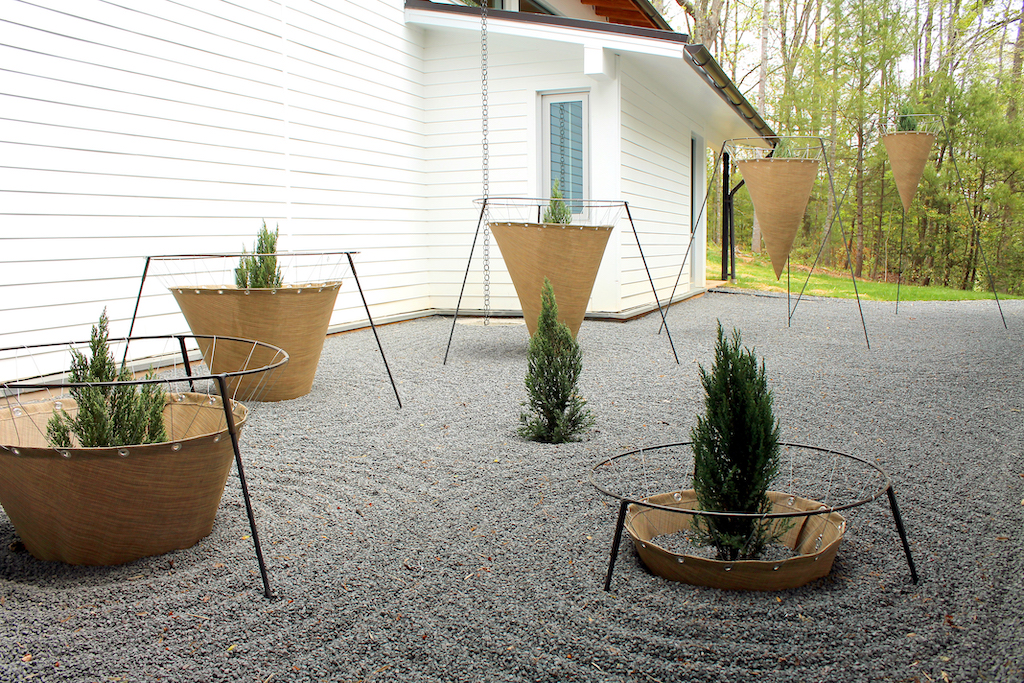 Q. What do you love most about sewing and/or the creative process as an artist?
A. With sewing I love the quiet, contemplative space at the machine. I am completely aware and focused on what I'm doing but zoned out and sort of in a meditative state, as well. I suppose that's what I love about the creative process in general. These two seemingly disparate ways of existing in the world can occur simultaneously.  
Q. Do you sew for yourself or your home, or just for artistic reasons? 
A. I definitely sew for myself or, more specifically, for my family. I'm the household resident tailor, always getting roped into making and fixing things for the home. Hemming pants, fixing holes in sweaters, custom curtains, etc. I actually taught both my wife and now my daughter how to sew!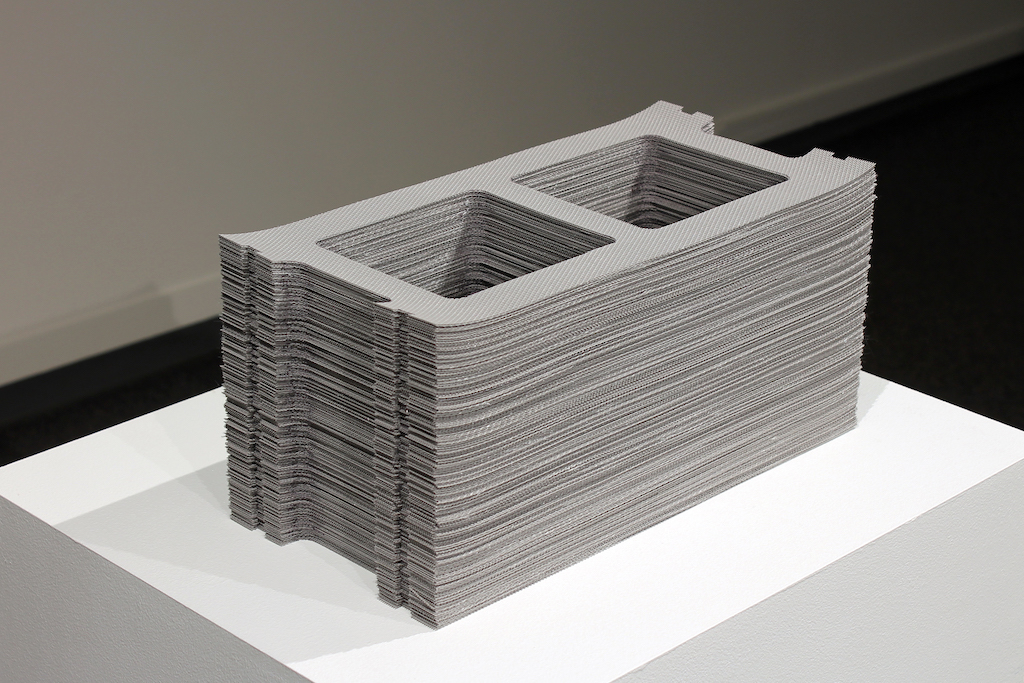 Jackson's fabric sculptures and installations are thought-provoking and impactful. But you don't need a master's degree in art to be creative and make a statement. Every sewer experiences the same sense of accomplishment when they transform fabric into something three-dimensional and purposeful. It's a joy and skill that connects all makers — whether you're an internationally recognized artist or a parent sewing homemade Halloween costumes. 
The creative spirit is at the heart of the DIY community. It's a thread that binds all makers, reminding us that there is more we have in common than what sets us apart. Sculptor, DIYer, artist, sewer — we all use our hands to create something that makes us happy and, perhaps, makes a difference in someone's life. What could be better than that?
For more information on Jackson's work, you can visit his website at www.jacksonmartin.com. 
Who We Are
Sailrite is your one-stop DIY shop! We are a passionate crew of do-it-yourselfers who strive to equip you with the supplies and how-to knowledge you need to tackle your next project. Do you want to learn upholstery, leatherwork, canvaswork, hobby sewing, bag making or more? We have the fabric, tools, hardware, sewing machines and notions you need to master any DIY. And even if you've never sewn before, our tutorials and how-to videos are designed for beginners and experienced crafters alike.
Start your DIY journey today: www.sailrite.com