Heidi West's creativity knows no bounds. From her modest start selling her handmade goods at weekend craft shows to launching a thriving online and brick-and-mortar store, Heidi has learned one valuable lesson: Success can go as far as your creativity and determination can take it. A crucial part of that success has been her Sailrite® Fabricator® Sewing Machine. Sailrite's powerful, industrial machine keeps up with the relentless demand of her ever-growing business. Keep reading to learn more about this self-starter and creative entrepreneur and the amazing things she's making with her Fabricator!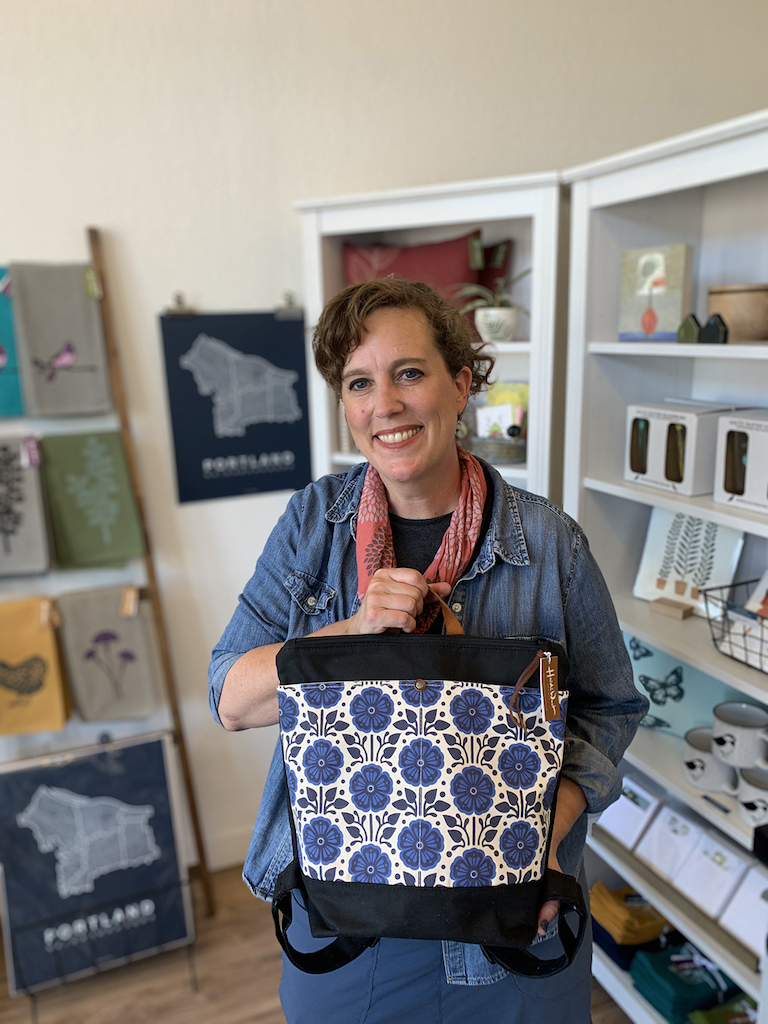 The Spark of an Idea
It started with a simple curiosity. In 2015, Heidi bought a screen printing kit. She'd always been intrigued by screen printing and wanted to learn how it worked. After some trial and error, she successfully created her first print. Heidi then screen printed some fabric with a pattern of her own design and sewed some cosmetic bags for her friends. Screen printing was not an easy skill to learn, but Heidi was determined to master it. She took some classes, practiced in her free time and — most importantly — never gave up.
A short year later, Heidi opened an online store selling cosmetic bags, small zippered pouches, eyeglass cases, totes and more. All of her handmade goods are screen printed from her own charming designs and sewn by her as well. At that point, she was still working full time as a marketing project manager, but the demands of her marketing job and her growing business were taking a toll. "I was busy almost every minute of the day, while also raising two small kids, but I loved every minute of it. In 2018, I left my job to run my business full time. In 2019, I moved my sewing studio from my home into a commercial space, allowing me to set up a little retail shop, too."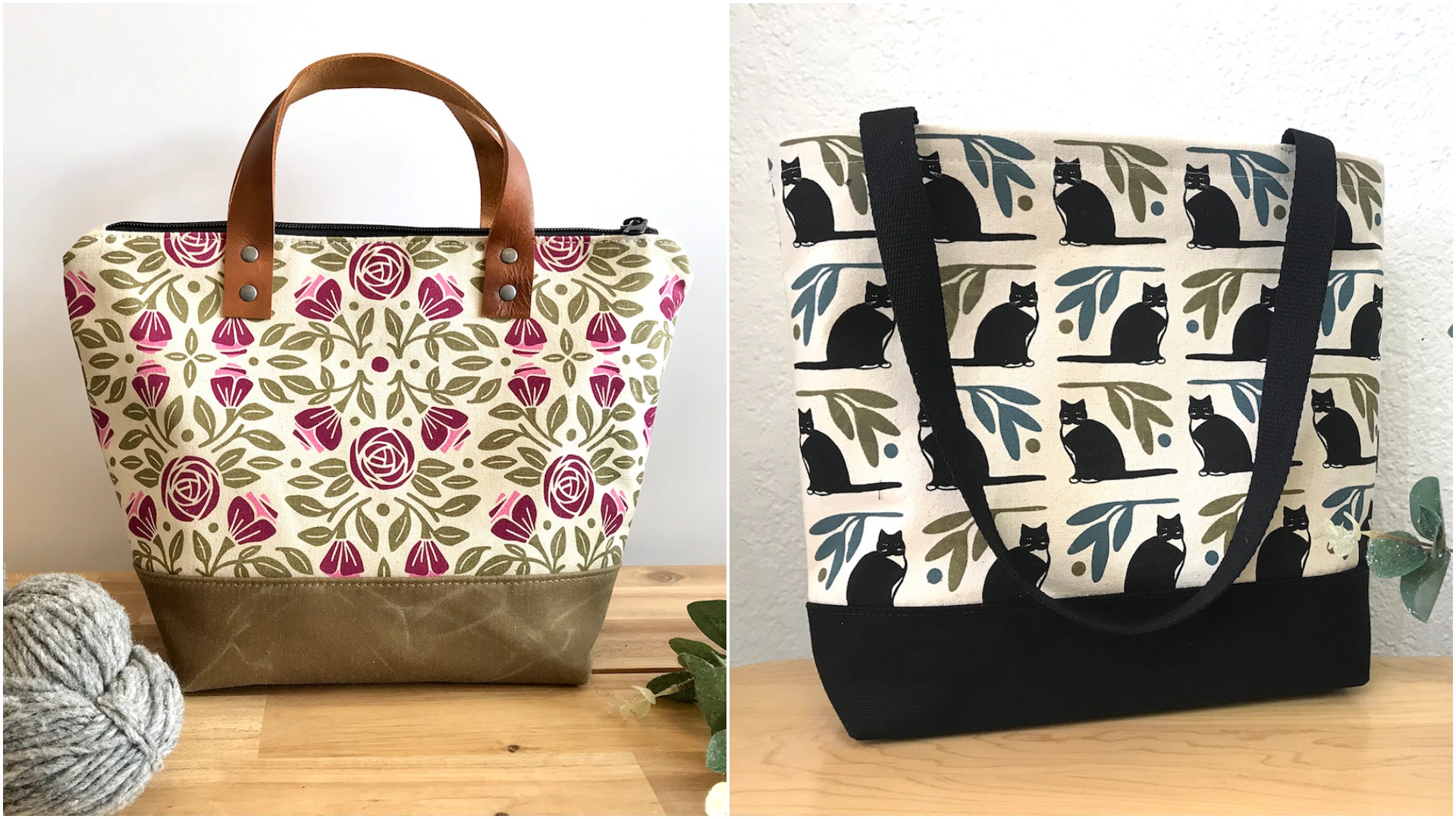 In just five years, Heidi went from picking up a screen printing kit for the first time to launching a successful, full-time business. Along the way, she realized that her home machine wouldn't cut it anymore; she needed something bigger, stronger and tougher to take her small business — and the quality of her sewn goods — to the next level. "At first, I was using a home sewing machine, but when it couldn't handle all the use, I upgraded to a mini-industrial machine. It worked well, but I was always concerned about quality. Because I use multiple layers of interfacing and fabric in my bags and pouches, I was concerned that standard thread wasn't enough to hold all the layers together. It was clear that I needed an industrial sewing machine to ensure that my bags were built to last."
Hunting for the Right Machine
Heidi began her search for an industrial machine by turning to fellow sewists and creatives, seeking their advice and experience. "I started talking to people within the sewing community and the Fabricator was highly recommended. I was able to try one out and fell in love with how it worked, as well has how beautiful it is. I considered buying one for several years and finally went for it in December 2020. Prior to my purchase, I watched all the marketing YouTube videos and memorized all the specifications. I was obsessed."
Now that Heidi has been using her Fabricator to sew items for her business, Heidi West Designs, she knows she made the right choice in the Fabricator. "It's an amazing sewing machine and I really love using it. When I was putting my Fabricator together, I must have watched the videos at least three or four times so I could put it together correctly. The videos were super helpful."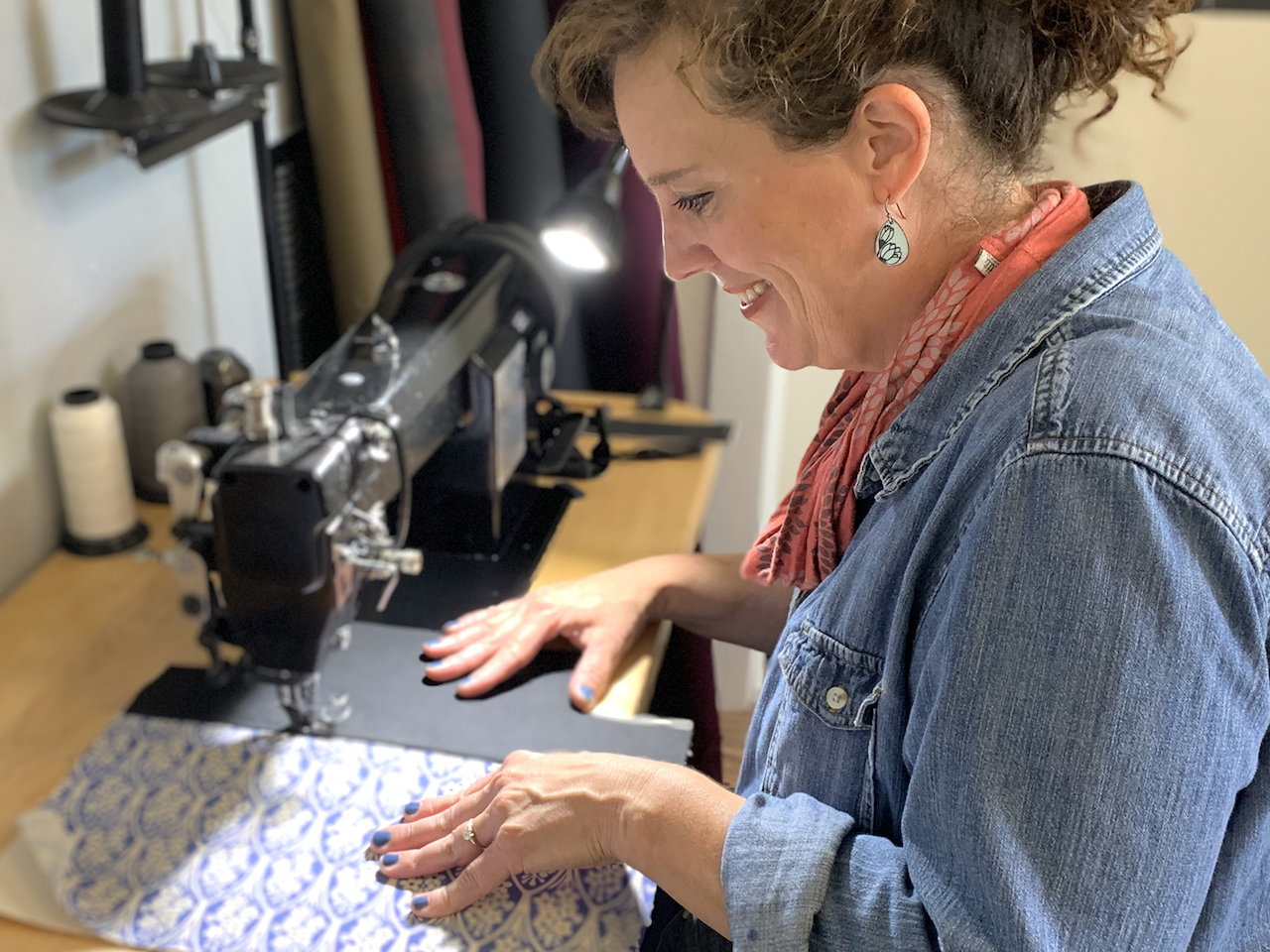 Sewing Beginnings & Creative Pursuits
Heidi learned to sew from her mother when she was 6 or 7 years old. By age 10, her mother had taught her how to read patterns, and Heidi was happily sewing clothes for her doll collection. "I didn't sew too much in high school or college, but when I was pregnant with both of my kids, the sewing urge really hit me, so I started sewing simple things like bibs, swaddle blankets and hats. After that, I started really having fun making pouches. And then that grew into bags."
Heidi is a DIYer at heart. The challenge of designing and constructing something of her unique vision and imagination is the mark of a creative spirit. The spark of creativity is something all DIYers have in common. "I love the challenge of trying to figure out how a particular bag or other item was made. I'm super fascinated by different construction methods in sewing. And there's nothing better than having an idea pop into my head and then being able to create it."
Heidi has a degree in fine arts with a focus in graphic design. These skills are evident in the quality and precision of her design work. "I also have a degree in interior design. I've always loved all parts of design, and I've always loved patterns. At the beginning of 2021, I started a year-long project that involves creating a new pattern each month for the 12 birth month flowers. It's been such a valuable experience and has definitely pushed my design skills and style to a new level."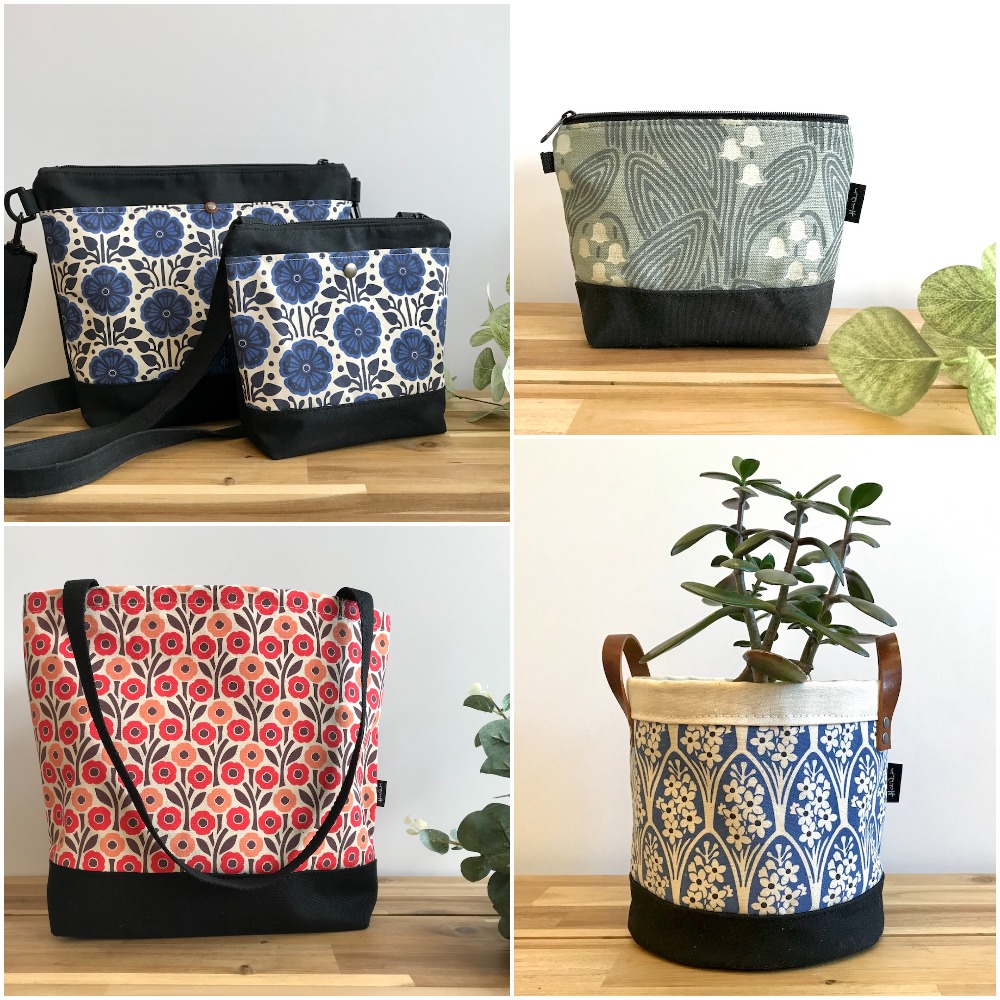 Transitioning from a corporate career to the freedom of a creative pursuit has been incredibly fulfilling for Heidi. "I absolutely love that I don't have to attend pointless meetings anymore! Really though, when larger teams are involved, I feel like processes and policies can get in the way of delivering the customer what they really want in a timely manner. There have to be so many hoops to go through and since it's just me in my business, I get to make superfast decisions and then execute them. I love it."
Screen Printing: A Labor of Love
If you're unfamiliar with the technique of screen printing a pattern onto fabric, you're not alone. We asked Heidi the same question. Here's how she describes her process from initial concept to finished printed fabric:
"The first part of my process is to draw a rough motif using my iPad and then finesse it and put it into a pattern using Adobe Illustrator on my Mac. After the pattern is created, I output transparencies to make the screens. The screen-making process took me several years to fine-tune, but now I have it down to a science. It involves coating the screens with emulsion in a darkroom and then exposing them to light using UV light table. Exact timing is crucial. I then wash them out with the perfect amount of water pressure. After the screens are made (one for each color in the pattern), I can start screen printing."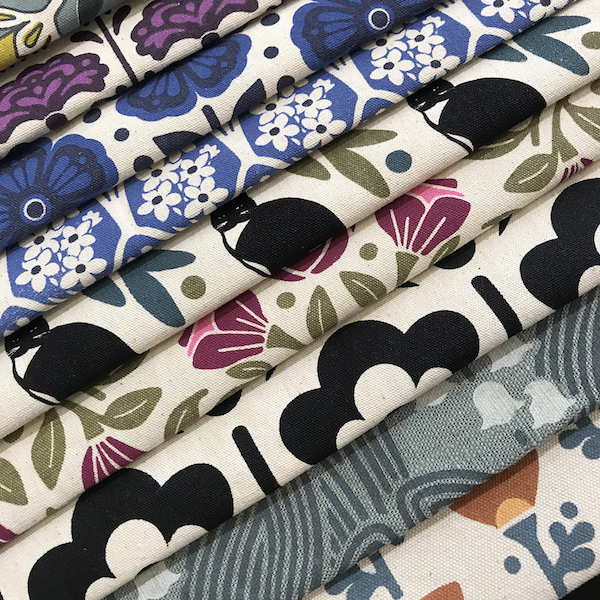 What Heidi loves most about the screen printing process is the depth to the craft. "It looks so much more handcrafted. I also just really love the process of making the screens and then getting the press all set up for printing. It definitely has serious challenges, but I guess that's what keeps me coming back to it. Each new design I create requires me to think about how it's going to work on press. I have to consider technicalities such as registration, how to minimize drying time between colors, and how I'm going to achieve the colors I want. Screen printing my own fabric really pushes me to use both sides of my brain and that's what I love about it." 
"Every day, I'm just so grateful to be able to use my creativity in my job. I spent over 20 years in jobs that weren't fulfilling and didn't inspire me. I just appreciate it so much now." For all those DIYers and dreamers out there who are thinking of pursuing their own creative paths, Heidi has some advice to share: "Don't wait until things are perfect to get started. Just start anywhere and refine and change things from there."
If you'd like to see more of the unique goods Heidi is making with her Fabricator, you can follow her on Instagram at @heidiwestdesigns.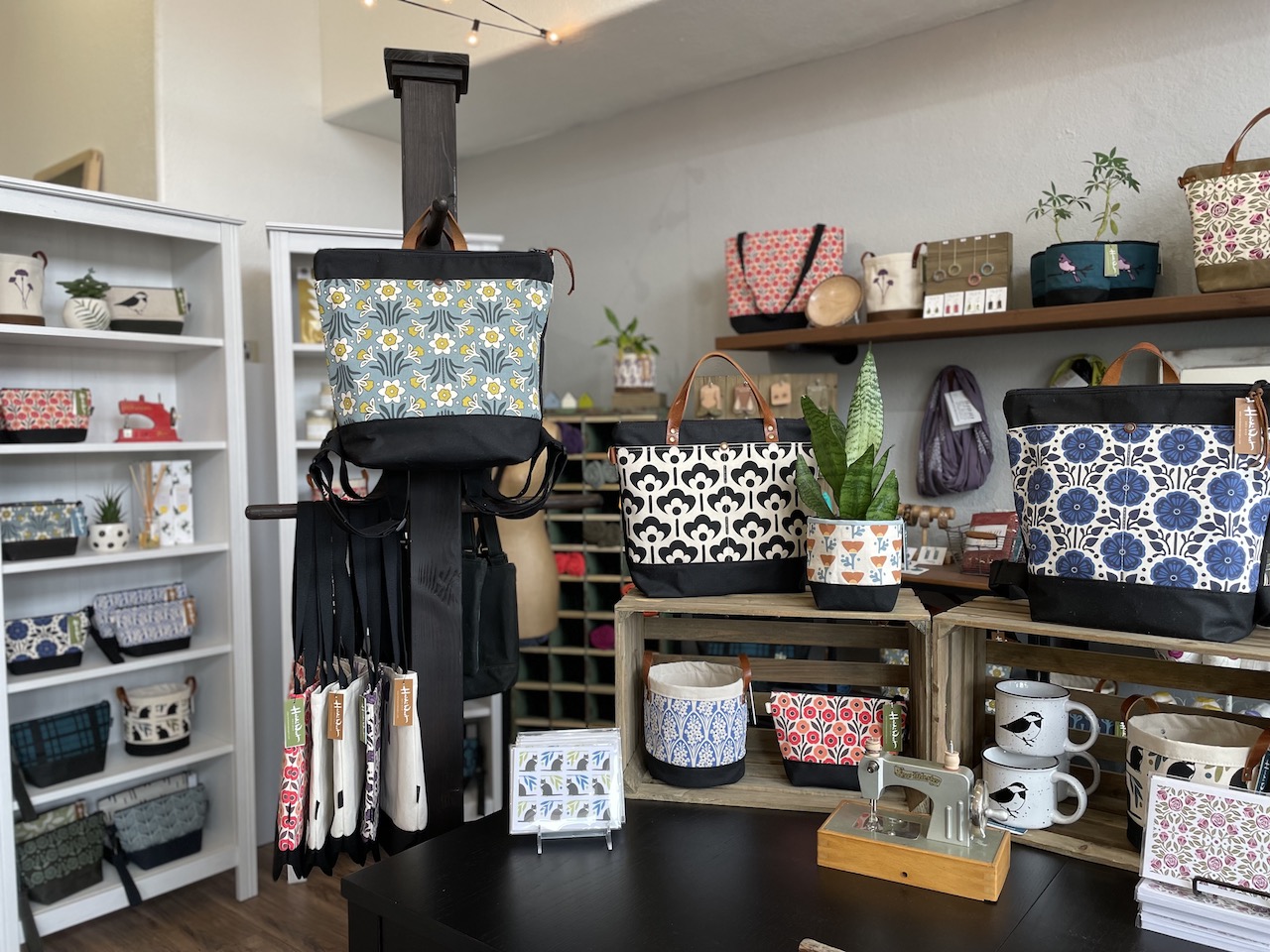 Who We Are
Sailrite is your one-stop DIY shop! We are a passionate crew of do-it-yourselfers who strive to equip you with the supplies and how-to knowledge you need to tackle your next project. Do you want to learn upholstery, leatherwork, canvaswork, hobby sewing, bag making or more? We have the fabric, tools, hardware, sewing machines and notions you need to master any DIY. And even if you've never sewn before, our tutorials and how-to videos are designed for beginners and experienced crafters alike.
Start your DIY journey today: www.sailrite.com