Patty Poncer Marks is no stranger to sewing. Whether making her own clothing or sewing custom slipcovers for her family, Patty has been honing her craft since she was 12 years old. Patty has applied her skills to everything from quilts, to bags, to banners and decorative pieces for her home. When her cat, Abby, took a liking to Patty's favorite chair, a reupholstery job was next on Patty's DIY docket. She turned to the experts at Sailrite® for guidance. With her sewing experience and Sailrite's tools and know-how, Patty was able to tackle reupholstering her chair with confidence. Follow along to read what Patty has to say about her DIY and crafting lifestyle, plus how Sailrite played a key role in her reupholstery project.
Learning to Sew
My mother signed me up for sewing lessons with Mrs. Meyerose in Covington, Kentucky, when I was about 12 years old. She had taught my mom to sew years earlier, but I was the one who really took to the craft. Mrs. Meyerose had converted the first floor of her house to a sewing studio. The front room was filled with old Singer® treadle machines that had been converted to run on electricity. I still remember the sound and slow steady pace of those machines, just perfect for beginners. I was the only kid in the class, and Mrs. Meyerose seemed ancient at the time — probably about my age now. I continued my lessons for a couple of years, and by the time I took home economics in the seventh grade, I ended up teaching the sewing portion of my class.
Mrs. Meyerose insisted that her students take notes and somewhere I still have that little steno pad. There were rules about how to use our cutting shears properly, straighten the fabric, alter the patterns and operate the machines.  Before we ever made our first garment, we made samples of darts, gathers, sleeves, zippers, etc.  It wasn't long before I was sewing most of my clothes. My first plaid projects included a fitted button-down blouse with a collar and a lined wool coat. I even made a tailored, lined sports jacket; a reversible vest; and ties for my dad. My dad said he knew when I was in my room sewing because the gauge on our electric meter was spinning wildly!
This slideshow requires JavaScript.
It was during that time my mother bought me my first Singer sewing machine with a zigzag stitch.  That function opened up a whole new opportunity to make appliqué banners.  The early ones were pretty simple, but the later ones are also art.
I graduated from college with a degree in engineering math, followed by an MBA. My first purchase when I was hired as an Engineering Manager was a new Bernina® 801. I was so excited to have a semi-automatic buttonhole feature and blind stitch hem. I thoroughly enjoyed those days of making Halloween costumes, bridesmaids' dresses, prom dresses and more over the years. 
Giving With Sewing
There is no end to sewing opportunities. Recovering cushions, making curtains and drapes and small upholstery jobs eventually led to reupholstering couches and chairs for me and my family. I enjoyed matching the stripes on a sleeper sofa for my daughter using the absolute minimum amount of fabric. This was done as a fitted slipcover.  We reinvented that piece several times over the years.  
Another new oportunity opened when I joined the Art and Environment committee at my church. That's when the banner work really took off. I enjoyed making seasonal banners but hanging them on the pillars was a time-intensive, cumbersome task.  I built mounting boards that could be strapped to the eight pillars surrounding our worship space. The boards use Velcro® to accommodate three layers of banners that can be attached and decorated on our workroom table. Hanging then only involved handing the board up to be buckled in place. 
This slideshow requires JavaScript.
I continued to do lots of appliqué but I began to see the opportunity for machine embroidery as well.  I upgraded to a Bernina® 750 QE with the embroidery unit and have finally passed my original Bernina on to my daughter. I love the variety of stitches and the ability to handle anything from thin, slippery fabric to thick rag rugs.
It's hard to attend a craft show or see anything in fabric and not say, "I could do that!" A few of my creations include lightweight day packs, compression packing bags, grocery totes, laptop sleeves and aprons. I even made several braided rag rugs for my home. Last year for Christmas, I sorted through my silk scarves and made kimonos and tailored shirts for my family. When COVID-19 came along I happily made over 600 four-layer masks to give away to family, friends and institutions.  This year the Christmas sewing gift will be travel cosmetic bags and cell phone caddies.
This slideshow requires JavaScript.
If I see it, I can make it — usually out of my stash! I have inherited stash fabrics, unfinished projects and supplies from family members.  I cherish finishing the items their hands started. Speaking of stash, anyone who saves scraps is eventually going to make a quilt. It can't be helped. So, I finished a couple of theirs, and made several of my own baby quilts for family members.  It's especially pleasing to combine quilting, embroidery and appliqué work.
Enter Sailrite
This brings me to the project that introduced me to Sailrite products. Several years ago, I inherited my mother's cat. Abby immediately took a liking to my favorite red chair and decided it made a handy scratching post. No amount of coaxing, chasing, covering or spraying could deter her from eventually shredding the chair. It was time to reupholster! I had just enough fabric from my stash, but I would have to lay out the pieces very carefully to match the horizontal and vertical stripes.
This slideshow requires JavaScript.
That's when I discovered my new friend Cindy on YouTube and the How to Reupholster an Armchair video. I watched those Sailrite videos over and over, working in stages and making notes. I realized that with her expertise and her impressive tools, I could manage this project! That led me to Sailrite's helpful website where I ordered the Sailrite® Long Nose Upholstery Staple Gun, tack strips and other supplies.
Just a few days into removing the old fabric, I had knee replacement surgery. This gave me lots more time to plan and consider my task. Cindy is right about the deconstruction taking much longer than the reconstruction. My husband put the chair on a table in the living room where I could eventually stand for short stints as my knee healed. He bought me a portable air compressor so that I could staple quickly when I was able to stand. When I eventually needed access to my sewing room to make the piping and cushion, I still couldn't manage stairs; he used a golf cart to drive me up and down from the living room deck to the outside basement entry. 
This slideshow requires JavaScript.
One of Cindy's best tips was to use the old fabric as a pattern and to mark where the pieces join. I roughly laid out all the pieces to ensure they would fit my limited fabric, but only cut out one piece at a time. Then I pinned the new piece in place next to an old piece to mark where the pattern had to match vertically and horizontally. I continued this method as I worked my way around the chair. Working in the proper order was imperative to achieve a match all the way around as well as up and down.
This slideshow requires JavaScript.
I am so pleased with the result and forever indebted to Cindy for sharing her expertise. Her calm and confident voice also helped me to be patient and enjoy the challenge. I even machine embroidered a "tag" to the fabric with my initials and date. Then I used the old red fabric from the chair to make a bed and recover a scratching post for the cat. Abby took to both with great enthusiasm which will hopefully prevent her from ruining my "new" chair.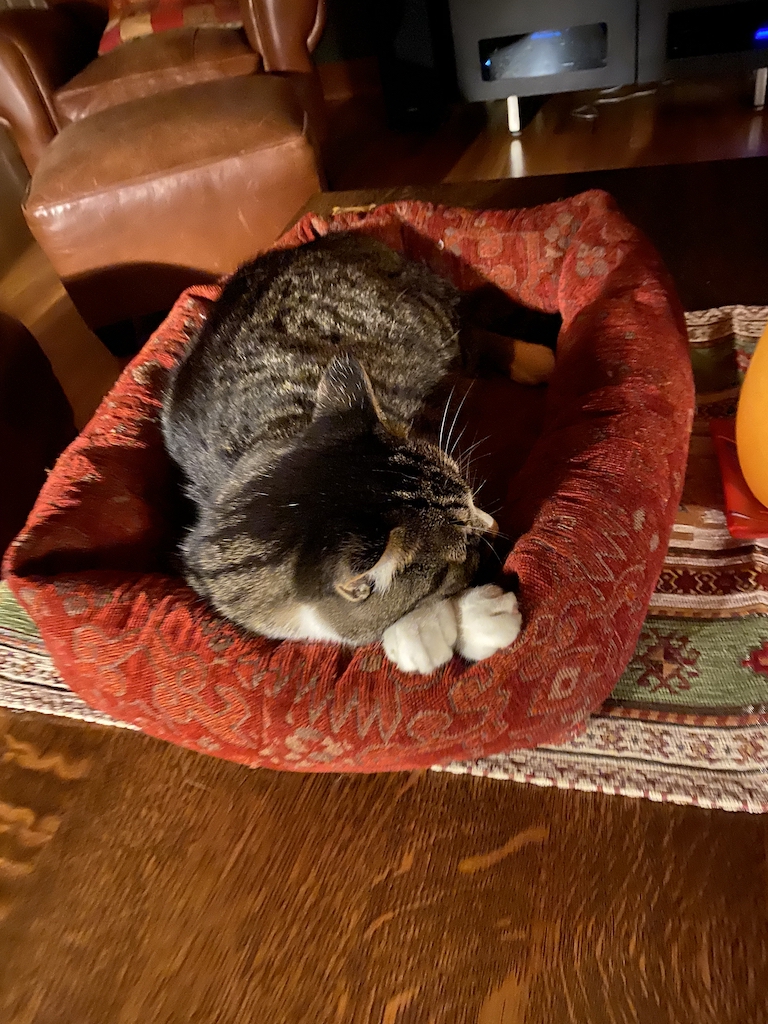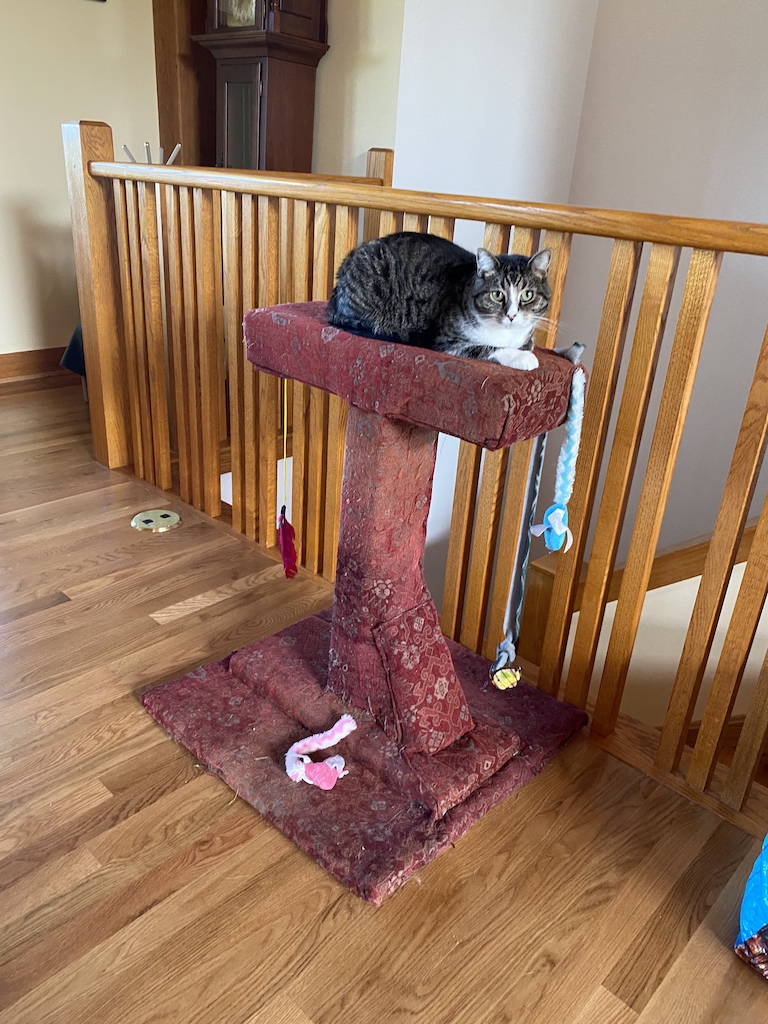 Future DIYing
I still have a list of projects and plenty of fabric to explore. I'd like to try my hand at smocked pillows next. Having a well-stocked, sorted and labeled private workspace helps. I have the liberty to spend hours, make a mess and then close the door until I am refreshed and inspired to return — which these days is quite often. When I'm not sewing, I enjoy playing the piano, singing in the choir and writing Pysanky. Pysanky are Ukrainian Easter Eggs; decorating them is another seasonal hobby of mine. These are real, emptied eggs, dyed with a wax resist process and they last for years.  I've made hundreds and teach classes.
This slideshow requires JavaScript.
Wow! We think that chair looks great, and we're so glad Sailrite was able to help! With everything that Patty DIYs, we're excited to see what she creates next. Thanks for sharing your story with us!
Who We Are
Sailrite is your one-stop DIY shop! We are a passionate crew of do-it-yourselfers who strive to equip you with the supplies and how-to knowledge you need to tackle your next project. Do you want to learn upholstery, leatherwork, canvaswork, hobby sewing, bag making or more? We have the fabric, tools, hardware, sewing machines and notions you need to master any DIY. And even if you've never sewn before, our tutorials and how-to videos are designed for beginners and experienced crafters alike.
Start your DIY journey today: www.sailrite.com