What do a sheep farm in Pennsylvania, Sunbrella® binding and the Fabricator® Sewing Machine have in common? Heather Loomis. This creative DIYer uses her Fabricator machine to sew dog coats made from warm and protective wool felt. The wool comes from her very own sheep raised on her family farm. Learn more about Heather, her sheep, and how she got the idea to sew dog coats from their wool!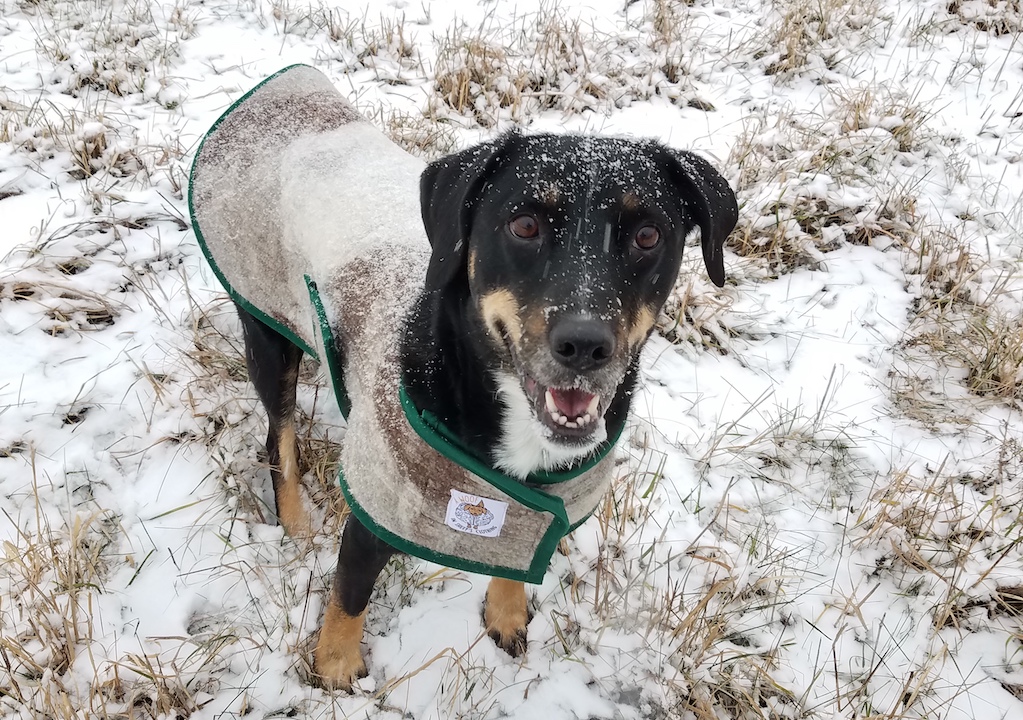 Down on the Farm
Heather and her husband, David, have owned, maintained and operated their farm, Bohlayer's Orchards, for 16 years. They are the fifth generation to steward the land. Though there's no such thing as a typical day in farm life, here's what Heather shared with us regarding her daily routine: "Our days always begin and end with chores to feed and care for the animals.  The rest of our work is driven by the season and can include pruning the orchard, skirting wool fleeces, moving sheep to different pastures, making hay, harvesting fruit, packaging and shipping wool, and on and on!"
They harvest apples and pears and raise sheep on their 130-acre orchard and farm. "We have a flock of 70 Romeldale CVM sheep. The number can ebb and flow as we welcome new lambs each year and sell breeding stock or fiber sheep to other farms." Romeldale CVM sheep are a breed of domestic sheep native to the United States. They are a very rare breed known for their unusual coloring.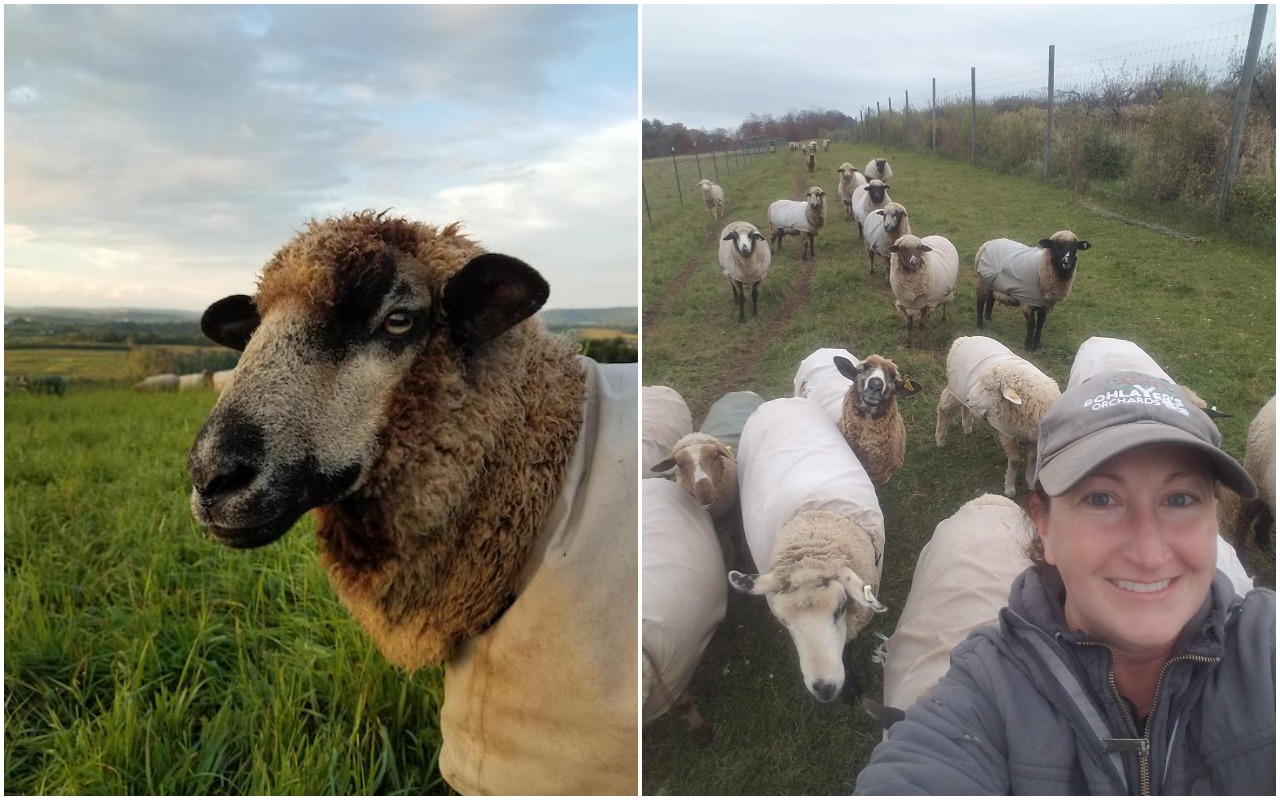 The soft wool and unusual colors of the breed's fleece are sought after by hand spinners to create high-quality wool yarn and roving. "They produce a soft (fine) wool in many different natural colors, including white, gray, brown and black." Heather sells spun yarn and wool roving made from her sheep's fleece. Turning the wool roving into water-resistant and insulated dog coats was a natural next step.
Dog Days of Winter
Where did Heather get the idea to sew dog coats from her sheep's wool? "The idea for dog coats came out of a need to keep our own dogs warm and dry during cold and wet winter days. We knew the wool felt would be a perfect material for a dog coat. The wool would keep the dogs warm, and it naturally has some resistance to wet conditions."
Heather learned to sew at a young age from her mother, a skilled seamstress and quilter. With her sewing background, she felt comfortable designing and creating the dog coats. "I spent time developing a pattern. As this project came together, [my husband and I] realized others were interested in having a coat made for their dog. I created prototypes in different sizes using our friends' dogs as models to get the right fit and shape." After months of designing, patterning and sewing, the dog coats were officially ready. Heather named her new side business A Woof In Sheep's Clothing and began selling the dog coats seasonally at their farm store, at local festivals and on their farm's website.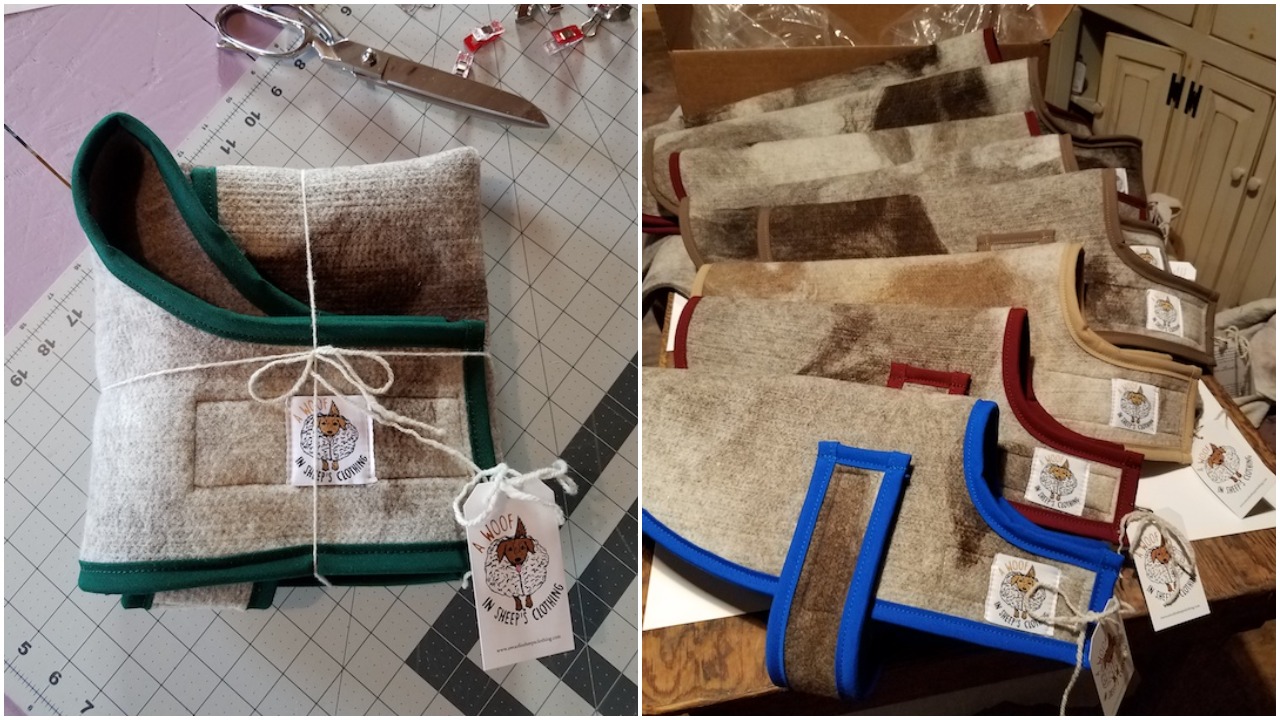 When Heather started prototyping and sewing early versions of the dog coats, she realized her home sewing machine wasn't going to cut it. "Due to the thickness of the wool felt, a typical sewing machine struggled to handle the material. I began asking others for ideas and doing internet searches. Someone told me about Sailrite and I began to research the company's website."
Testing the Fabricator
Heather liked the look and features of the Fabricator, but she wasn't certain it would sew through the thickness of the wool. Luckily, she used the Live Chat feature on the Sailrite website to message a customer service representative who had the perfect solution. "They suggested I send a sample of my material. I mailed a sample of the wool felt to Sailrite headquarters in Indiana. They quickly responded with videos of the Fabricator easily sewing through multiple layers of the felt. Their prompt customer service and quality products meant that I did not need to look any further!"
Heather has owned her Fabricator for a few years now and is just as happy with it as she was on day one. "The Fabricator has given me the opportunity to expand my product line on my own terms. Anything I can think of to sew is possible with the Fabricator, the accessories and the how-to videos. This machine has been worth every penny."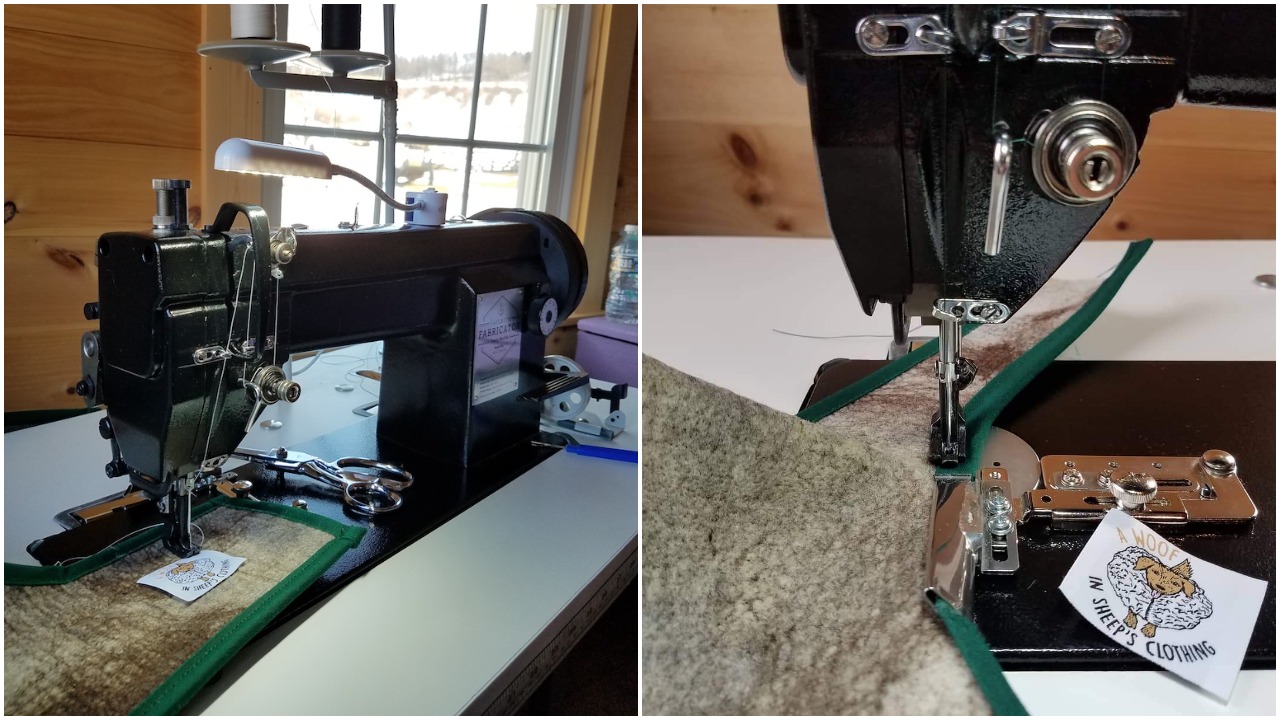 The wool felt from her flock has inspired a lot of project ideas. In addition to dog coats, Heather also makes felt accessory bags, coasters, felt knitting project bags, hot water bottle covers, teapot cozies and cold drink koozies. The Fabricator has enabled Heather to increase her productivity and boost sales. "I can produce a complete coat in approximately an hour. If someone has a dog that doesn't match one of our established sizes, I make a custom-sized coat for their dog."
To give the dog coats a beautiful, professional look, Heather uses Sunbrella binding to finish the edges. And the coats attach with easy-to-position hook-and-loop tape (also known as Velcro®). Heather purchases all of the supplies needed to make the dog coats from Sailrite. "I searched Sailrite's how-to videos to see how I could attach the binding. Any time I have a question about the Fabricator or its accessories (like the binder), I go directly to the video library and find what I am looking for. I always learn something and sometimes get new ideas! And any time I have a question about a product, I use the chat feature on the website and get a prompt and helpful response."
The reaction from customers has been nothing but positive. "We have received rave reviews from customers and their pups! Customers are thrilled to finally have a coat that fits their dog well. Some told us that their otherwise anxious dog seems to enjoy the warm fit and often does not want the coat removed when they come back inside. Others express appreciation for their dogs staying dry in the snow and cold rains of winter as well as for the fact that the coats dry quickly."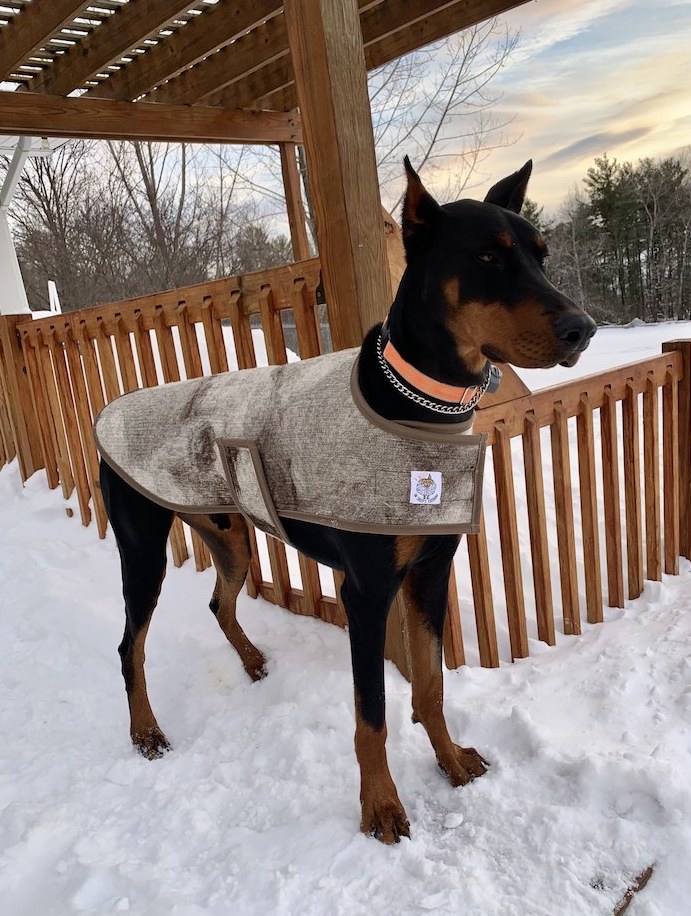 Producing wool products from her flock's fleece serves more than just one purpose. "Part of what can help to save rare breeds is to find jobs for them to fulfill. Creating a demand for the wool of this beautiful, personable breed is important for their survival. We love to share with customers that their purchase of a rare breed wool product from our small family farm makes a difference."
Thank you for sharing your story with us, Heather! We're thrilled that Sailrite is part of your DIY journey and that your one-of-a-kind dog coats are bringing awareness to rare-breed sheep and helping with conservation efforts.
Who We Are
Sailrite is your one-stop DIY shop! We are a passionate crew of do-it-yourselfers who strive to equip you with the supplies and how-to knowledge you need to tackle your next project. Do you want to learn upholstery, leatherwork, canvaswork, hobby sewing, bag making or more? We have the fabric, tools, hardware, sewing machines and notions you need to master any DIY. And even if you've never sewn before, our tutorials and how-to videos are designed for beginners and experienced crafters alike.
Start your DIY journey today: www.sailrite.com