Bob Johnson is an avid and enthusiastic sailor. He built his own small planing scow years ago and enjoys taking it out during the summer where he lives in Oregon. One day, as he was trying to sail upstream in light wind, he had the idea to put a large spinnaker sail on his boat to catch the wind and really make it fly. After some trial and error, he realized that to get exactly what he wanted, he'd need to make it himself. Keep reading to find out how Bob put his sewing skills to use and invented his own sail design, which he rightfully named "Bob's Sail."
Originally, Bob's 12-foot sailboat had two sails. The mainsail was 72 square feet and the jib was 16 square feet. Bob's first attempt at upgrading his sail and speed potential was to rig a 100-square-foot spinnaker on the boat. The spinnaker is connected to the top of the mast and two places on the sides of the boat. "A spinnaker is a great big sail for sailing with the wind. All of the larger boats use them," Bob explained.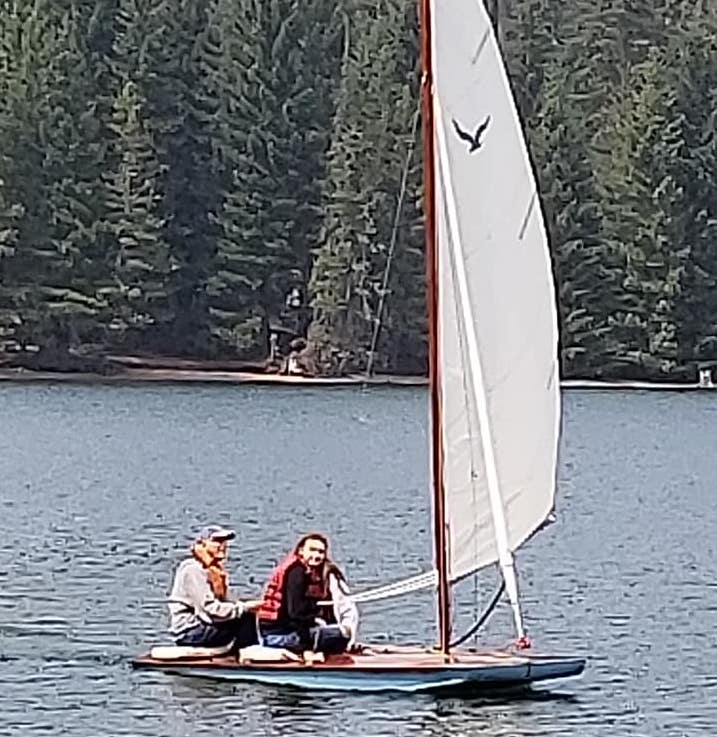 A Valiant First Attempt
When he tested out his new oversized spinnaker, he quickly realized a flaw in his plan. "I came to the conclusion that my planing scow would 'submarine' if the wind picked up. For you land lovers, a 'planing scow' is a nearly flat bottomed boat that is meant to sail in strong winds and to rise up out of the water and skim across the water like a speedboat does." So, in effect, Bob's idea would have the exact opposite effect he intended. Instead of his boat gracefully skimming across the water at high speeds, the spinnaker would cause the boat to nosedive bow first into the water!
The spinnaker was out, but that didn't deter Bob. He put his thinking cap back on and came up with another idea. Bob's solution to the spinnaker "submarine problem," as he called it, was to make a sail that would pull the bow up and not down into the water like the spinnaker did. Bob's plan was to make a large genoa sail to replace his 16-square-foot jib sail and sail wing on wing. "With a large genoa, I would be able to have the mainsail on one side and the genoa sail on the other (wing on wing). This would create a sail wall in front of my boat, just like a spinnaker would accomplish when sailing with the wind."
Solving the Submarine Problem
"My thought was that the pressure on the genoa would help to lift the bow because of its angle on the jib stay." A jib stay is a piece of standing rigging that keeps the mast from falling backward. But Bob's creative juices didn't stop there. "But wait!" he thought. "Why not make two genoa sails by making it just one big sail attached to the jib stay in the middle. This sail configuration would act, when fully open, as a spinnaker. I can also close both sails together to make it act like one genoa sail."
With this new plan in hand, Bob set out to sew his clever sail design. "I used Sailrite's sail material and sewed it on my sewing machine. I placed two super magnets, one on each side of the clew (the bottom rear corner), to aid in the closing of the two halves." This unique sail design worked great, and Bob named it "Bob's Sail."
After two sailings with his new sail, Bob ran into another small issue. "I realized that when I had the Bob's Sail fully opened I couldn't see where I was going. I watched Sailrite's instructional video on adding windows to a sail but decided I couldn't do it on my machine." Bob had two circular windows professionally installed. "The sail was made so that I can sail the boat with just this one sail or use it with the mainsail. Since it's a furling genoa ('furling' means that I can roll this sail up around the jib stay), I can adjust the size to fit the wind conditions. I can use it fully open, partially closed or fully closed."
Sailing on Land
Bob doesn't just enjoy sailing the Oregon lakes and rivers, he also sails on land. He owns several landsailers that he built himself from PVC piping. He also sewed the sails for his landsailers. "I have built several models and have tested them on blocked-off roads, vacant lots, the beach and one unused area at an airport."
Land sailing, or land yachting, is a recreational activity that involves moving across land in a wheeled vehicle powered solely by the attached sail. "Sail wagons," as they were called in the early 20th century, have been around for hundreds of years but have grown in popularity in recent times. There are even land yacht competitions around the world.
Designing a Landsailer
Over the years, Bob has drawn up multiple sets of plans, trying to design the perfect landsailer that met all his specifications. It's been a trial and error process, but he's determined to get it right. "Steering was a big problem," he confessed. "I started out wanting to make the landsailer just like a sailboat with a tiller and mainsheet line. I found out that I needed one hand to hold the sail line and the other hand just to hang on, so then I had no steering control." After that attempt, he developed a foot steering design, which was more successful.
Bob loves taking his landsailers for a spin on the beach. However, with no brakes on the vehicles it can turn into a potentially dangerous situation. "Our beaches usually have too many people on them, and I'm afraid of hitting someone. I have invented a spinnaker sail for one of my landsailers. It has a pull-down sock to close the sail with, but I haven't tested it yet." A spinnaker sock is a sleeve of material that is rigged to the spinnaker. Pulling a rope pulls the sleeve down, closing the sail and reducing your speed.
This slideshow requires JavaScript.
Whether on land or water, Bob's love of sailing knows no bounds. What does he love most about the sport? "Sailing is great because you can make only the wind move you without the noise of a motor. And DIY gives me the ability to make something that I can use on my boat." Bob looks forward to many summers of enjoyment with his unique sail designs. We wish him fair winds and following seas.
Who We Are
Sailrite is your one-stop DIY shop! We are a passionate crew of do-it-yourselfers who strive to equip you with the supplies and how-to knowledge you need to tackle your next project. Do you want to learn upholstery, leatherwork, canvaswork, hobby sewing, bag making or more? We have the fabric, tools, hardware, sewing machines and notions you need to master any DIY. And even if you've never sewn before, our tutorials and how-to videos are designed for beginners and experienced crafters alike.
Start your DIY journey today: www.sailrite.com