When the time came to replace the dodger on Ellen Bell-Irving's 18-foot Maritime Skiff, she turned to her good friend of 30 years and fellow sewer, Pat Kane. Both women have a long history of sewing, but neither had tackled such a large marine project before. They put their heads together and put their trust in Sailrite® to provide them with the products, techniques and confidence to take on the boat dodger with an Ultrafeed® LSZ and Sunbrella® Marine Grade fabric. Read on to learn how their first foray into marine sewing went!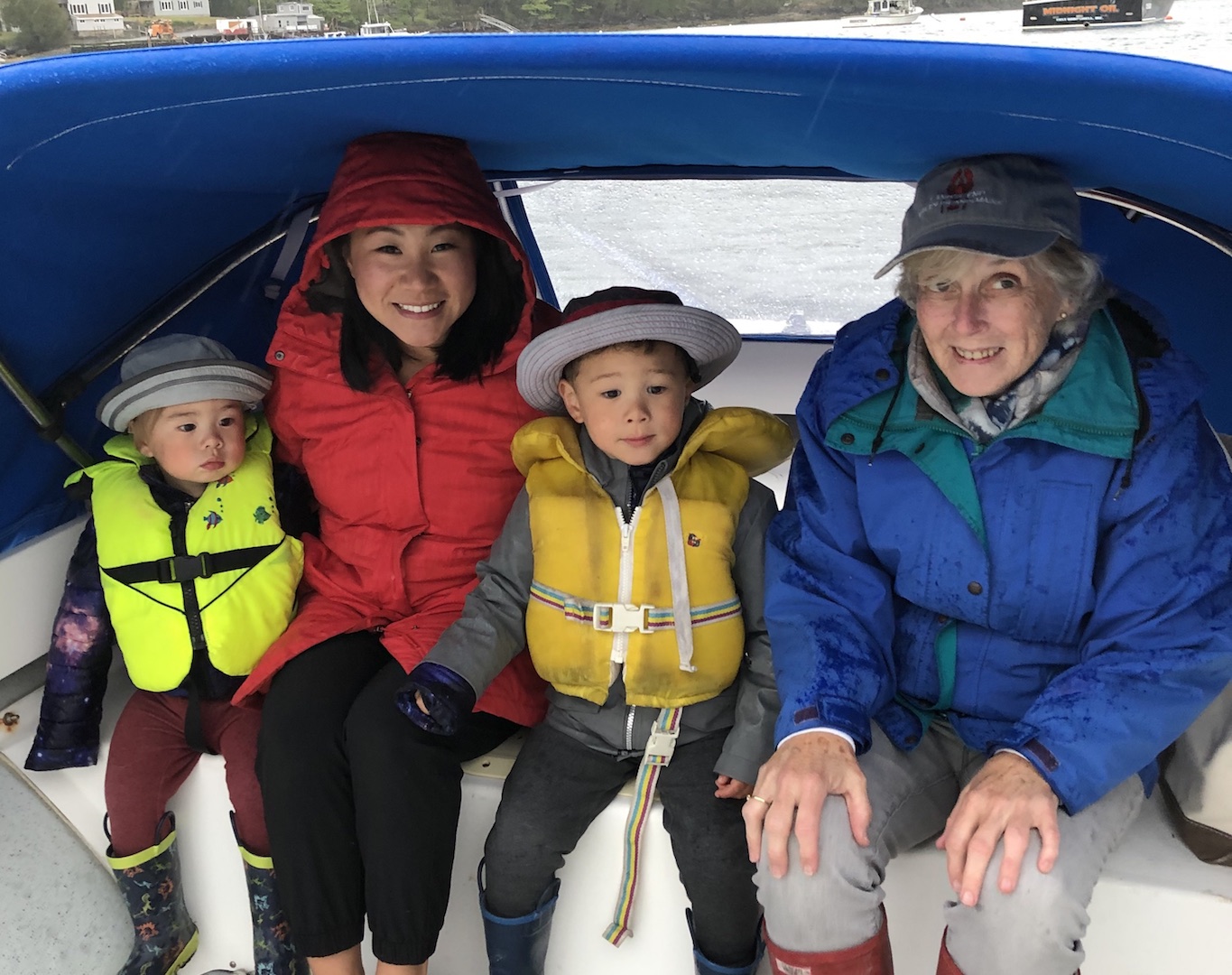 Ellen's center console boat, the "Alibelle," is used for general transportation to and from the island where she and Pat met in the spring of 1988. The 30-acre island in Casco Bay, Maine was newly subdivided and they were building their summer homes at the same time. Their first homeowners' association meeting was the beginning of a new friendship. When they learned that their permanent residences were just a few towns apart in Massachusetts, summer parties turned into skiing trips and winter get-togethers. Thirty years on, Pat and Ellen still enjoy spending time together for dinners and family occasions. And, of course, for sharing their love of sewing.
No stranger to sewing, Ellen felt comfortable repairing her old dodger. She learned to sew by taking a course in the 1970s. After learning the basics, she bought her first sewing machine: a Viking® she named Betty after her sewing teacher. "I made a few clothing items and made pinch pleat drapes for my house," Ellen said of her sewing background. Over the years, Ellen also used her skills to sew costumes and clothing for her family. And when it had finally gotten to the point that a new dodger was needed, it was an easy choice to make it herself, noting, "it's only seven pieces of material." How hard could it be, right?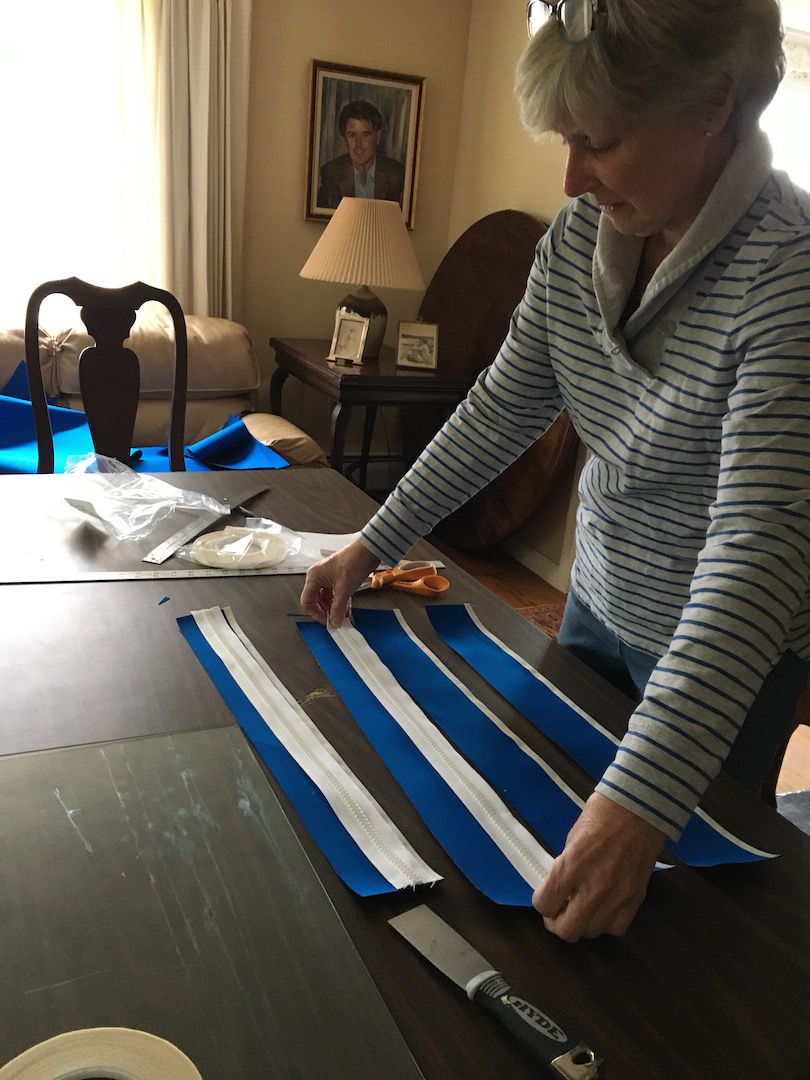 Well, turns out it was more complicated than anticipated. Realizing she couldn't do it alone, Ellen called on Pat for help. Pat, a professional seamstress, learned how to sew from her mother on a treadle sewing machine ("eons ago," she said!). Her earliest sewing projects were clothes for her Barbie® doll. From there, Pat was hooked. "I have sewn ever since — costumes for high school plays, uniforms, clothing for others, clothing for myself and family." Pat loves sewing so much, she made it her business. "I took classes in couture work…and started my business, Costumes and Custom Clothing, around 2000." Pat's business keeps her busy with custom theater costumes and bridal alterations; she even altered Ellen's daughter's wedding dress.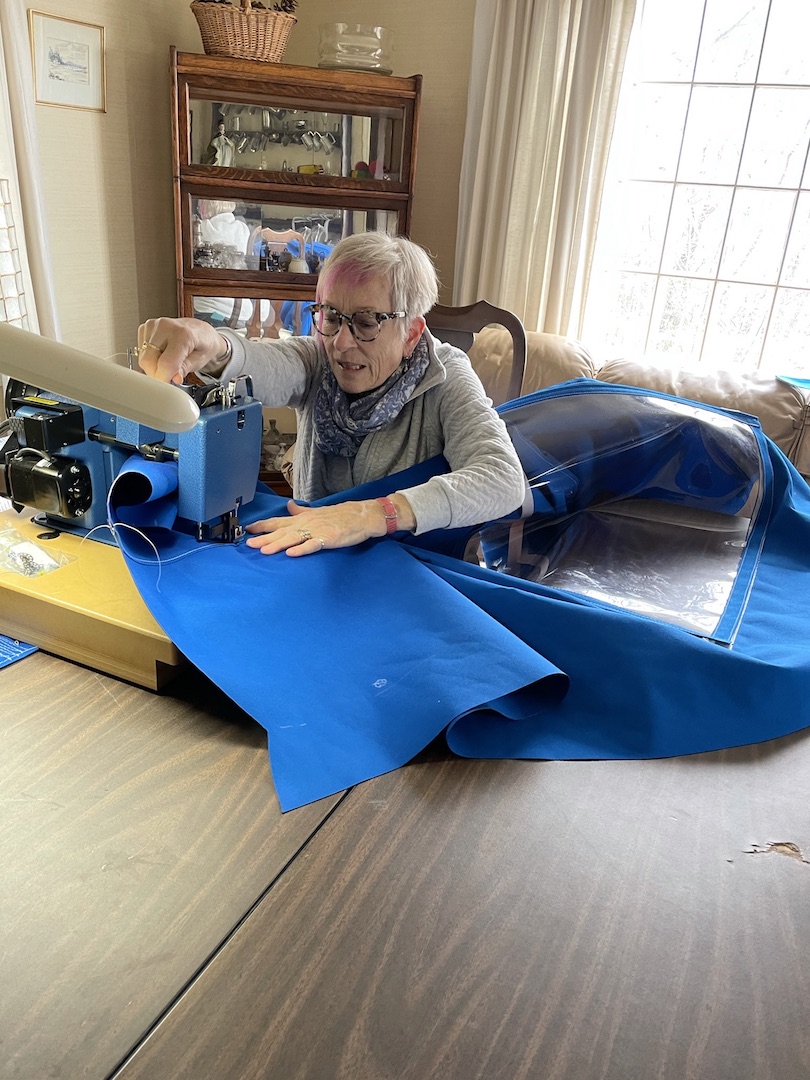 Given their backgrounds, Pat and Ellen certainly had the skills required to sew a dodger. What they needed now was supplies. Ellen's research on Sunbrella fabrics led her to the Sailrite website, and another friend recommended the Ultrafeed LSZ to Pat: "I heard about Sailrite from a friend who sails a 42-foot sloop. She bought an LSZ to make everything for the boat, and recommended it highly." Together, Pat and Ellen decided to place an order for a new Ultrafeed, which they named Maxine, plus Sunbrella Marine Grade fabric, the Sailrite Edge Hotknife and all the notions they needed to make their dodger. The Ultrafeed came so highly recommended that once it was delivered, Pat immediately set it up and started sewing tote bags out of old sailcloth. She definitely understood the hype: "My home machine would not sew this material, but Maxine sewed through it like butter. So fun!" 
Over the course of the winter, Pat and Ellen set up folding tables and turned Ellen's living room into a canvas workshop. Then they got to work.
The pair watched Sailrite videos to figure out where to start. "Your videos show how to create a pattern on the boat, but this was February 2021 and the boat was in storage in Maine," Ellen said. So they fell back on Pat's seamstress training. They took apart the existing dodger and used it to create a pattern. From there, they made a muslin mock-up and proceeded through a series of fittings. "We made a day trip to Maine to fit the mock-up. We marked it up, noting the positions of the snaps and other details," Ellen explained.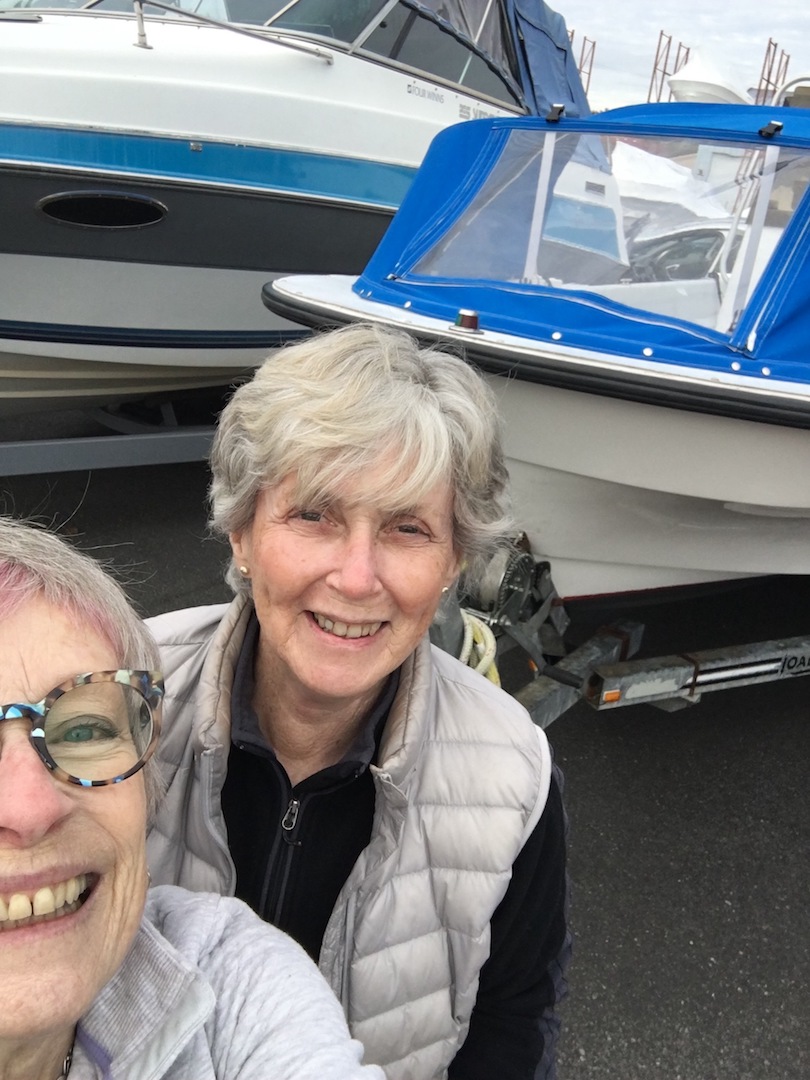 Using the muslin as a guide, they altered the pattern, cut out the dodger pieces using the hotknife and sewed them together. They relied heavily on Sailrite's instructional videos for every step. Pat described their process: "We carefully watched the videos of dodger-making, especially the one about inserting a window into canvas. We paused the video, sewed, then restarted, watched the next step, paused and sewed. It worked!" 
Pat and Ellen took the finished dodger to the boatyard in Maine for a final fitting and borrowed a tool from the boatyard to install the snaps. It was a perfect fit! They weren't the only ones impressed with their handiwork; "The boatyard owners wanted to know then and there if we wanted more work!"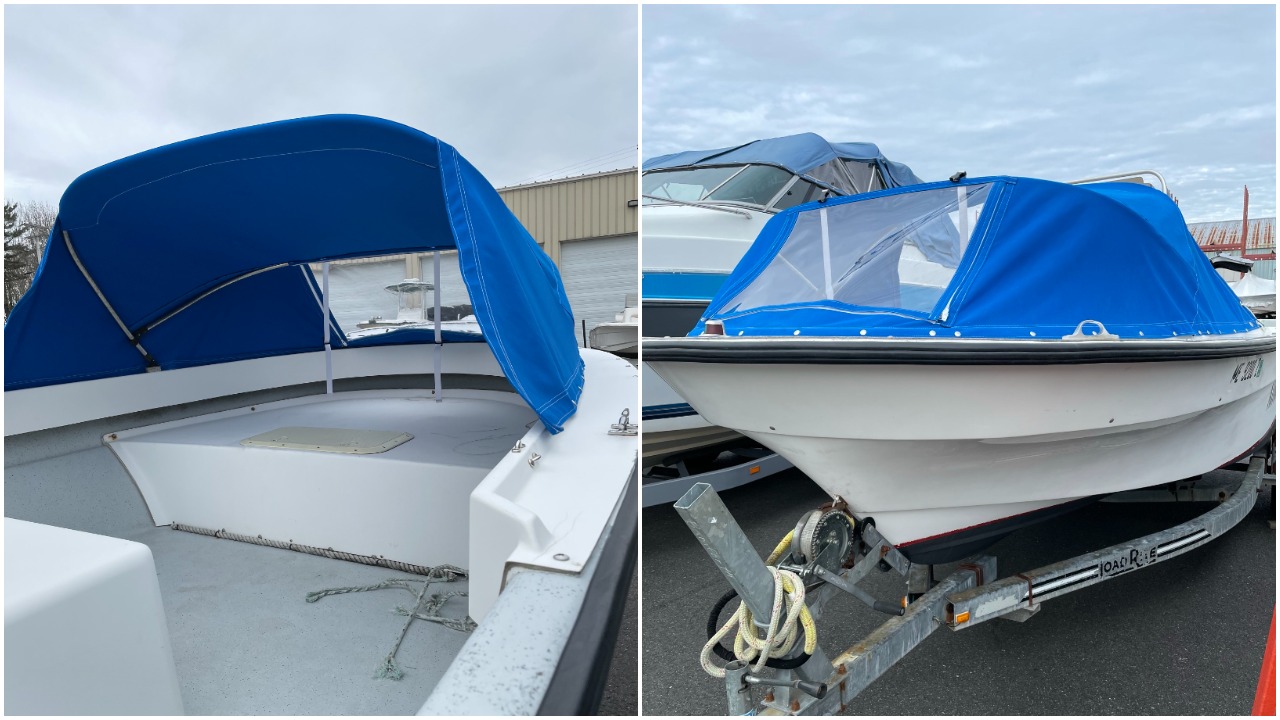 They may not be ready for more dodgers, but these two friends aren't done creating together. They've got more "couture canvas" projects they can't wait to start. Up next is a console cover for the "Alibelle" and new cushions for the 25-foot Mako Ellen's daughter and son-in-law have recently purchased. They're also making bags out of Sunbrella fabric to give as Christmas gifts, which Pat will embroider. 
With so many projects on the docket, we're so glad Pat and Ellen have an Ultrafeed on their side. We can't wait to see what Pat, Ellen and Maxine the Ultrafeed make next!
Who We Are
Sailrite is your one-stop DIY shop! We are a passionate crew of do-it-yourselfers who strive to equip you with the supplies and how-to knowledge you need to tackle your next project. Do you want to learn upholstery, leatherwork, canvaswork, hobby sewing, bag making or more? We have the fabric, tools, hardware, sewing machines and notions you need to master any DIY. And even if you've never sewn before, our tutorials and how-to videos are designed for beginners and experienced crafters alike.
Start your DIY journey today: www.sailrite.com