What is EDC? It stands for "everyday carry" and it represents a lifestyle of utility and preparedness. EDC items consist of pouches, bags or backpacks containing everyday essentials. A person's EDC kit is very personal, containing items they think are essential to their daily life. Typical EDC items include things like keys, wallet and phone, but also a small flashlight, pen and notebook, lighter, pocket knife or multitool — things that all serve a purpose and have a useful function. Having these essentials with you every day means that you're ready for anything and prepared for the unexpected — should the need arise.
What do EDC and DIY have in common? More than you'd think. At its core, EDC embodies a belief in always being prepared but also being able to take control of a situation and handle it on your own. That kind of self-reliance and self-accountability is echoed in the heart of every DIYer. Having the right tools to handle any situation has a common thread in the DIY lifestyle.
Tim Galloway is a newcomer to both the DIY and EDC communities. He's a professional photographer who has worked in news and done some commercial work for the past 10 years. But when the COVID-19 pandemic hit, it put an indefinite hold on his photography business. With time on his hands and a desire to stay busy and productive, he turned his attention to something that has always piqued his interest: sewing EDC items.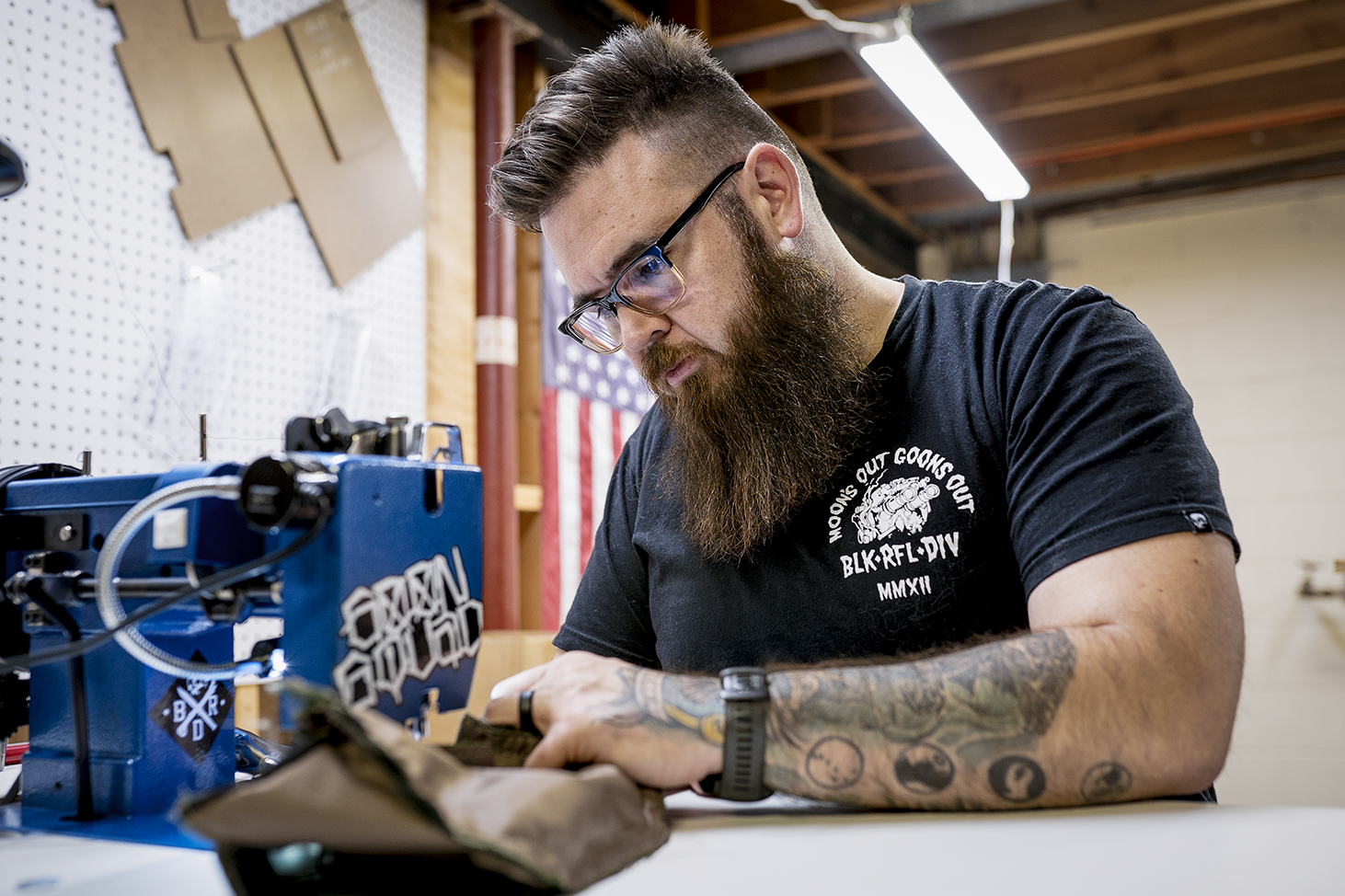 The EDC community is popular and growing, and Tim is carving out his own space with his small business, goodwerks. Right now, it's a one-man operation. Tim cuts the patterns for his bags and EDC accessories and sews everything himself. At first, he was using a home sewing machine. But he quickly realized it wasn't powerful enough to sew through the heavy-duty layers of his bags and straps. He discovered the Sailrite® website and ordered the Ultrafeed® LSZ Sewing Machine. With the Ultrafeed, he's been able to sew with professional results and deliver the quality that the EDC industry demands.
Join us as we get to know this small-business owner, his DIY philosophy, and how Sailrite could be part of his sewing journey.
Sewing & Sailrite
Tim had never sewn before he decided to give his EDC hobby a real shot at success. But he didn't let that small hiccup stop him. "I learned to sew in May of 2020 mainly through YouTube tutorials and trial and error. My mom helped me search for a domestic machine that would be able to handle heavier materials as I sew primarily Cordura and webbing. I grew out of that machine very quickly as I realized that it wouldn't be able to handle the layers as smoothly as I had hoped and certainly not the volume. Especially if I'm sewing daily or close to it."
In need of a heavy-duty machine that could handle materials like Cordura, ripstop and webbing, Tim started his search. "I did a bunch of research. I looked at a lot of other machines, peeking at Juki, Consew, etc. Frankly, the price point was a bit out of reach for me for a Juki setup, and I really wanted a new machine. I watched a ton of videos and read a bunch of articles. The thing that drew me to the LSZ was the walking foot, ease that it dealt with heavier materials (like, you know, sails), the optional Workhorse® Servo Motor (which I use with the full table setup) and the fabled legendary customer service."
He received his Ultrafeed LSZ in July of 2020 and has been sewing with it regularly. Even though Tim is a new sewer, he still had a lot to say about the machine. "The machine works really well for flat work. I think with the correct thread and needle setup, it is pretty smooth sailing (see what I did there?). I really enjoy having the servo motor so I can sew at night when my wife is sleeping. With this being the only industrial-type machine I've used, there are a lot of things I don't know about how they operate. So there was a bit of a learning curve. I refer to the manual somewhat often and have had to learn to have a few extra parts on hand in the event of a maligned needle strike, etc."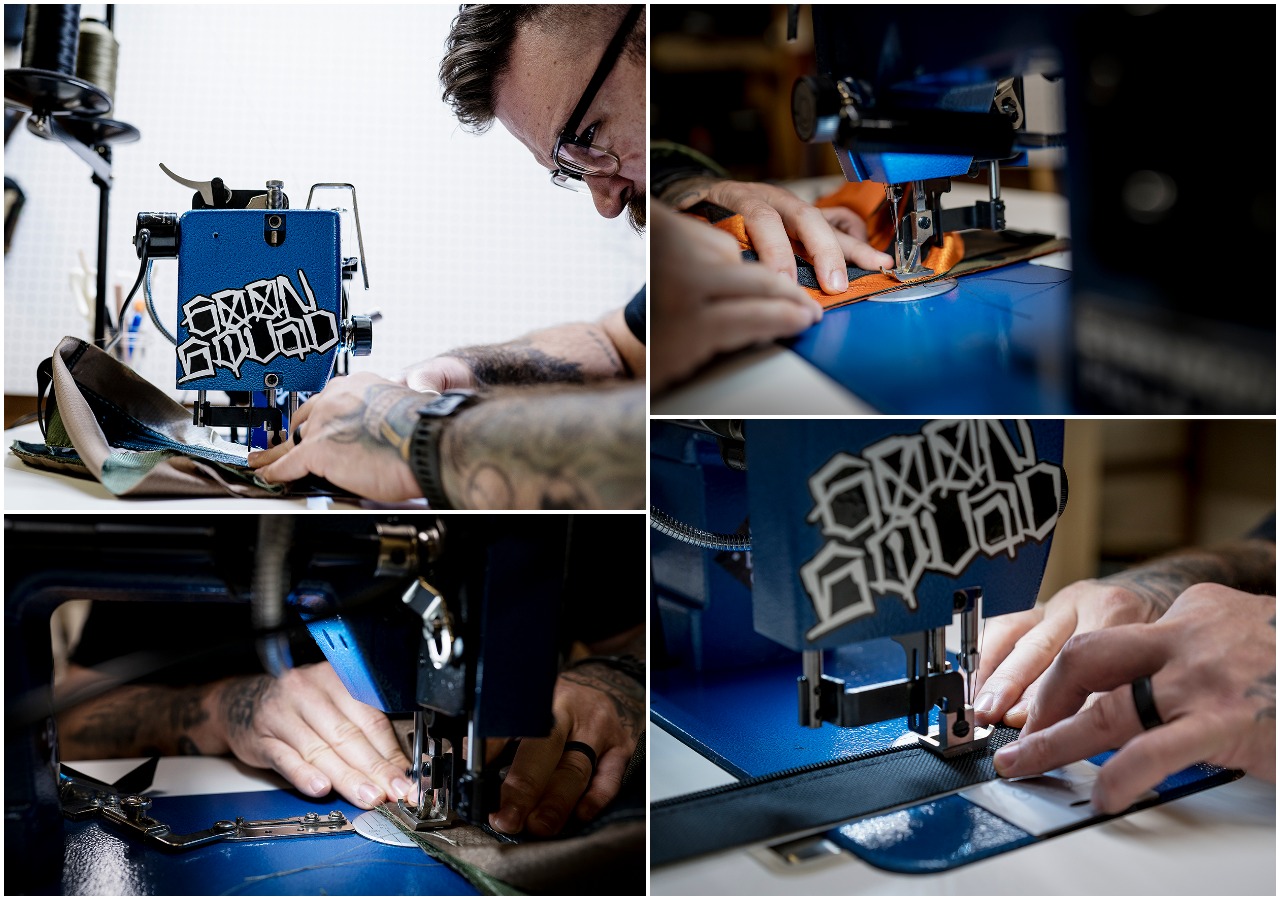 The EDC Community
Tim's bags and pouches are simple in design and are made with high-quality fabrics and hardware pieces. He uses 1000D Cordura fabric with a ripstop liner for a professional look and to help with water resistance. Cordura is well-known in the hiking, camping and rucking communities for its incredible durability and water resistance. Tim's most popular design is the Boogie Bag, which is a fanny pack with zippered compartments to keep everything organized. "I based it off of other, similar bags but addressed a few things I did or didn't like on others. I want my products to ooze quality and durability. My company slogan, if you'd call it that, is 'Simple. Durable. Handmade.' I'm not really looking to reinvent the wheel but just bring quality into small soft goods."
Tim's current demographic is people in the rucking community. Rucking is a form of endurance training that involves marching at a fast pace carrying a weighted pack. Anyone can ruck as a form of exercise, but those who participate in GORUCK events are serious endurance athletes who expect a lot from their gear. And they have started turning to goodwerks for their rucking needs. "I've been very fortunate to have made fantastic friends in that community who have supported my small business and buy from me every time I drop goods. I mainly sell out of my stuff but am slowly building stock. Ideally, I want to transition more to the EDC community. I want my products to be accessible for all folks that are interested in quality gear for their everyday organization and needs."
"I hold high the value of handmade goods and small businesses. From personal experience, I know how challenging it is to run your own business. How you have to wear a lot of different hats to make things come together. The late nights, early mornings, weekends you sacrifice, and so on. I think that when people can find something that they care about enough to devote to that, it deserves praise. When I make my products I know that they're not going to be perfect every time, but I do the best I can to make them look like they were produced on a mass scale. I take a lot of pride in my gear, and it's incredibly rewarding getting positive feedback."
This slideshow requires JavaScript.
Doing Good Works
Part of Tim's mission with goodwerks is to become a contributing member of his local community and to, in essence, put good into the world. Where did the name "goodwerks" come from? We'll let Tim explain: "goodwerks came about with the help of a friend. I initially was going to call it 'threadwerks' or something similar. But my friend Dan told me to take a look at the back of my right hand, which is tattooed with the word "good" and an ax through the letters. It's a reminder to 'sharpen my axe' daily and to make the best of all situations."
Good isn't just part of his business's name. It's also fundamental to Tim's personal philosophy and a guiding principle for the way he lives his life each and every day. "A large part of my business is to give back and to create good in the world. Each month, people that follow my Instagram account nominate others to receive some free gear from me. It's a simple gesture to show others appreciation. I also am working on having regular raffles that benefit nonprofit organizations, mainly organizations that are veteran-oriented. In November 2020, with the help of my favorite local coffee shop donating some coffee, and a slap/patch maker, we raised $1,250 for One More Wave, a foundation that helps wounded veterans get surf therapy."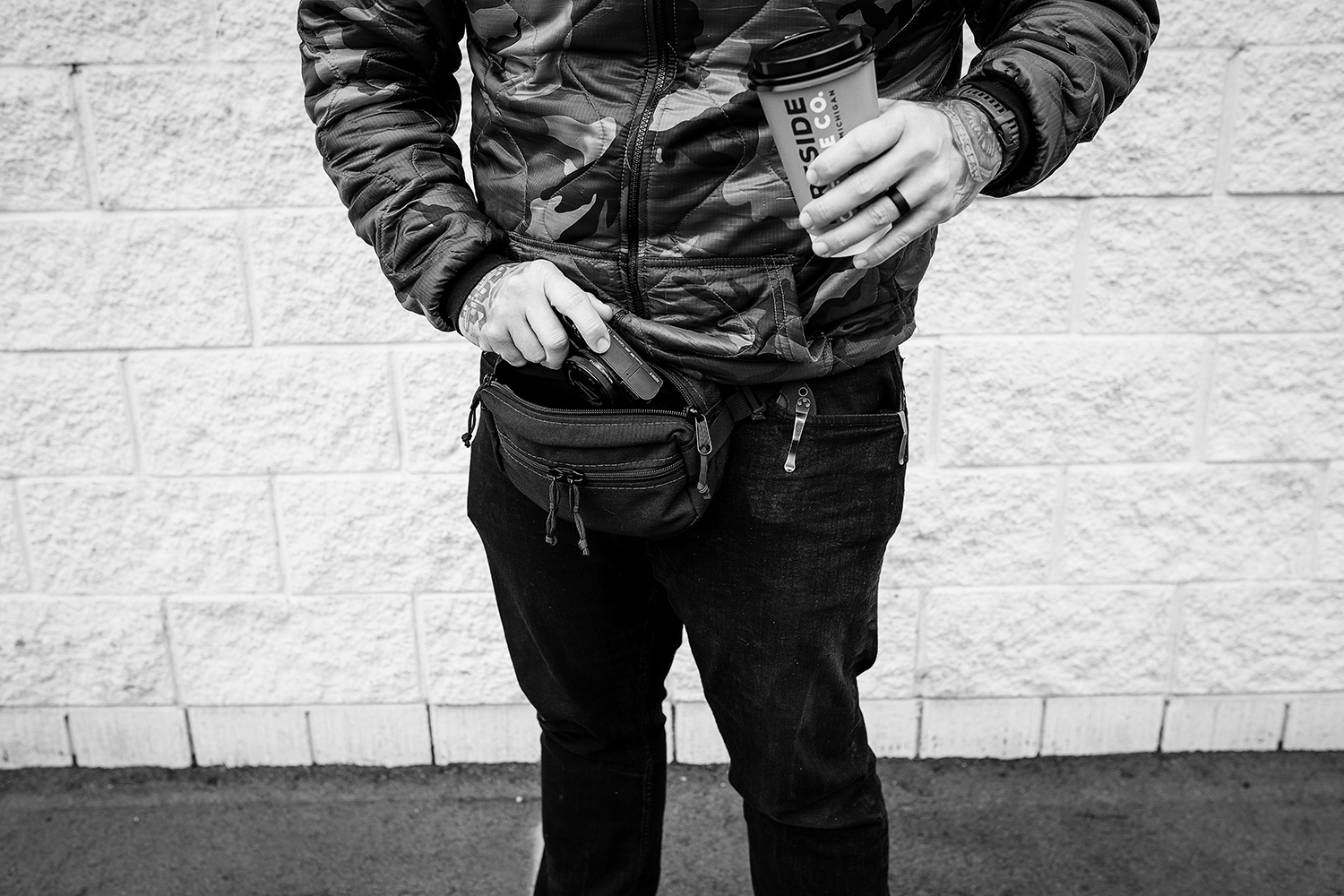 Tim recently held his second nonprofit raffle and raised $1,700. Proceeds went to The Enduring Campaign, a Michigan-based nonprofit that offers job placement and other support to the homeless veteran community. Good works and gratitude keep Tim humble through the growing success of his sewing business. "There's no way I'd still be running with this little business without the community that's helped support me. The people that have spent their hard-earned money with me have helped me stay afloat during the shutdowns. It's incredibly humbling every time I get an email with an order. goodwerks doesn't exist without the community surrounding it."
Tim's positive outlook on life and his desire to pay it forward is something we can all appreciate and strive toward. It's a nice reminder that anyone can give back and put some goodness into the world, whether that's through DIY or by other means. The world could use a few more people like Tim. Putting good into the world, even in a small way, has a ripple effect that grows and expands beyond our sight. Let's all go do some good.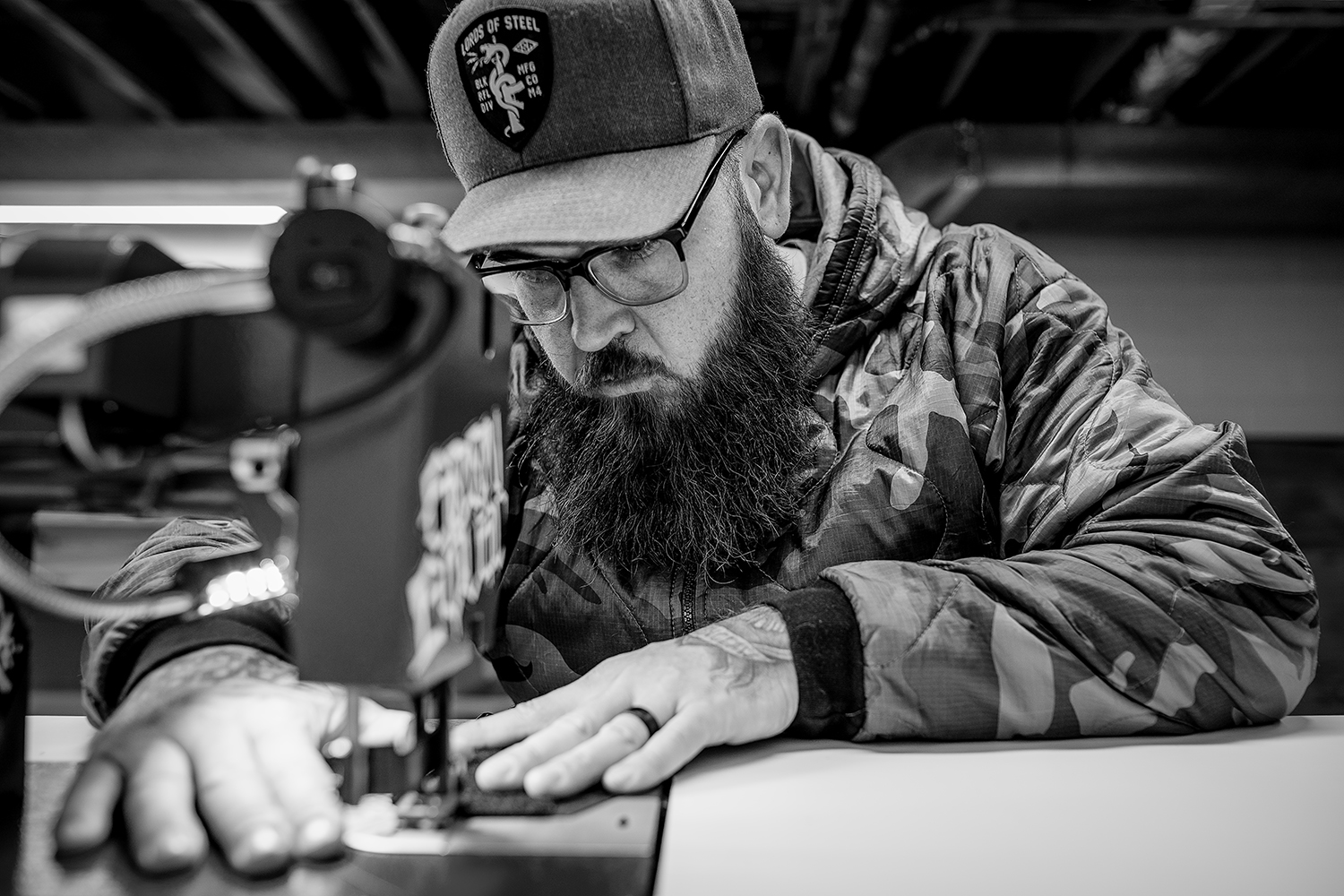 If you'd like to follow Tim's EDC sewing adventures you can follow him on Instagram @goodwerks.
Who We Are
Sailrite is your one-stop DIY shop! We are a passionate crew of do-it-yourselfers who strive to equip you with the supplies and how-to knowledge you need to tackle your next project. Do you want to learn upholstery, leatherwork, canvaswork, hobby sewing, bag making or more? We have the fabric, tools, hardware, sewing machines and notions you need to master any DIY. And even if you've never sewn before, our tutorials and how-to videos are designed for beginners and experienced crafters alike.
Start your DIY journey today: www.sailrite.com